Dear Fellow Trader,
We were driving up Interstate 83 when
the love
kicked in.
It was St. Patrick's Day weekend.
We were a mile from the Timonium Road exit... on the way to the An Poitin Stil, a bar my father opened in the late 1990s.
The sky was grey.
The car (a blue Honda Civic) was terrible.
But on the radio... was the song "Juicy" by the hip-hop artist Notorious B.I.G.
She turned the volume up with her left hand. She didn't know ALL the words. But just enough. She raised her right index finger... and sang the following...
"Super Nintendo... Sega Genesis. When I was dead broke, man, I couldn't picture this. 50-inch screen, money-green, leather sofa. Got two rides, a limousine with a chauffeur."
Then she cut herself off and laughed-the way she does.
And I thought at that moment... I'm going to marry this woman.
I did...
Three years later, about a mile from the Timonium Road exit.
She's the One
The adage goes that there is a gun pointed in your direction.
And you must pick one equity to own forever.
One company. One idea. That's it. Put your money into this.
So, we scream from under the palm trees: "Tortoise Pipeline & Energy Fund."
It's on the NYSE. The ticker is TTP.
This is in my daughter's college accounts.
It's what I tell my wife to hold forever.
This is a closed-end fund. What's that?
Let's check out the Closed-End Fund Association.
"Closed-end funds (CEFs) are professionally managed investment companies that offer investors an array of benefits unique in the investment world. While often compared to traditional open-end mutual funds, closed-end funds have many distinguishing features. They offer investors numerous ways to generate capital growth income through portfolio performance, dividends and distributions, and through trades in the marketplace at beneficial prices. CEF shares are listed on securities exchanges and bought and sold in the open market. They typically trade in relation to, but independent of, their underlying net asset values (NAVs). Intra-day trading allows investors to purchase and sell shares of closed-end funds just like the shares of other publicly traded securities. In addition, when shares of closed-end funds trade at prices below their underlying NAVs (at a discount), investors have the opportunity to enhance the return on their investment by making bargain purchases."
TTP is a fund that is comprised of midstream oil and gas pipeline companies.
It trades at a staggering discount. It's trading for about 85 cents on the dollar compared to its Net Asset Value.
It pays a distribution of roughly 8.3% on companies that would typically require a K-1 (boo tax compliance!). Since it's a fund, you don't have to deal with the tax nonsense.
And it owns all the best pipeline companies in the oil and gas space. Here's a breakdown of the portfolio.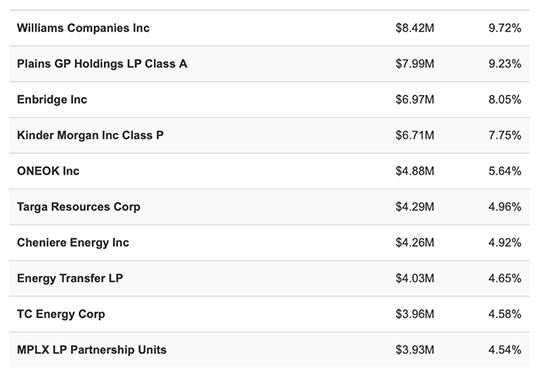 Why own one pipeline company when you can own them all...
And why pay full price?
Of course, a management fee will eat into the yield... It brings the next yield down to about 6%, but it's still trading at that discount. And if you've read any of my oil and gas analyses, you know that oil isn't going anywhere.
Whenever this falls to $25 per unit, it's a Buy.
I love the upside in the midstream oil and gas space.
What's the midstream, you wonder?
I'll do a deep dive into the three major components of the oil and gas supply chain later this week... and explain why this is one of the best places to invest for the next 30 years.
Stay tuned.
And finally...
We have lost another wonderful ambassador for the sport of baseball. I know... this is supposed to be a financial market publication.
But... it's my letter. I write about things that matter to me.
Hall of Fame third baseman Brooks Robinson passed away today.
He was a wonderful man who couldn't have been nicer to me in our interactions. And he always had a great story about the glory days of the Baltimore Orioles.
Robinson had health issues dating back to a 2009 prostate cancer scare. In recent years, he auctioned off a lot of his personal memorabilia and donated "every cent" to causes in he promoted. That selflessness is admirable, and the sport of baseball and the world was better because of him.
If you can... give. You'll feel wonderful doing so... and you can make the world better yourself.
It's never too late to do so.
Stay positive,
Garrett Baldwin
Florida Republic Capital
Secretary of Finance