Editor's Note: Researchers have recently uncovered the "immortality gene" which could unlock biological immortality in humans. And the profit opportunity for the top pharmaceutical companies in this industry is unprecedented. Continue reading to learn more…
Picking the top pharmaceutical stocks to invest in can bring triple-digit profits in short periods of time.
Take Agios Pharmaceuticals Inc. (Nasdaq: AGIO) for example. Since the start of 2014, AGIO stock has soared 322%.
And that's just one of the triple-digit winners we've seen recently.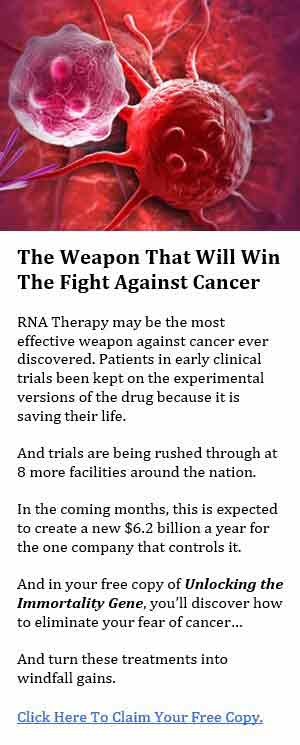 Since the start of 2013, Regeneron Pharmaceuticals Inc. (Nasdaq: REGN) stock jumped more than 183%. Valeant Pharmaceuticals Intl Inc. (NYSE: VRX) is up 216% since 2013. Gilead Sciences Inc. (Nasdaq: GILD) has climbed 189% in that time.
How do these pharmaceutical stocks outperform the market so much? Let's take a closer look at where their massive revenue comes from…
How Top Pharmaceutical Stocks Make Their Revenue
The top pharma companies today make their billions by selling a blockbuster drug or developing treatments for deadly diseases. Developing drugs that fight major diseases like cancer or hepatitis C can be a major windfall.
Global spending on pharmaceutical drugs topped $1 trillion in 2014, according to a report from Reuters.
The market for cancer treatments – the oncology market – is $124 billion a year. A company that is able to capture even just 5% of that market is in line for $6.2 billion in annual revenue.
Hepatitis C is a viral infection in the liver. According to the Hepatitis Foundation International advocacy group, 3.2 million Americans suffer from a chronic version of hepatitis C that can make them incredibly ill. More than 150 million people globally are infected with the virus that causes the blood-borne disease.
One Hep C drug alone, Sovaldi from Gilead, brought in more than $10.3 billion in revenue in 2014.
Heart disease costs Americans nearly $109 billion every year. The drugs that manage it are some of the most profitable pharmaceuticals on the market. Lipitor saw sales of $11.4 billion its peak year. Crestor hit $6.62 billion a year.
If another drug were to come on the market and take even a 5% market share, it would make $5.45 billion each year – in the U.S. alone.
Another huge market that turns pharmaceutical stocks into investment winners is hemophilia. That market is expected to grow to $11.4 billion a year by 2016.
But there's another market that offers a better profit opportunity for investors than any that we've just mentioned.
Getting in right now could potentially deliver not 2 times … not 5 times … but as much as 12 times your money.
Pharmaceutical Stocks Are Pursuing "Biological Immortality"
The anti-aging market is offering an unprecedented profit opportunity for investors now.
But when we say anti-aging, we're not talking about wrinkle cream or arthritis medication…
We're talking about drugs that unlock our ability to stop aging – injections that could allow our bodies to return to the health and vitality we had in our 30s… and stay there indefinitely.
Clinical tests have already shown that these injections make it possible to reverse the effects of age-related diseases.
Doctors from the Dana-Farber Cancer Center in Boston used it to shrink a patient's liver tumor by 70%.
In a 76-person study in Leeds, England, just four injections a year dropped patients cholesterol levels drop by 77%.
These particular treatments are now being pushed through the FDA's 4-phase approval process.
In as little as 24 months – that's just 2 years – they could be distributed to medical facilities across North America…
If the effects of these breakthroughs are combined, there could be only one way to distinguish the average 90-year-old from a 30-year-old.
In these early stages, it's easily one of the hottest investments in the market.
One company has already received $25 million in advanced research funding for it... And there's another $725 million coming right on its heels.
Within the first year of this treatments release, we could be looking at a $6.2 billion industry.
And from there it's going to take off.
Each year – the costs of the treatment will come down – and more and more people will be able to access it.
By year three it could be at the center of an $11.65 billion medical phenomenon.
And it won't stop there.
Within 5 years – when immortality becomes affordable for everyone – it could explode to at least $29.78 billion annually.
Continue here to find out how to get "Unlocking the Immortality Gene," our in-depth report on this game-changing new treatment and the pharmaceutical stocks behind it.