A rare event is just that... rare.
That means, when we spot one, we have a duty to take notice. To inspect it... To figure out what it's telling us - whether it's a warning or a dinner bell.
Well, this week, something happened that we haven't seen in 574 days.
On the surface, most will view it as a good sign... maybe even a signal to go all in.
But as I dug further into the data, I unearthed that what occurred is much rarer than I initially thought. In fact, it's only happened a handful of times during the last 30 years.
And when it occurs, it's often been a sign of something massive about to unfold in the markets over the next six months.
Though first, we must understand why it's significant...
Know Your "Buffett Pivots"
In 2003, Warren Buffett wrote to his Berkshire Hathaway (NYSE: BRK-A) shareholders "Be fearful when others are greedy and greedy when others are fearful."
It became one of his most quoted Buffett-isms.
And whether 20 years have passed or a century, this advice will remain pertinent.
It's timeless.
That's because it is the single hardest lesson for the average investor to learn. No matter the boom-and-bust cycle... no matter how often that Buffett-ism is printed, investors get swept away in whatever direction the herd is stampeding.
They don't want to be left behind... or left holding the bag.
For this very reason, I like to regularly remind investors of the dangers of herding and emotions by showing them this very simple, but effective, chart - The Investor Psychology Cycle.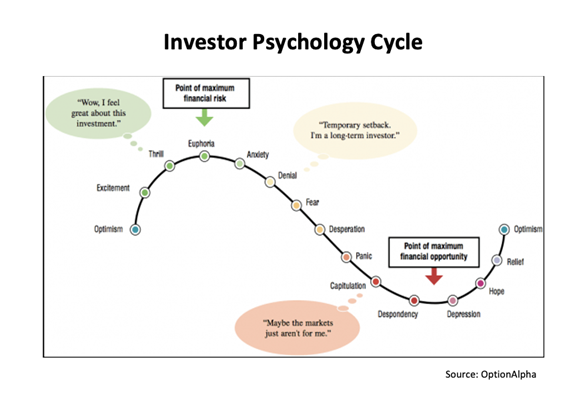 Print it out... Pin it to your wall... Save it as the wallpaper for your trading station.
You'll notice what I call "Buffett Pivots" on the chart.
The point of maximum financial risk is when euphoria and enthusiasm are at their peak.
The point of maximum financial opportunity is when everyone is running for the hills, despondent and depressed.
Too often the average investor does the opposite. They buy heavily at tops and then liquidate everything at bottoms. That's the fastest route to financial ruin - buy high and sell low.
So, what does this chart have to do with that rare event not seen in 574 days?
Well, we just received a sentiment surge. And if history is our guide, the next six months could be wild.
Bulls on Parade... Or Retreat?
I'm a strong believer in contrarian indicators.
Buffett's advice and the Investor Psychology Cycle chart above are perfect examples.
Whatever the herd believes or is feeling, we must recognize that the opposite is likely true.
These types of indicators are some of the most powerful on Wall Street. That's because they recognize opportunities early, allowing for the best possible prices on entry and exits.
One of my favorite of these is the American Association of Individual Investors (AAII) Sentiment Survey. This is a survey conducted every week from Thursday at 12:01 AM to Wednesday at 11:59 PM. And it asks investors how they feel about the stock market over the next six months.
The most reliable use of this indicator is whenever the AAII Sentiment Survey is extremely bearish. That's a signal the market is going higher.
For example, in 2023, bullishness on the survey was below 25% from the week of February 23 all the way through March 30. It even hit a year-to-date low of 19.66% the week of March 16.
The S&P 500's low for 2023 was set March 13 at $3,808.86. And the market has since gained 12.26%.
It didn't crash... it soared!
Now, here's the crazy part... bullishness on the AAII Sentiment Survey has remained below 30% essentially the entire time since then.
That's right... Most investors have been bearish during this entire rally!
But a rare occurrence happened this week. Sentiment flipped. Bullish outlooks on the AAII survey suddenly surged 15.5 points to 44.5%.
Nearly half of all investors suddenly believe the market is going to be higher six months from now.
That's the highest level it's been since November 11, 2021... 574 days ago.
I'm familiar with the AAII Sentiment Survey data, so I know there are plenty of long stretches where bullish sentiment remains above 45%.
As you'd expect these were very strong periods for the markets because as the market rallies, more investors become bullish. This is also why bullishness on the AAII Sentiment Survey isn't as reliable as a contrarian indicator.
But what's interesting was, as I dug through the data, I discovered there weren't many instances where sentiment surged so drastically. And when it did, it wasn't necessarily a good thing.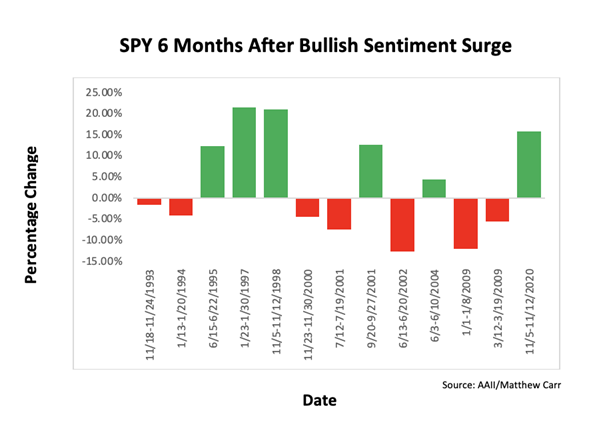 Since 1993, I found 13 occurrences where bullish sentiment on the survey was steady at a certain level before suddenly jumping 10% or more in one week.
If you know your market history, you'll recognize many of these took place during the Asian financial crisis, the dot-com collapse, as well as the aftermath of the financial crisis and the COVID crash. They were periods where investors largely were feeling glum.
You'll also notice these sentiment surges largely took place during the same months of the year - January, June, and November. Those are New Year, mid-year, and election-year shifts in mood.
And in seven of these 13 instances, the SPDR S&P 500 ETF (NYSE: SPY) was negative six months later - including five of the last eight.
Of course, that's not a trend bulls are going to celebrate.
But don't be disheartened. Only two of those seven declines following a bullish sentiment surge were severe - the 12%-plus losses following the June 2002 and January 2009 surges.
And on the flip side, only one of the gains we saw six months later was less than 12.2%. When the market rallies after a sentiment surge, it tends to rally hard.
Which brings us back to present day... We just witnessed a rare event.
Bullishness on the AAII Sentiment Survey is at its highest level in 574 days. And we haven't seen sentiment surge like it did this week since November 2020.
History shows, following such a rare event, the next six months could be wild. The last time it happened, the S&P surged 15.5%.
But be smart... make sure your stops are in place, that you have plenty of dry powder to work with, and to keep an eye out for "Buffett Pivots."
That way you'll be protected and profitable no matter which direction sentiment surges next.
Your tactical trend hunter,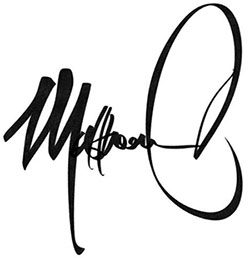 Matthew
Here Are 10 "One-Click" Ways to Earn 10% or Better on Your Money Every Quarter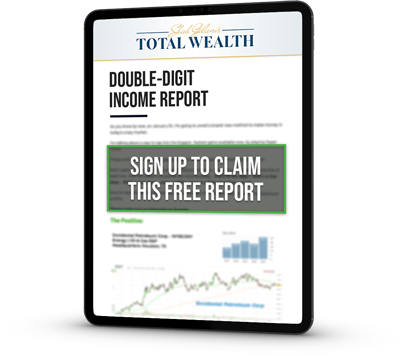 Appreciation is great, but it's possible to get even more out of the shares you own. A lot more: you can easily beat inflation and collect regular income to spare. There are no complicated trades to put on, no high-level options clearances necessary. In fact, you can do this with a couple of mouse clicks – passive income redefined. Click here for the report…