My phone is ringing off the hook right now.
I'm being hounded for interviews by every single big news organization in North America.
All those commentators you see on the stock market shows... all the talk-show hosts... all the wire services...
They're all calling me... they're all beating down my door...
And they all want to talk about one thing...
Pot stocks... and medical marijuana.
I'm not returning these media calls... I'm not granting interview requests... not yet.
Because I want to talk with you, first.
You see, all these news organizations are circling like vultures because they think they've found a big story.
And this time, they're completely correct.
What's more, they realize I'm the one person who can detail the full opportunity.
Here's why...
Where the Smart Money Is Going
Back on Sept. 2, I issued a special research report called The Roadmap to Marijuana Millions.
The 90-page report - which I gave to my Nova-X Report readers as part of their subscription - is the single most comprehensive look at medical marijuana investments that you'll find anywhere today.
And when I say "comprehensive," I mean that I considered every possible way to invest in - and profit from - this brand-new market.
In my report I detailed dozens of opportunities - both direct and indirect, and both public and private (pre-IPO). As I've told my subscribers, this is one of those ultra-rare "investment windows" where you can grab stakes in pre-IPO ventures, or in startups trading for as little as $0.30, $0.50, or $1 a share - and I mean real companies with real businesses, not "boiler room" stocks created only to separate investors from their money.
The opportunities I detailed in Marijuana Millions include:
Direct investment opportunities in medical marijuana growers that are at different points in their corporate "life cycle." Some of these are high-risk/high-return micro caps. Others are safer, more diversified agricultural ventures that have adopted medical marijuana as a new "cash crop."
"Backdoor" plays on medical marijuana, including logistics plays, retail-and-distribution firms, and even suppliers of such necessary "raw materials" as water, land, and fertilizer.
"Pick and shovel" opportunities via public companies providing such ancillary services as financing, specialized software, and even payroll services.
And a guide on how to provide desperately needed venture capital to the best private marijuana startups before they see their fastest growth - meaning you could cash in when they get acquired or after they go public. That includes "sitting in" on private investor presentations being made by marijuana companies seeking to raise capital.
I keep pretty careful tabs on my competitors. So I know there's no other report on the market that even comes close to the research I've put together for my subscribers. The only other outfit that even tried was a group that caters only to big-money institutions. Its offering lacks the depth of my report and contains only a handful of stock picks.
Besides, it costs $499 - meaning the "regular" investors who could benefit the most will never get close to that research.
As thorough as my report is, by itself that wouldn't normally be enough to have all the networks, wire services, and business magazines beating a path to my office door.
It's the fact that my forecast was true - the marijuana market is literally exploding with stocks having already doubled, tripled, and quadrupled. That really opened the sluicegate on the media interview requests.
In just the past few weeks a number of weed stocks have already shot up as high as 413%, 307%, 266%, 208%, 172%, 143%, 132%, and 101%. (To keep the list short, I only included some of the stocks that have doubled or better.)
After perusing those gains, it would be easy to feel as if you "missed out" on a onetime wealth windfall.
Don't give it a second thought.
As grand as these gains have been, the real "trigger" - the real reason I believe that medical marijuana represents one of those "once-in-a-generation investment windows" - is still to come.
In fact, it's just around the corner - which is why all those TV networks, talk-show hosts, and market mavens are so hot-to-trot to get me on camera.
I'm talking, of course, about the Nov. 8 general election.
The Will of the People
If those market gains I just cited got your adrenaline going, just wait till you see what I expect the election to do for marijuana stocks.
Next Tuesday, nine states will vote on marijuana legalization.
Voters in three states - Arkansas, Florida, and North Dakota - will decide whether to legalize marijuana for medical use. Montana is voting to make their already legalized medical program bigger.
And in five more states - Arizona, California, Maine, Massachusetts, and Nevada - voters will decide whether to legalize recreational marijuana just as Colorado and Washington already have.
A "yes" vote by California alone is enough to put the pot sector into a jet fighter-like vertical climb. If that state were a standalone country, its $2.46 trillion economy would rank as the sixth-largest market in the world.
Just in Sacramento, nearly 20,000 jobs and $4.2 billion in business would be created as an affirmation by voters turns that state capital into a hub for legalized weed.
Clearly, legal medical and recreational marijuana is about to become a big, big business.
Look, I understand that investments like this aren't for everyone. I know there's a segment of investors who will eschew "pot stocks" as they do "sin stocks" - like alcohol and tobacco.
And that's fine.
As the Silicon Valley specialist here at Money Map Press - and as one of the most connected experts in this sector - my job is to identify and bring you the biggest and best ways to cash in on technology.
And make no mistake: Medical marijuana is a technology - one that touches on healthcare, biotech, agriculture and advanced growing techniques, sensors, new kinds of lighting, and illness and disease. It serves a purpose - lots of purposes, in fact. Medical marijuana is used to help treat cancer, epilepsy and multiple sclerosis (MS), excruciating nerve pain, Parkinson's disease, and migraines and chronic nausea.
It's also an investment that affords my subscribers the chance to make money - meaningful money - on a technology-related trend that is about to be supercharged like a top-fuel dragster.
If you're already a Nova-X Report member, you should already have this report. If you haven't read it yet, just log in to the password-protected Nova-X website - the report is waiting for you there.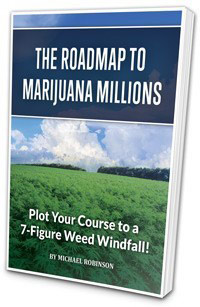 Now, before I close, consider this.
In 2013, the market for medically "sanctioned" marijuana was worth about $1.5 billion. It's expected to reach $6.7 billion this year - and $35 billion by 2020. And by 2029: The market is projected to reach $100 billion. Those are hefty numbers.
But I know that the biggest gains are made by the earliest investors - those with the foresight to get in before the "big event"... and before medical marijuana becomes a "me-too" sector.
That means the time to act is now. To do so, just click here.
Remember - I'm stiff-arming the media and any and all outside requests for copies of Marijuana Millions.
That's because I want you to have it before anyone else. It's valued at $499. But I'd like to give it to you - gratis.