FOMC Meeting
FOMC Meeting: What You Need to Know for March 2018
The U.S. Federal Reserve is expected to hike interest rates during its March 21 FOMC meeting, which will be the first meeting under new Fed Chair Jerome Powell.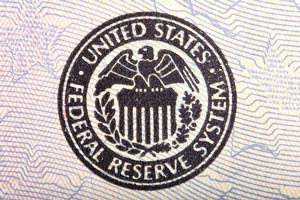 Jerome Powell took over as chair on Feb. 5, 2018, after serving for as a Fed governor since 2012. So far, Powell has appeared willing to continue his predecessor's (Janet Yellen) ambitious rate hike agenda.
Before Powell was nominated, the Fed "dot plot" – an anonymous projection from FOMC members of when the Fed will raise rates – showed most committee members expect roughly three rate hikes this year.
But after Powell's testimony in front of Congress on Feb. 27, Fed watchers noted Powell's optimistic tone on the economy could mean a fourth rate hike in 2018 is on the table.
And that means we'll almost certainly see the Fed raise interest rates during the next Fed meeting…
Will the Fed Raise Rates at the March FOMC Meeting?
The CME FedWatch Tool currently projects an 89% probability of a rate hike during the March FOMC meeting. This probability is up from 78.9% from a month ago, on Feb. 14, before Powell's congressional testimony.
But Powell's seemingly hawkish testimony isn't the only reason investors are anticipating a March rate hike.
"Trouble Is Brewing": According to Bloomberg's latest report, America could be heading for an economic disaster that would rival the Great Recession. Billionaire Ray Dalio's hedge fund, Bridgewater Associates, has made a $22 billion bet against the market. And Citibank calls our present situation "Eerily reminiscent of the mortgage crisis." To see why we believe some of the richest players in the world are preparing for a market collapse, click here.
Expectations of rising inflation have bolstered the case for the Fed's tightening of monetary policy. The Fed is looking for inflation of 2% or more, and the Core Consumer Price Index, the Fed's preferred inflation metric, ticked up a surprising 0.5% in January.
And the February inflation numbers fell into the "Goldilocks" zone.
"U.S. consumer prices in February were not too hot, not too cold, but just right to reinforce the outlook by Federal Reserve policy makers for three interest-rate hikes this year," reported Bloomberg.
"The last major consumer-price report before Fed officials meet next week indicated that inflation is gradually picking up without any big breakout."
Plus, the Fed might not have a choice but to keep raising rates, since it will lack tools to combat another downturn or recession when interest rates are so low.
With rates currently hovering just above 1%, the Fed can't expect a rate cut to boost economic growth, which is part of the motivation for increasing rates as much as it's feasible.
But interest rates aren't the only tool in the Fed's stimulus arsenal. It also needs to unwind its $4.5 trillion balance sheet…
Why Unwinding the Fed Balance Sheet Matters to You
The Fed spent trillions of dollars to help stimulate the economy between 2008 and 2015, and some analysts worry pulling the money back out will slow the economy.
Starting in 2008, the Fed began buying up assets in an effort to combat the 2008 recession by injecting money into the economy. The Fed would spend over $3.5 trillion between 2008 and 2015, buying everything from toxic mortgage-backed securities to Treasury notes.  
Money Morning Chief Investment Strategist Keith Fitz-Gerald has found that a staggering 93% of all market moves between 2008 and 2016 can be attributed to the Fed.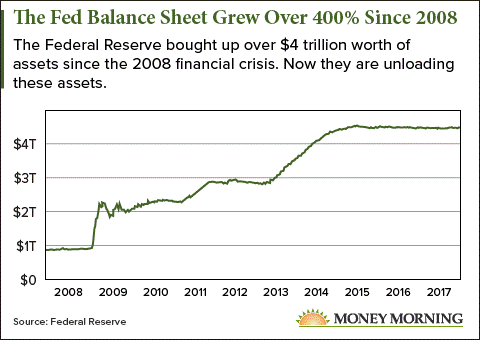 Since the Fed bought these assets to stimulate the economy, it needs to sell them back, or let them expire, now that the economy is growing again. If it doesn't, the Fed won't be able to respond to future downturns the same way.
Even though the Fed needs to get rid of these assets, unwinding the balance sheet means pulling money out of the economy. Analysts are concerned the Fed's spending spree helped boost stock prices during the bull market beginning in 2009, and without that money, the market could pull back.
This is the "biggest risk" to the economy right now, according to Michael Vogelzang, president of Boston Advisors.
But investors who sell their stocks because of the Fed could be making a mistake.
That's why Keith isn't worried by the Fed's balance sheet or rate hikes.
"Millions of investors mistakenly believe that rate hikes spell the death of equities," Keith said back in June 2016, just after the Fed's first interest rate hike since slashing rates in 2008.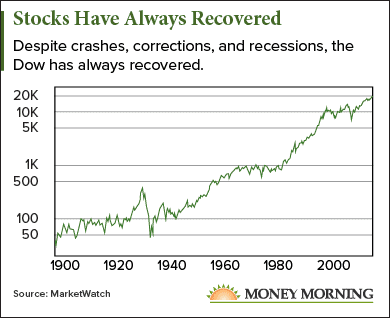 And Keith was right.
The Dow is up 22% since then, and the Fed raised rates two more times since then, too.
While the Fed unwinding its balance sheet could be more destabilizing than the Fed raising interest rates, Keith isn't expecting it to hurt the stock market.
"If the Fed sticks to the snail's-pace normalization it's followed so far, then the markets can absorb the garbage dump," Keith told Fox Business Network's Neil Cavuto.
Keith says he would only be concerned if the Fed proposed a gimmicky strategy to get rid of its assets, like bundling junk mortgages with AAA bonds.
Either way, investors are better off staying in the stock market for the long haul. Trying to time the market's dips and surges is nearly impossible, and it's more likely you'll miss out on long-term gains that way.
"Bottom line: Stay in to win," says Keith.
And while the Fed might not have divulged much more information about unwinding its balance sheet during the last FOMC meeting, it's something else to keep an eye on during the next FOMC meeting.
Here's a look at the Fed's 2018 meeting schedule, including probabilities for interest rates hikes.
The 2018 FOMC Meeting Schedule
The Fed is planning to hold six more FOMC meetings in 2018 once the March meeting ends.
And according to the dot plot, the Fed anticipates three total interest rate hikes in 2018. FOMC members' average prediction for interest rates at the end of 2018 is between 2% and 2.25%.
These are the tentative Fed meeting dates for the rest of 2018:
March 21
May 2
June 13
1
26
8
19
And rising interest rates will impact your money…
What Higher Interest Rates Mean for Your Money
Higher interest rates mean borrowing money becomes more expensive, and it can lead to lower stock prices.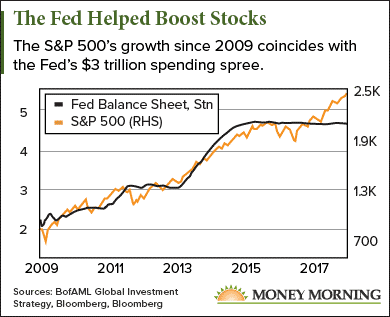 Higher interest rates could lead to stock prices dropping, because businesses will see their borrowing costs rise. This might lead them to borrow less money, which could lead to slower growth.
Rising interest rates also make bonds more attractive investments because they pay higher yields. Rising bond yields could lead to investors moving their money out of the stock market and into bonds. That means share prices could fall as money leaves stocks.
But we don't recommend following what everyone else does.
Like Keith says, staying in the stock market is the only way to see long-term growth. In fact, history shows us that stocks will always rise.
But there are two other ways higher interest rates can affect your money…
First, higher interest rates strengthen the value of the dollar.
A stronger dollar means your money will go farther internationally. Imports will become cheaper as the dollar strengthens – each dollar will be able to buy more – and traveling abroad will also be cheaper.
Since oil is traded in dollars, a rising dollar will lead to cheaper oil prices, too.
And while the conventional wisdom holds that a rising dollar means precious metals' prices will fall, we know that's not true. In fact, we're expecting climbing interest rates to be a bullish catalyst for gold and silver.
Editor's Note: Just click here to sign up for Gold Updates to make sure you get our next recommendation as soon as it's released.
Second, rising interest rates will lead to higher borrowing costs for most Americans and businesses.
Car loans, new mortgages, and credit card debt will come with higher interest rates.
For example, the average car loan interest rate is currently 4%, but before the 2008 financial crisis, car loans came with an average interest rate of 8%.
Similarly, if you have a variable rate mortgage or a balance on a credit card, your monthly payments will go up after the Fed hikes rates again. You can avoid paying more by refinancing to a fixed-rate mortgage before the Fed raises rates, or paying off your credit card balance.
But higher interest rates will also help, too.
Interest-paying savings accounts will pay more after a Fed rate hike. Currently, the average savings account pays a 0.06% yield. But before the Fed slashed rates in 2008, savings accounts paying over 5% yields were still available.
How to Invest as Interest Rates Rise
Since higher interest rates will affect all parts of the economy and could even lead to a downturn in the stock market, we want our readers to know the two best ways to invest as rates rise.
First, gold is a safe-haven asset that will protect your money over time. And as the Fed's policies pull liquidity out of the markets, investors could turn to gold.
One way investors can gain exposure to gold is through gold mining stocks.
As gold prices rise, these mining companies instantly become more profitable.
Money Morning Executive Editor Bill Patalon likes Canadian "mining heavyweight" Goldcorp Inc. (NYSE: GG).
Not only will Goldcorp's gold mines become more profitable when gold prices rise, but Bill says "Goldcorp has consistently been one of the most innovators 'thinkers'" in gold mining. It's currently employing state-of-the-art artificial intelligence to analyze its geological data to find the best areas to mine gold.
"I love this strategy," said Bill, "because of its innovativeness, and also because it has both near- and long-term focuses."
Second, owning resilient stocks in well-managed companies is our next way to profit, especially when the market gets volatile.
The trick to making huge profits is to find "must-have" companies that fall into what Keith Fitz-Gerald calls the six "Unstoppable Trends": medicine, technology, demographics, scarcity & allocation, energy, and war, terrorism, and ugliness (also known as "defense"). The Unstoppable Trends are backed by trillions of dollars that Washington cannot derail, the Fed cannot meddle with, and Wall Street cannot hijack.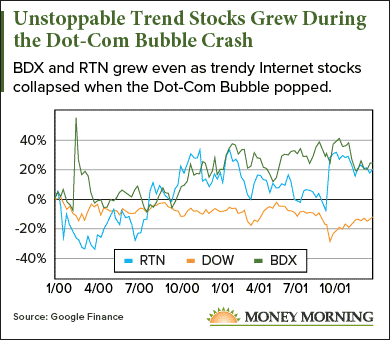 And Keith has two Unstoppable Trends stocks that will help you profit even if the Fed makes a decision that hurts the stock market. Just look at how these stocks performed when the dot-com bubble burst in 2000, crashing the stock market…
First, Becton, Dickinson and Co. (NYSE: BDX) is a medical device manufacturer and a leader in the Unstoppable Trend of demographics.
As the population gets older, more people will need medical care, especially long-term care. There's simply no way of getting around it: People will age, and they will need medical care as they do. That's what makes this an Unstoppable Trend.
And BDX is the perfect play, because it is a leading manufacturer of one-time-use medical supplies, like syringes and hypodermic needles. Not only do hospitals, physicians, and long-term care facilities constantly need to buy these essential supplies, they'll need even more of them as the population ages.
Becton Dickinson is also a well-run company. It knows how to turn sales into profits, which means an even bigger boost for shareholders as its sales figures rise.
Becton Dickinson currently maintains an above-industry-average profit margin of 10.54%, and the company had enough cash on hand to spend $12.2 billion to buy CareFusion two years ago.
That's how BDX can maintain its healthy 1.37% dividend yield and growing share price.
BDX trades at $224.01, and Wall Street analysts set one-year price targets for BDX as high as $260, a 16% jump.
Raytheon Co. (NYSE: RTN) is a leader in the Unstoppable Trend of war, terrorism, and ugliness.
Raytheon is one of the five largest defense contractors in the United States, with billions in contracts with the U.S. government and governments across the globe. In fact, international customers make up half of Raytheon's portfolio. That means Raytheon's customer portfolio is diversified, and changes in one country's security are balanced by the rest of the portfolio.
But Raytheon's services will always be in demand. Governments, and even businesses, always need security and protection. Between a potential conflict with North Korea, China and India's border dispute, a surge of U.S. troops in Afghanistan, and the growing threat of cyberterrorism, Raytheon is staying busy.
And just look at how global tensions affect RTN stock. When the United States launched Raytheon's Tomahawk missiles at a Syrian airbase on April 7, Raytheon's stock jumped more than 2%.
But Raytheon is addressing future threats, too. Its cybersecurity and intelligence unit is worth $6.2 billion on its own, especially after its 2016 takeover of Forcepoint, a cybersecurity firm.
RTN currently trades at $209.50 a share and pays a 1.52% dividend yield. Wall Street analysts are giving RTN a one-year price target as high as $260, which could bring owners a potential 24% gain.
Editor's Note: "Must-have" companies backed by Unstoppable Trends are a cornerstone of Keith's wealth-building strategy. But there's another type of investment he wants Money Morning Members to know about. It's one of his favorites, a kind of "desert island fund" he'd buy if he had to park his money in one place, "retire" from civilization for 20 years, and come back to a pile of money. Click here to learn more…
Follow Money Morning on Twitter @moneymorning, Facebook, and LinkedIn.