FOMC Meeting
FOMC Meeting: What You Need to Know
The Federal Open Market Committee (FOMC) is a body made up of seven members of the Board of Governors of the Federal Reserve System and five presidents of the individual regional Reserve Banks.
The FOMC debates monetary policy at its roughly eight regular meetings per year.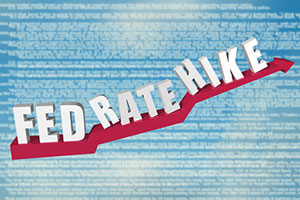 The FOMC's decision to raise, cut, or leave rates unchanged is informed by Federal Reserve member data about economic conditions around the country. There are a number of economic indicators that are accounted for, including jobs, inflation, business and consumer economic behavior, and the direction of economies and rates overseas.
The FOMC meeting decisions, whether issued in announcements or via FOMC minutes, have huge impacts on the markets and the economy.
A cut in rates is often intended as economic stimulus, while raising them indicates the economy is on solid footing. There is also an art to not raising rates; think of it like not slamming the brakes on a recovering economy.
Balancing the amount of rate hikes is delicate because rate hikes have a direct impact on your money…
How Interest Rates Impact Your Money
From precious metal prices to international traveling expenses, interest rate hikes can have a direct impact on your money.
Climbing interest rates can have a bearish impact on gold and silver prices.
The first reason is because gold and silver don't provide dividends or interest rates. When interest rates are raised, savings accounts and bonds offer appealing yields.
Instead of buying gold and getting nothing, investors would rather have their money earn them interest. So gold and silver demand drops.
The second reason precious metal prices fall after U.S. interest rates are raised is because of a stronger dollar.
Since gold and silver are priced in dollars, it costs investors in foreign nations more money to purchase gold when the dollar is stronger. And because supply and demand drives the price of precious metals, the price falls because foreign investors are less likely to buy gold at higher prices.
For the dollar, rising interest rates can be bullish…
The dollar becomes stronger when interest rates are high because of supply and demand. Fewer people can afford to pay back higher interest rates, making money scarce. Importing goods from other countries then becomes cheaper. The savings from importing goods can be passed on to customers, theoretically increasing business sales by customers spending more money.
There are also four additional ways rate hikes increase your money…
Additional Ways U.S. Interest Rates Affect Your Money
Auto Loans: Because of the stock market crash of 2008, auto companies have relied on loans with low rates to attract customers. Car loans can average between 2% to 3% now, but car loans were 8% before the crisis, according to CNBC. Lowering rates helped stimulate sales. In February 2009, light vehicle sales were at 9 million. By November 2015, those sales climbed to 18 million.
Mortgage Rates: An interest rate hike won't affect you if you have a fixed mortgage. You are locked in at one rate, no matter what the Fed does. But if you have a mortgage with adjustable rates, you will start to see higher bills monthly or annually. Buying a house before Fed meetings can help you potentially lock in a lower interest rate before the end of 2017.
Credit Cards: Most credit cards have variable interest rates, which means your payments will go up quickly if the Fed raises interest rates. And if the interest rate increases, your minimum payment will also increase. According to Forbes, most major credit companies will take a percentage of your principal and add the interest accrued during that period to create a new minimum payment.
Travel Industry: A Fed rate hike can mean cheaper travel expenses for Americans visiting foreign countries because the dollar is stronger. European central banks' and the Bank of Japan's easing programs for their national currency also help you buy more for less.
2017 FOMC Meetings
The Fed will meet a total of eight times in 2017, and has already raised interest rates twice.
The first interest rate hike was after the March 14-15 FOMC meeting. The central bank raised rates from 0.75% to 1%. The Fed raised rates once again after its June 13-14 meeting from 1% to 1.25%.
This puts the Fed on track to meet its goal of three interest rate hikes in 2017.
What's Next for the Fed in 2017?
The Fed will meet four more times in 2017, and those meetings are scheduled for:
July 25-26
Sept. 19-20
Oct. 31- Nov. 1
Dec. 12-13
Right now, investors expect the next rate hike will be at the end of 2017. According to CME Group's FedWatch Tool, 43.6% of investors believe the Fed will raise rates from the current range of 1% to 1.25% to a new range of 1.25% to 1.5%.
This sentiment follows a speech from Chicago Federal Reserve President Charles Evans on June 19. He said it may be worthwhile for the FOMC to wait until the end of 2017 to decide whether to raise rates again.
However, there is no guarantee the Fed will raise rates. If job growth is low or the unemployment rate increases, the members of the FOMC committee may hold off on raising rates for a third time in 2017.
How to Invest Given Interest Rate Trends
Investors should keep in mind that while interest rates may be climbing in 2017, they are still extremely low.
In January 2016, Money Morning Chief Investment Strategist Keith Fitz-Gerald reiterated that there are opportunities in every market. He reminded investors that during times of low rates, the markets are the most powerful wealth-creation tool available to help protect and grow your retirement. Fitz-Gerald said it's important to keep your eyes on the big picture and, if possible, to stay in the game.
Fitz-Gerald recommends that investors think in terms of portfolio structure. He recommends that investors create a pyramid-structured portfolio that is based on investment type, with allocations of 50%, 40%, and 10%.
The 50% is put toward "foundational" investments. These are picked for a solid base and their ability to not be driven by volatility. Foundational plays are companies whose products will be purchased regardless of the economic picture. They are also "dividend aristocrats" – companies that have a multi-decade record of growing their dividend payout and whose yields are often better than investors can obtain through the bond market.
The 40% is devoted to growth investments. They are globally engaged companies with strong balance sheets and products that will benefit from Fitz-Gerald's Unstoppable Trends. (These are medicine, technology, demographics, energy, war/terrorism/ugliness, and scarcity.) They provide products and services that businesses and consumers consider must-haves. Many are also income stocks and dividend aristocrats as well.
For the 10%, investors can invest in companies that will move up based on a specific catalyst. It could be government approval of a new product, an initial public offering of a promising company, an acquisition, or a new patent.
The direction of markets often depends on the direction of the FOMC meetings. Stay tuned to the news out of FOMC meetings by following Money Morning analysts.
Follow  Money Morning on Facebook and Twitter.