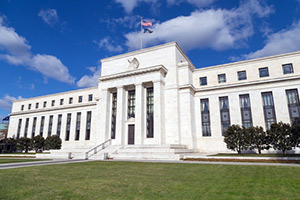 The U.S. central bank kicks off its two-day FOMC meeting today, and it's the most highly anticipated Fed meeting of 2016.
A quarter-point interest rate hike is all but assured at the conclusion of U.S. Federal Reserve gathering on Wednesday. Market odds of a rate hike tomorrow sit at 95.4%, according to CME Group's FedWatch Tool. That would bring U.S. interest rates to a range of 0.5% to 0.75%.
A Fed rate hike on Wednesday will mark only the second interest rate increase in the last decade. The Fed last raised rates in December 2015.
Given the probability of an interest rate increase this week, the Fed's post-meeting statement and Fed Chair Janet Yellen's press conference will be especially important. Every word will be dissected for clues about the Fed's pace of rate hikes going forward.
Yellen is expected to provide a more upbeat assessment of the U.S. economy.
Trending: Get the Best Investing Research Today to Grow Your Money
The unemployment rate last month fell to a nine-year low of 4.6%, and recent economic reports point to an improving economy. Retail sales have improved, and consumer and business sentiment is rising.
At the same time, inflation appears to be heating up.
For more than four years, inflation has lingered below the Fed's 2% target. But the jobless rate is likely low enough to pressure wages higher, which could lead to faster price gains.
Consumer prices other than energy or food, a measure the Fed watches to gauge inflation trends, rose 1.7% in the year through August. That was up from 1.4% at the end of 2015. The next read on inflation comes Thursday with the November CPI report.
Analysts and economists don't expect policymakers to dramatically alter their forecast this month. But many do expect to a see a quickened pace for rate hikes in 2017 and 2018. Part of the reason is President-elect Donald Trump's plans to boost fiscal spending, cut taxes, and encourage corporate cash repatriations. Rising oil prices and higher inflation should also boost the cause.
Still, it is too early for the FOMC to rely on Trump's promises, since many are still up in the air.
Nonetheless, markets are placing a 50% chance that we'll see another interest rate hike by June 2017. That would bring the range to 0.75% to 1%. For the full year, the consensus view is for two or three rate hikes.
Since an interest rate hike on Wednesday is already baked in to markets, market reaction to a rate lift is expected to be muted. The worry is that a more hawkish-tilting Fed could cause stocks to wobble...
What's Next for Markets Following the FOMC Meeting Today