The bond market is about to rally as the U.S. Federal Reserve prepares to cut rates next week.
Are you ready?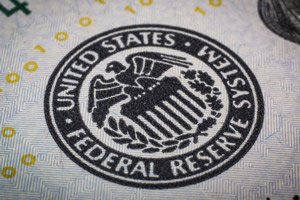 In preparation for the long-telegraphed Fed rate cut, investors are wondering what to do next.
The decision might not be theirs.
The central bank is grappling with stubbornly low inflation and global interest rates that are spiraling lower.
It was beyond hopeful thinking in 2018 that resulted in the Fed tightening monetary policy with a series of rate hikes. That includes its last hike in December 2018.
Less than a year later, and we have a reversal of fortune.
Watch Now: Robert Herjavec is helping everyday Americans discover the next Airbnb. Click here now...
What gives? It's a reasonable question.
The prevailing wisdom is that the economy is in trouble, maybe even big trouble.
Many are calling for a big response, like a 50-basis-point cut.
If the central bank is that bold, the reaction in the bond market will not be conducive to those searching for yield.
Even though rates domestically are near historical lows, they can always fall further.
With inflation essentially non-existent, negative interest rates might be in play down the line.
What is a saver to do?
For those looking for income, the response is to buy dividend stocks.
Already expensive by most measures, dividend stocks will be attractive as the bond yield falls.
A 50-basis-point rate cut will signal to the market that all is not well in the economy.
When future growth is in jeopardy, rates will sink.
It may seem preposterous given how low rates are to begin with, but the idea of even lower rates is now the pathway of least resistance.
The best thing that can happen for those interested in a return to normal in the bond market (whatever that means) is for the Federal Reserve to not raise rates.
That's not happening.
If it does, the stock market will go ballistic with investors rapidly selling shares.
It would be a major tantrum.
So, we can safely assume that rates will be cut and the search for yield will be on... again.
I loathe such forced contrivance, but it is what it is.
We have to play the cards that are dealt.
The name of the game will be to buy dividend stocks and do so before they become exorbitantly priced.
Is that even possible?
As always, I'll turn to the Money Morning Stock VQScore™ system to find value in the markets.
Here's the best dividend stock to add to your portfolio now...
The Best Dividend Stock to Buy Before the Fed Rate Cut