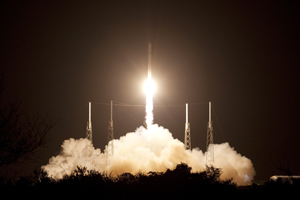 Updated Jan. 21, 2015: An exciting Google-SpaceX partnership was formed Tuesday evening. Together, the visionary companies will attempt to bring the remaining two-thirds of the globe online...
You see, more than 60% of the world's population is still offline, according to a September 2014 study by McKinsey & Co.
Google Inc. (Nasdaq: GOOG, GOOGL) has long sought to make Internet connectivity accessible on a global scale.
It started Project Loon in 2013 to launch high-altitude helium balloons that beam down Wi-Fi to hard-to-reach locations. And last year, it acquired dronemaker Titan Aerospace for $60 million. The companies are now testing solar-powered drones to increase Internet access.
After a day of rumors, the Internet giant and Fidelity confirmed a $1 billion investment in Elon Musk's SpaceX around 5 p.m. ET Tuesday. A source close to the deal said Google valued SpaceX north of $10 billion.
Here's why Google teamed with SpaceX to make the World Wide Web truly worldwide...