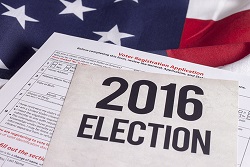 Iowa caucus 2016: The results of the 2016 Iowa caucus were announced today, and Money Morning Chief Investment Strategist Keith Fitz-Gerald spoke to readers about the election's impact on the stock market.
But first, here are the results of the 2016 Iowa caucus…
Republican presidential candidate Ted Cruz finished first in the Republican Iowa caucus with a 28% lead. Cruz beat billionaire Donald Trump – who came in second – by about 4%.
Marco Rubio came in third place, trailing Trump by only 1%. Rubio's standing was a significant victory for establishment Republicans, who had failed to gain traction for much of the election 2016 race. In terms of delegates, Rubio actually tied with Trump, as both received 7 delegates in total.
Former Arkansas Gov. Mike Huckabee, who won the Iowa caucus in 2008, suspended his campaign after getting less than 2% of the vote.
Democratic candidate Hillary Clinton won among Democrats with a series of tie-breaking coin tosses over Sen. Bernie Sanders. In at least six precincts, county delegates were chosen by a coin toss, which is a standard procedure in Iowa's Democratic caucus guide for settling a tie. Despite 1-in-64 odds, Clinton won all six precincts.
Former Maryland Gov. Martin O'Malley suspended his campaign after receiving less than 1% of the vote.
According to Fitz-Gerald, the results of the 2016 Iowa Caucus will impact different sectors of the markets differently.
He made his regular appearance on FOX Business' "Varney & Co." on Monday and explained exactly what a win from each candidate would mean for the markets…
Follow Money Morning on 
Facebook
 and 
Twitter
.