Some of the most common questions we receive at Money Morning from new investors are what are blue-chip stocks and why are they so valuable to investors?
Blue-chip stocks are a good option for investors looking for healthy long-term growth in their portfolio. Here's everything you need to know about what blue chips are, plus one of our favorites to invest in now...
What Are Blue-Chip Stocks and Why Should I Buy Them?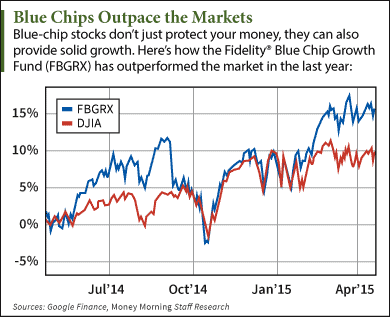 Blue chips are stocks of well-established companies with multibillion-dollar market capitalizations. They're internationally recognized and leaders in their respective industries.
Blue-chip stocks trade on major exchanges like the Dow Jones Industrial Average, the S&P 500, or the Nasdaq 100.
Blue-chip stocks are best for investors who want to purchase a stock and hold it for five years, 10 years, or even longer. They're not great for day traders because there won't be frequent price swings.
But for anyone looking for a solid way to protect and build their wealth, blue chips are an excellent choice.
Blue chip stocks have very strong earnings, revenue, and margins. This makes them some of the most stable investment opportunities on the market. During market corrections, or even recessions, blue chip stocks hold their value better than other stocks.
But because they're leaders of their industry, blue-chip stocks also offer strong upside.
Another benefit of these stocks is they typically pay healthy, consistent dividends. Many blue chips increase their dividends regularly and make payouts for decades. This lets investors collect income even if share prices pull back.
One of the most popular and well-known blue-chips stocks is Procter & Gamble Co. (NYSE: PG). Procter is a $223 billion conglomerate that's a worldwide leader in consumer packaged goods. It is one of the 30 components of the Dow and was founded 177 years ago. Over the past five years the stock has posted steady growth of 32%. Right now PG stock has a dividend yield of 3.2%.
While PG is a healthy, long-term money maker for your portfolio, here's our favorite blue-chip stock to buy today...
The Best Blue-Chip Stock to Buy and Hold Now