Hello, my name is Keith Fitz-Gerald.
And if you are retired or nearing retirement, it's critical that you pay close attention.
On April 10 2017, the Department of Labor will execute a controversial plan.
It's one that few knew was within their power.
And they're using an obscure clause buried in Title 29 of the US Labor Code to pull it off.
CNBC warns this "will force major change" on American retirement planning.
The Wall Street Journal is reporting it "could cost American savers $80 billion."
And time is running out to prepare for the aftermath.
Very soon, millions of retirees and future retirees could become the victims of a nationwide blackout that's been orchestrated by the Federal government.
Caught in the crosshairs is a unique class of investments.
I call them…
"26(f) Programs"
They Rose to Prominence During the Great Depression, Thanks to President Roosevelt's Team That Also Created the FDIC and Social Security.
26(f) Programs allow people to "enroll" with one small investment stake.
And they give investors the opportunity to earn aggressive monthly income combined with huge lump-sum payouts.
You can potentially:
Get paid $2,000… $5,000… even more… every month for the rest of your life.

Then still grab six figures in one shot.
And on top of that, there are 26(f) Programs that can operate as 100% legal tax havens.
If you haven't heard of 26(f) Programs, don't worry...
You aren't alone.
However, it's critical you find out which ones you should "enroll" in now...
Because this fast-approaching Retirement Blackout may cause you to miss out on $68,870, or more, a year.
For Decades, 26(f) Programs Have Been Used by the Wealthy to Build Huge Fortunes.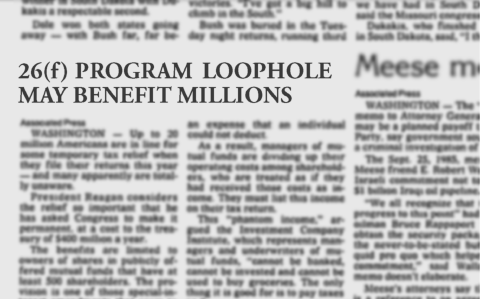 You've probably heard of famed investor Peter Lynch. But when people talk about his impressive exploits, they rarely mention that he was also getting paid an estimated $3 million or more a year thanks to a 26(f) Program.

Warren Buffet is another beneficiary in 26(f) Programs. $1.1 billion worth of his company, Berkshire Hathaway, is now owned by them.

Sir John Templeton unlocked the secrets of 26(f) Programs as well! In fact, if you'd been able to invest alongside him, you could've transformed $10,000 into $2 million. And that's by simply reinvesting the enormous earnings.
However, it's not just the Wall Street elite who are reaping the rewards.
Politicians on Both Sides of the Aisle Also Take Advantage of 26(f) Programs.

President Donald Trump has at least $18.6 million in them...

Governor Mitt Romney had at least $12.8 million...

Speaker John Boehner had over $785,000...

President George W. Bush had $150,000...

In his 2008 financial disclosure Vice President Dick Cheney, had $6 million in 26(f) Programs...

And recently unearthed tax documents show President Reagan also benefited from a 26(f) Program.
But you don't have to be a rich banker or a well-connected politician to take part in them.
Even Though Most Americans Have No Idea 26(f) Programs Exist… the Results Can Be Life-Changing!
Take Helen and Jeff Barnes of Indianapolis.
Helen is a stay-at-home mom.
Jeff is an attorney.
They've steadily used 26(f) Programs as an integral part of their investing strategy.
Today, in their early fifties, they are worth upwards of $2 million.
Or look at Terrence Morgan. When he posted his story online, I knew I had to share it.
Terrence lives in Maryland. He's worked office jobs ever since college, putting just a small part of each paycheck toward 26(f) Programs.
As he tells it, they've helped him achieve a net worth of "slightly over $2 million." And in about a year he'll be living "mortgage-free in my house that's probably worth about $700,000."
Namit Singh was born in India. After immigrating to the United States, he became a physical therapist.
He also discovered a 26(f) Program and incorporated it into his retirement plan.
And what a lucky break that turned out to be…
Because he received a lump-sum payment of $439,672.
But that's not even the most exciting part.
Namit will also be collecting monthly income for the rest of his life, bringing his total haul up to an estimated – get this – $5.3 million!
Amazing, right?
Interestingly enough, 26(f)s aren't government-run retirement programs.
They aren't traditional programs in any sense.
Even better, they aren't even limited to retirees.
Americans over the age of 18 can capitalize on them.
So What Are 26(f) Programs?
How Do They Work? And How Can You Take Advantage of Them?
Ahead, I'm going to give you all the details.
You're going to see it's really easy.
Some only require you fill out a simple application form with your investment.
Others, it can be done with a few mouse clicks.
You can use your 401(k) or IRA.
You can use any money you have lying around.
I recommend you use whatever you can to take advantage of 26(f) Programs.
Because…
You Could Have Made $68,870 by "Enrolling" in Just One 26(f) Program Last Year.
But as you're about to see, you could make much, much more, too.
Plus most of these investments allow you to customize them to disperse cash every month.
These returns can be much bigger than your Social Security checks.
$5,000… $10,000… $50,000… $100,000… every month.
Look at Darrow Kline.
He quit his job as an engineer at the age of 50. Darrow had your usual retirement investments and savings plan. But he was also using 26(f) Programs to supercharge his income.
He's now retired and living comfortably on $6,000 a month.
Roy Nair used to work for a natural gas distributor in Missouri.
But today, he's retired a millionaire.
Like Darrow, Roy had his savings and a diversified investment portfolio.
He also went BIG on 26(f) Programs.
But he didn't have to invest BIG to do so.
He was only kicking in $300 a month.
Yet it was key to his now seven-figure net worth.
And the income he's receiving from 26(f) Programs has helped give him complete financial freedom.
Roy likes to live frugally, so he only needs about $50,000 a year.
But he also likes to splurge on at least four trips a year to places like Chile and Jamaica.
These People Are All Living Their Dreams…
Yet, Come April 10, 2017, the Department of Labor Is Going to Make it Very Hard For Others to Join Them.
This is when the Federal government will implement their retirement blackout.
And there's no way to stop it.
So Why Is the Federal Government Issuing This Blackout?
I believe the answer can be found in Title 29 of the US Labor Code.
"It is hereby declared to be the policy of this Act… to protect Federal taxing power."
– Title 29 of U.S. Labor Code
The wording is quite clear:
The IRS wants to protect their ability to tax Americans.
You see, besides creating large amounts of wealth quickly and allowing people to earn massive monthly income…
You can actually use some 26(f) Programs to deduct up to 50% of your adjusted gross income!

In fact, some investors can legally pay no taxes at all on their 26(f) Program profits.
Make no mistake, this isn't the first time 26(f) Programs have come under fire.
Back in the late '80s, Congress was set to nix a tax "loophole" available to some 26(f) Programs.
But President Reagan himself stepped in.
He considered the tax relief so important he wanted to make it permanent. Even if it cost the Treasury $400 million a year.
Now, fast forward to today.
With the U.S. government blowing past the $19 trillion debt mark…
h
It looks like they've targeted 26(f) Programs.
But There Is Some Very Good News. You Can Make an Absolute Fortune from 26(f) Programs For the Rest of Your Life!
And There Is Nothing Uncle Sam Can Do to Stop You!
By taking one simple action today, you can get into 26(f) Programs before the blackout.
And you could set yourself up to make $68,870 or more…
Every single year...
While also becoming able to earn an aggressive monthly income to help you live the retirement of your dreams.
And I'd like to help you.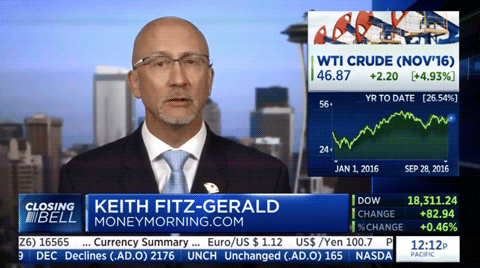 My name is Keith Fitz-Gerald.
And I'm the chief investment strategist for Money Morning.
I have spent more than 34 years in the markets as an analyst, consultant, and quantitative trader.
I cut my teeth at some of Wall Street's biggest firms, including Wilshire Associates, which oversees more than $8 trillion for over 600 institutional investors.
There is almost nothing I haven't seen in the markets.
And let me tell you…
26(f) Programs Offer Some of the Best Benefits of Traditional Investments All Wrapped Into One.
This unconventional and fairly unknown class of securities is truly remarkable.
They let you get a stake in some of the biggest and safest stocks around.
As well as the hottest pre-IPO firms.
Last Year, Bloomberg Published the Results of a Study On a 26(f) Program Funding an Automotive Supplies Company.
It Determined That a One-Time, $10,000 Investment Would've Transformed Into $2 Million.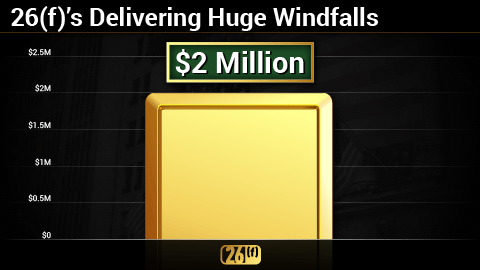 Yet, 26(f)s aren't managed by these companies. They operate independently.
However, because of their sheer financial power, they can be granted special perks, special pricing… special treatment…
In a nut-shell, 26(f) Programs are like special "deals" that have been negotiated on behalf of investors.
And they are designed to potentially deliver gains that greatly outperform the stocks themselves.
For instance…
Between January and June of 2016, the Stock of Energy Titan BP Rose a Meager 2.78%.
However, a 26(f) Program Associated With BP Outperformed It by 184%!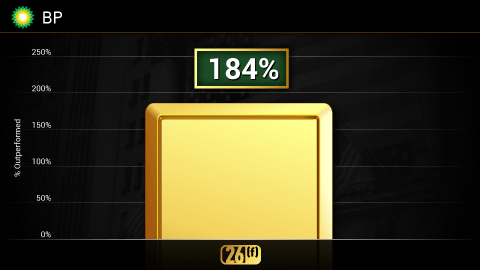 Take a look at Tesla, the electric car builder that is all the rage with celebrities.
In 2015, the construction of Tesla's Gigafactory was in full swing.
And at a cost of nearly $5 billion they needed a great deal of outside funding.
It's a pretty good bet that 26(f) Programs helped make that happen. And investors were handsomely rewarded.
Between August and December of 2015, Tesla's Stock Rose 5.26%.
A 26(f) Program Backing Tesla Though, Did 228% Better!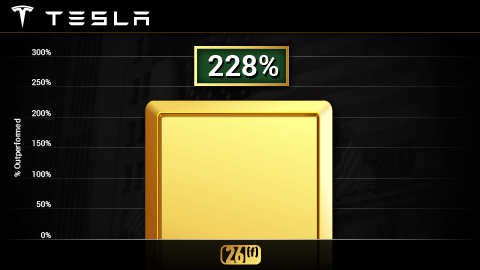 Now, let's jump back to 2013 and talk about PepsiCo.
They make America's second-favorite soda.
But investors in a 26(f) Program tied to PepsiCo, probably thought their gains were second to none.
Between April and November of 2013, PepsiCo's Stock Rose 3.07%.
A 26(f) Program Funding PepsiCo Beat It by 305%!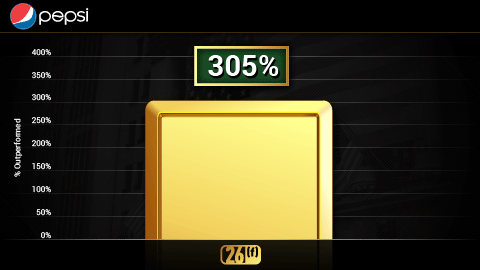 Let's go back a little further to IBM.
In the years following the recession, some companies recovered better than others.
From where I'm standing, IBM was not one of them.
But that didn't matter to 26(f) Program investors.
Between June of 2010 and December of 2015, IBM's Stock Rose 11.45%.
However, a 26(f) Program Associated With IBM Outperformed It by 525%!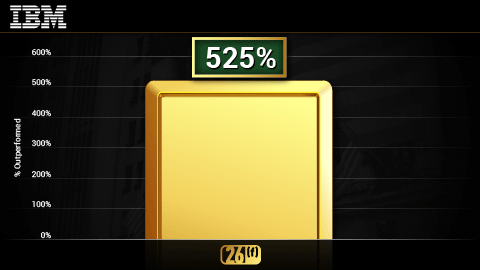 Now, like any investment, there are risks involved. I'm going to talk about them ahead.
But you are unequivocally avoiding the high risks of complicated investments like options, futures contracts, or FOREX.
And here's another amazing benefit…
26(f) Programs Can Also Get You Behind the Red Velvet Rope of Private, Pre-IPO Juggernauts.
Consider Uber…
In 2011, it was worth $60 million.
Today, it's worth $68 billion.
That's 113,233% growth in five years.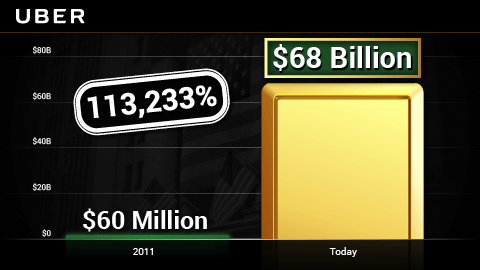 That's the equivalent of turning $500 into over $566,000.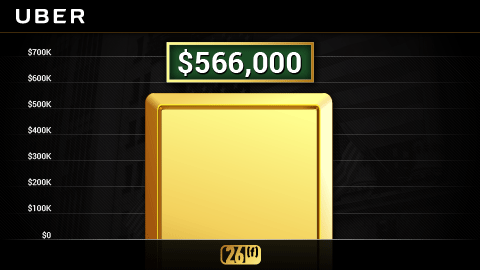 Imagine getting a piece of that action through a 26(f) Program.
Or imagine investing in Twitter back in 2008 when it was privately held.
That was when it was valued at $104 million.
Today, it's over $11.4 billion.
That's a 10,862% spike.
The same as turning $500 into $54,808.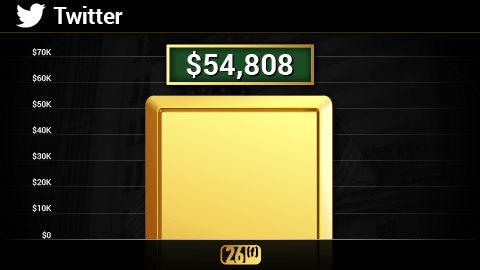 And long before Twitter IPO'd, a 26(f) Program gave fortunate Americans the chance to get their piece of the action.
Today, there are 26(f) Programs dialed into:
Snapchat… its valuation is $20 billion.

Pinterest… $11 billion.

Dropbox… $10 billion.

Airbnb… $30 billion.
The valuations of these companies can explode, sometimes in under a year.
What that means is…
You Don't Have to Invest in a 26(f) Program in Your 20s or 30s… and Then Wait Around for Decades to Reap the Rewards Like a 401(k).
Take Dane LaVoy of San Diego.
For most of his life, Dane had a normal investment portfolio and savings plan.
In fact, he didn't enroll in a 26(f) Program until he was in his forties.
But I bet he thinks that's the best financial decision he's ever made.
Because it played a major role in Dane saving nearly $1.4 million for retirement in only eight years.
Imagine having an extra $14,583 a month on average to spend as you choose.
Well, Dane doesn't have to imagine that.
Retired Army Major Joe McCord may not be a millionaire from his 26(f) Programs yet.
But he could be soon.
During his military career, Major McCord earned a modest salary. But he and his wife steadily used 26(f) Programs, starting with as little as $210 a month.
By age 45, Major McCord was retired.
And according to him, "By the time I'm 50, my investment account will be seven figures."
But there's still more…
Since Most 26(f) Programs Are Run by Big Banks and Financial Institutions, They Can Provide Instant Liquidity.
You never have to wait for a buyer.
The issuer is legally obligated to buy it back from you for full price.
And what full price means isn't up for debate either.
It's usually determined at the close of the market each day.
And there are even 26(f) Programs that allow you to invest in the banks themselves.
Between Last February and August, PNC Bank's Stock Barely Had a Pulse… It Rose Only 1.62%!
A 26(f) Program Tied to PNC Though, Pummeled That Return by 1,351%!
Obviously, 1,351% is an exceptional example.
But consider the other 26(f) Programs I've mentioned already.
There is huge money in play here.
Ahead, I'm going to show you how you can get into as many 26(f) Programs as you like.
In fact, I'm going to share some info regarding my top 10 picks.
And you can "enroll" in them quickly.
I Recently Clocked a First-Time "Enrollee" in a 26(f) Program...
He Did It All Through His Standard Retirement Account...
And It Took Him Only 97 Seconds.
If You're Thinking This Sounds Too Good to Be True, You're Right. It Does Sound Too Good to Be True.
To Understand Why 26(f) Programs Exist As We Know Them Today…
We Need to Go Back to 1933.
The Great Depression had left the country teetering on the verge of collapse.
And shortly after he was sworn into the Oval Office, President Franklin Delano Roosevelt took extreme measures to stop the bleeding.
He called some of the nation's smartest minds to the White House.

They included Roosevelt's top legal expert Benjamin Cohen, wealthy advisor Thomas Corcoran, and Harvard Law professor James Landis.
Supreme Court Justice Louis Brandeis would also play a critical role.
Together, this brain trust crafted some of the most important legislation in American history.
Their work would become known as the Securities Act of 1933.
It was a critical part of the New Deal, famous for Social Security and the FDIC insurance program.
However, to truly get America back on its feet, President Roosevelt needed to get a lot of money flowing back into the stock market.
Because there were plenty of businesses who would otherwise be on healthy footing.
Only they were now in danger of falling victim to the contagion of the Great Depression.
But this money couldn't come directly from the banks, because nearly half of them had closed or had been taken over.
It had to come from the wealthiest Americans.
But How Was FDR Going to Convince These People to Put Their Money Back into the Market After the Bedlam That Had Already Unfolded?
Hidden inside that pivotal 1933 legislation, FDR's brain trust laid the groundwork for the 26(f) Program as we know it today.
They are run by major financial institutions and banks.
Different 26(f) Programs are created for groups of companies – both public and private.
And they allow for cheaper buy-ins on certain companies – shares for 85 cents on the dollar on average.
Look at it as a form of arbitrage.
You could instantly get $1 worth of equity for 85 cents.
That's an irresistible deal.
And it's all done to attract capital.
Back in the 1930s, if an investor wanted to provide funding, all they had to do was fill out a simple form to "enroll"…
Then decide how much capital they wanted to allocate at that moment.
In no time whatsoever…
The 26(f) Program Quietly Became One of the Greatest Wealth Building Secrets Wall Street Has Ever Seen.
Today, the name Thomas Rowe Price is synonymous with the mutual funds and other investment funds the company he founded manages.
Back in the 1950s, he actually used a "26(f) Program" to help kick start his empire that grew to $17 billion.
Famed value investor Benjamin Graham saw an estimated 4,426% return from a "26(f) Program".
And then there's his protégé, an ambitious young man named Warren Buffett.
Today, $1.1 billion worth of Buffett's company, Berkshire Hathaway, is owned by 26(f) Programs.
As the years passed, the major banks and financial institutions created some truly amazing 26(f) Programs.
For instance, between last February and July: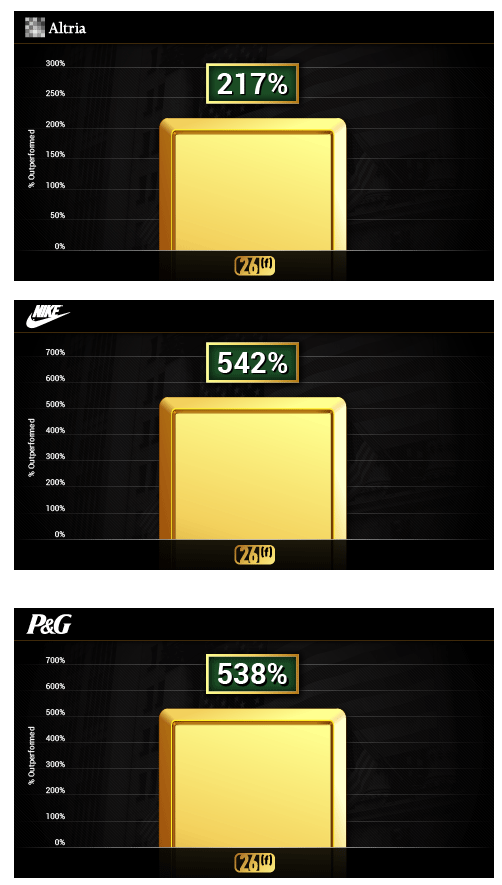 Altria's stock rose 11.27%. The 26(f) Program associated with Altria beat that by 217%!

Nike's stock rose 2.52%. The 26(f) Program pummeled that by 542%!

Proctor and Gamble's stock rose 3.57%. The 26(f) Program blew away those returns by 538%!
26(f) Programs Can Also Exert Enough Muscle to Execute Buy-Ins on the Types of Investments Legends are Made of.
If you are familiar with Berkshire Hathaway's Class A shares, then you know the chances of an average investor coming within a country mile of them is nearly non-existent.
When Berkshire Hathaway IPO'd, Class A shares were worth $19 a piece.
Today, they're worth over $217,000.
That's a return of 1,142,005%.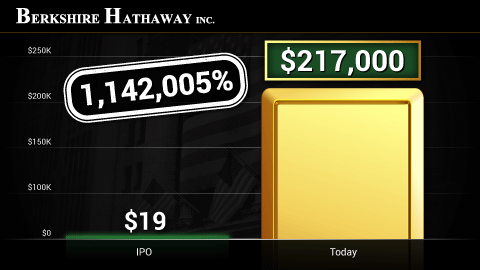 What if there had been a way to benefit from Berkshire's Class A shares back then?
Or how about even today?
Well, there is.
There is a 26(f) Program that can get you in on the action.
If You're Retired or Near Retirement, 26(f) Programs Are the Solution You Have Been Seeking.
Tim Marsden spent over three decades as a fire fighter in Los Angeles. It's a job most people would never imagine could allow somebody to retire a millionaire.
But Tim wisely "enrolled" in a retirement plan that took advantage of 26(f) Programs. And it paid him a lump sum of $996,162.
Even better, Tim will also be paid over $17,000 a month, for the rest of his life.
That's enough to cover the mortgage for a vacation home in Hawaii – and a fishing boat – with enough left over for a country club membership.
Not bad for a blue-collar hero who raced into burning buildings to save lives.
Now, I think you'd agree, dentists make a pretty good living.
And Les Himmel was one of the finest in Illinois.
But the 26(f) Program he "enrolled" in through his retirement plan allows him to truly enjoy a seven-figure retirement.
He's making an average of $47,000 a month in income!
It would take a lot of root canals and teeth cleanings to equal that kind of payday.
Now I Want to Stress This Next Point…
You Don't Have to Be Rich to "Enroll" in a 26(f) Program.
They work whether you have $500, $5,000, $50,000, or over $5 million to your name.
To prove this, I have already begun showing my readers how they could tap into 26(f) Programs.
To date, if they had an average retirement account and invested, they would've been able to make $68,870.
And that's from just one 26(f) Program!
Think About What You Would Do With an Extra $68,870.
It could mean a restaurant-grade remodel of your kitchen.

Or a down payment on that beach house for family vacations.

Or even picking up a 1960s Stingray Corvette to restore.
These are choices you could be able to make thanks to 26(f) Programs.
And I should mention, this $68,870 is only the beginning.
I believe these profits could soar 10 or 20 times higher.
Consider the story of Nestlé from a few years back.
Between October of 2012 and August of 2013, Nestlé's Stock Only Rose .67%.
On the Other Hand, a 26(f) Program That Invested in Nestlé Blew It Away by 1,212%!
Now, of course, 1,212% is an exceptional example.
Opportunities like that don't happen every day. But even a fraction of that return can radically boost your net worth.
So How Do You "Enroll" in a 26(f) Program?
Back in the early days of the 1930s, all someone had to do was fill out a simple form and make an initial investment.
It was that simple.
But today, it's even simpler.
Thanks to modern technology, you can "enroll" with a few mouse clicks.
You can even do it through your IRA or 401(k).
You can put in one cash injection and sit back.
Many even allow you to automatically contribute a little bit each month or each week.
This can all be done very quickly.
And cheaply.
You Can "Enroll" in Many 26(f) Programs With as Little as $100.
Sometimes even less.
There is a 26(f) Program for every kind of investor.
The vast majority have no special net worth requirements. Although some have been created for wealthier investors.
Dave Ramsey is one of the smartest minds in personal finance.
He's written numerous New York Times bestsellers.
And he's also a big believer in 26(f) Programs.
"You could become a millionaire by putting in as little as $35 a week."
– Dave Ramsey
He says you could become a millionaire by investing as little as $35 a week into one of them.
But don't worry if you don't know where to begin.
I've analyzed the best 26(f) Programs available today.
And I've filtered it down to my top 10 choices.
They're dialed into major public companies in the energy, finance, and technology sectors, as well as the pre-IPO hotshots that are on everybody's must-have list.

I've already recommended my readers use a 26(f) Program that's allowed them to grab as much as $68,870.

But I've also crunched the numbers on some that, depending on your initial investment, could deliver six-figure lump sums... plus equally aggressive monthly income payouts.
In a few moments, I'm going to give you details on how you can receive this thorough research.
This will help you decide if this is the right investment for you.
I'll share which financial institutions or banks are running them.
And from then on, instead of buying individual stocks on the open market...
You'll have the opportunity to "enroll" in these special 26(f) Programs, where the rewards could be much greater.
Since Last January, the Share Price of Kimberly-Clark Has Risen 4.74%.
But a 26(f) Program That Bought Into Kimberly-Clark Whipped Those Returns by 295%.
GM did even better.
During that same time, its stock barely moved the needle, registering .78% gains.
To say the 26(f) Program tied to GM beat that would be the understatement of the year.
It decimated the stock's gains by 1,196%.
So now you're probably asking…
What Risks Are Involved with 26(f) Programs?
As I said earlier, 26(f)s aren't government-run retirement programs where payouts are guaranteed.
But these days, do you trust the government with your retirement money?
I don't.
Even better, 26(f) Programs aren't just for retirees. They aren't traditional in any sense. They're 100% unconventional.
And that's what makes them so exciting.
However, as with every investment, there are risks.
Since most 26(f) Programs are tied to stocks or private companies, if their value drops, the value of your 26(f) holdings can, too.
But that isn't always the case.
Look at tech heavyweight Google.
From early February through last July its stock fell about 6%.
But the value of a 26(f) Program funding Google rose over 8%.
I can't speak for you, but I'll take 8% gains over a 6% loss any day.
And you know what else helps limit your downside…
Let Me Ask You… Would You Like to Earn More Income?
Of course you do.
After all, thanks to the Fed and its addiction to 0% interest, the money in your savings account is paying you virtually nothing right now.
CDs are paying squat, too.
And annuities aren't the answer, either.
They are riddled with fees. Fees from commissions. Underwriting fees. Maybe some management fees mixed in, too.
If anything, annuities are robbing you of your hard-earned income.
Today, there is simply a lack of BIG TIME income choices for Americans.
But there is one place they can turn:
To Wall Street's best-kept secret…
26(f) Programs…
They're as Close as It Gets to "Set It and Forget It" Monthly Income!
No more relying solely on that Social Security check.
No more waiting around for those paltry quarterly dividends from Blue Chip stocks.
With most 26(f) Programs you can get BIG monthly income delivered to your mailbox, or even electronically deposited in your account.
It's super simple to do.
It's just a couple of lines to fill out on a form.
But those couple of lines could literally change your financial destiny.
Take Donna and Dave Rodriguez.
They spent their lives as teachers in Boston.
As they tell it…
"A teacher's pay is mediocre compared to what our friends earn in the private sector… Our friends are retiring with Social Security, and large investment accounts."
The Rodriguez's are smart with their money.
They have no mortgage, no credit card debts, and no car payments.
They also have a big secret.
The Rodriguez's retirement plan takes advantage of 26(f) Programs.
And they will be receiving $10,000 a month from it.
Thanks to their big investment secret, they feel like royalty.
Because they are millionaires.
I should also mention, thanks to the Rodriguez's 26(f) Program, that $10,000 a month is tax-free.
And here's another great perk…
Each financial institution calculates what your 26(f) Program holdings are worth every day… 365 days a year.
And Most 26(f) Programs Include a Legal Guarantee That the Issuer Must Buy Back the Entire Stake at Any Time.
Look at Wall Street darling Facebook when it was still private.
If you were one of Facebook's pre-IPO investors, you could've been sitting on a fortune with nobody to sell your shares to.
Think about this…
Back in May of 2005, Facebook was valued at $100 million.
By January of 2008… $15 billion.
In January of 2011… that number hit $50 billion.
That's a rise of 49,900%.
The equivalent of transforming $500 into $250,000.
But Facebook wouldn't end up going public for another 15 months.
So let's assume you were one of the lucky souls who were given the chance to invest directly, prior to its IPO.
Well, there was no telling how long you'd have to wait to earn your king's ransom.
However, a 26(f) Program did exist that was able to buy into Facebook long before it debuted on the NASDAQ.
And you could've cashed out whenever you liked.
That's the beauty of some 26(f) Programs.
It often doesn't matter which one you are "enrolled" in or which bank or financial institution you "enrolled" with…
The Day You Want to Sell, the Issuer Has a Legal Obligation to Buy Your 26(f) Holdings Back From You…
At the Current Value of Your Investment.
Not a Penny Less.
You don't get that kind of benefit from stocks, BDCs, ETFs, or almost any other form of investment.
Over a Recent Five-Month Stretch, McDonald's Stock Rose 4.73%...
But a 26(f) Program Tied to McDonald's Did 264% Better!
A 26(f) Program that bought into Microsoft outperformed Bill Gates's shares by 597% this year.
Go back to the period between September 2011 and December 2014 when Coca-Cola was on a tear.
Its stock spiked 24%!
That was chump change compared to a 26(f) Program that beat it by 194%.
McDonald's… Microsoft… Coca-Cola…
Whenever you wanted to sell your stake in these 26(f) Programs, the money was yours.
All you had to do was request it.
That "whenever you want it guarantee" isn't even in play with the corporate bonds that are providing funding to these companies.
Simply Put, 26(f) Programs Give Investors the Chance to Rewrite Their Financial Destinies.
Mark Peltz spent 27 years on the police force.
He, like many others in blue, put his life on the line every single day.
Unfortunately, Mark's career as a police officer on its own does not allow someone to join the ranks of the wealthiest 1%.
But his retirement plan did – because it was tapping into 26(f) Programs.
It first paid him over $920,000 in one fat lump sum.
And it's going to keep paying him over $17,000 a month during his retirement.
But it still gets better…
Are You Tired of Cutting Big Checks to the IRS Every Year?
I Have Some Good News for You… 26(f) Programs Can Also Be Used as 100% Legal Tax Havens!
Back in FDR's day, capital gains could be taxed at 39%.
So common sense tells you that, with all the dangers of another market crash, even with the potential for unheard-of profits…
That tax rate would scare off the private money necessary for funding these companies.
Fortunately, 26(f) Programs offer a special exemption…
NO TAXES at all, as long as you keep it with the issuer.
And when you do sell, it falls under simple capital gains, which in many cases will still be 0%.
I can also use a 26(f) Program to deduct up to 50% of my adjusted income from my taxes.
Now, these are just some of the many different tax benefits in play with 26(f) Programs.
And I believe this is why the Federal government is implementing their retirement blackout.
Their intentions are laid out for all to see in Title 29 of the U.S. Labor Code:
"It is hereby declared to be the policy of this Act… to protect Federal taxing power"
– Title 29 of U.S. Tax Code
They're taking these extreme measures "to protect federal taxing power."
So What Happens After April 10, 2017 When the Retirement Blackout Goes into Effect?
For those who don't take matters into their own hands…
For those who don't learn everything they can about these 26(f) Programs…
I fear they'll never take advantage of them.
The blackout could cause them to miss out on $68,870.
Heck, this Retirement Blackout could cause them to miss out on 10 or 20 times that.
The Federal government looks at 26(f) Programs as holdovers from another time.
They certainly don't want every day Americans utilizing something so powerful with so many tax benefits.
They do have a $19 trillion federal debt tab to pay off, after all.
The Good News Is, the Clock Hasn't Struck Midnight on April 10th Yet.
There Is Still Time to Act Before the Blackout.
That means, armed with the right information, you can take part in the 26(f) Programs that are perfect for you.
You'll have the opportunity to grab big monthly income.
From then on, you'll be able to cash out whenever you want.
And even "enroll" in additional 26(f) Programs.
You'll be protected from the Retirement Blackout for the rest of your life.
If you're excited, that's good.
You should be.
And you're moments from learning how you can use 26(f) Programs to achieve full financial freedom.
Just like Jennifer Solsen.
She's become a master of integrating 26(f) Programs into her investing strategy.
Jennifer was able to rid herself of debt before her 40th birthday.
And she's built a net worth of over $1 million!
During My Decades on Wall Street, I Saw More Than My Fair Share of the Richest 1% Put 26(f) Programs to Work.
But nothing makes me happier than seeing everyday folks use them to join the ranks of the 1%...
And I'd like to help you.
I've created a special investment report that will give you all of the research and guidance you need to capitalize on this powerful wealth builder.
And I'd like to send it to you for FREE!
You won't even have to pay for shipping.
It's called…
Unleashing the Power of
26(f) Programs
The Top Ten Choices For Your Golden Retirement!
My team and I have spent thousands of hours combing through every 26(f) Program available today.
Let me tell you – this was an exhaustive undertaking.
We put their financials under a magnifying glass.
We mapped out their complete upside potential.
We identified any downside risk.
What's in this special report are our top 10 choices.
Imagine Earning the Type of Monthly Income That Can Deliver You the Retirement of Your Dreams!
I'm Talking $5,000… $10,000… $15,000 Every Single Month!
And on Top of That, Being Handed a Lump Sum of $68,870, $250,000, Even $400,000 or More!
We'd recommend the 26(f)s in this report to our parents, to our friends, and to our children.
There is nothing like this out there.
If you're hoping to retire one day, Unleashing the Power of 26(f) Programs could help make that a reality.
And if you're already retired, it could be the secret to boosting your net worth into the seven figures.
Listen to this…
You Can Get a Stake in the Hottest Private Companies on the Planet Before They IPO. I have a 26(f) Program in this report that's had a $162 million claim on Uber, $90 million on Airbnb, $89 million on Dropbox, and $43 million on Elon Musk's SpaceX. It even was dialed into Facebook BEFORE its IPO.

Remember, Facebook's value surged 49,900% while it was still private. That's the equivalent of transforming $500 into $250,000. If you want a chance at experiencing that kind of run firsthand, this 26(f) is your ticket.
But I'm just getting started.
I've Also Got the Energy Industry's Most Explosive 26(f) in This Report. It's funding a company that is outperforming the market by over 100% this year. In fact, they just received a 10-year, $900 million contract with the U.S. Department of Energy.

Next, I'm Going to Show You How You Could Get Paid an Average of $5,856 a Month for the Next 10 Years. It's from a very unique 26(f) that's backing an ecommerce juggernaut. You are definitely going to want to consider this one.
In this report I'm also going to let you in on a little secret. It's one you won't hear on the financial TV shows.
Airlines Have Quietly Become One of the Most Lucrative Investments Around. Cheap oil has meant lower costs and bigger profits for this industry. And the way to get the most from all of this is through a particular 26(f) Program that's already delivered a 600% peak gain to enrollees since its inception. This one has massive potential.
Now, I'm unapologetically bullish on tech, but I'm even more bullish on a special 26(f) Program that's becoming a major player in Silicon Valley.
This is Your Chance to Fund a Leader in the Virtual Reality Revolution. It's estimated this will become a $162 billion market. And this 26(f) Program is already beginning to reap the rewards. In no time whatsoever, it has created peak profits of over 188% for "enrollees."
And Here's My Personal Favorite. The latest data shows the typical household salary is around $52,000. But as I mentioned earlier, my top 26(f) Program recommendation could have made an average American $68,870.
This is just the beginning. The sky is the limit with this one.
And I'm just scratching the surface of what's in this report.
BIG income plays, more pre-IPO windfalls, Blue Chip hall of famers, and so much more… I've targeted 26(f) Programs for all of them.
With each opportunity I will give you:
Step-by-step instructions for getting in...
Which bank or financial institution is running it...
Any eligibility requirements, although most have none...
A walkthrough of how to fund it online...
And how you can customize the 26(f) Programs that allow you to collect enormous monthly income.
This Is All Very Easy.
Most of the 26(f) Programs in This Special Report Take Less Than Five Minutes to "Enroll" In.
You Don't Need a Lot of Money Either.
In many cases, you can get started with as little as $100.
You can make one investment, or schedule deposits on a custom timeline.
Unleashing the Power of 26(f) Programs is comprehensive.
And it could help put you on the fast track to the retirement you've rightfully earned.
When I originally completed this report I intended to sell it for $149.
After all, it took a lot of time and money to put together.
Plus, when you're talking about something that could provide a life-changing boost to a current or future retiree's net worth…
On top of aggressive monthly income…
$149 is an absolute steal.
However, I realize that in order to help as many people as I possibly can, I need to go that extra mile.
I've spent 34 years navigating the global markets.
And I've been recognized as one of the few people who accurately predicted both the bursting of the dot-com bubble and the recession.
When Forbes magazine described me as "a business visionary," I was honored.
But what gives me an even greater sense of pride is helping everyday folks who don't have an army of Ivy League financial advisors on speed dial…
Which is why I'd like to send you Unleashing the Power of 26(f) Programs for free today.
In fact, it's just one piece of something much bigger I've put together for you.
It's called…
The 7-Figure Retirement Action Plan!
It contains five unique resources...
Each designed to provide the secrets to living your golden years like a millionaire.
The second special report in this package is called...
Earn a Raise in Your Retirement
Three Unique Income Investments That Could Pay You More than Your Salary.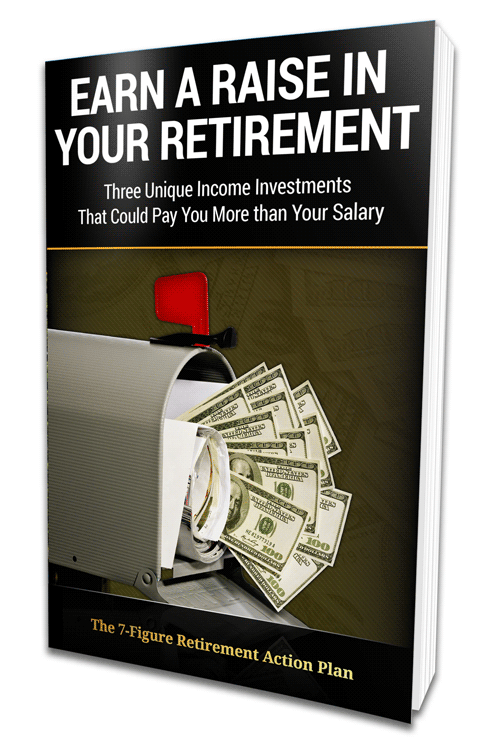 26(f) Programs are, without question, one of the greatest income generators I've ever seen.
But the vast majority of self-made millionaires have at least three income streams that are constantly generating money.
It could be beachfront real estate, multifamily properties… maybe businesses like car washes.
But these options all cost a lot of money and come with enormous risks.
However, you can get all of the benefits of these income streams by turning to Wall Street.
In Earn a Raise in Your Retirement I'll share with you:
President Reagan's "Venture Capital Program." This Could Make You an Average of $2,250 or More Every Month: During the stagflation of the early '80s, Washington, D.C. created an unconventional security that allows regular investors to help fund promising private startups. What's amazing is it's still running today. And it could pay you thousands of dollars a month in passive income!
And if that sounds good, wait till you hear this one…
You Could Earn as Much as $1,195 a Month by Backing a Special Texas Land Deal. A small coastal town in East Texas is home to an 80-acre facility that's connected to a port and three railways.

This location is already a busy hub for U.S. military equipment, grain and steel. I've uncovered a way for you to invest in this land. This gives you the chance to collect a steady, stream of tax-free income.
And finally, this one really has me excited…
I'm Going to Show You How to Collect "Rent" from Today's Top Tech Firms. This is possible thanks to a rare, Silicon Valley real estate "offering." It allows you to profit from aggressive monthly rent payments from companies like Google, Intel, and Apple.

This could soon put at least $4,000 a month in your account.
With Unleashing the Power of 26(f) Programs and Earn a Raise in Your Retirement you'll be able to tap into a collection of unconventional income streams.
And this next special report could put you in a position to collect a series of historic windfalls.
It's called...
The 10,000% Secret
5 Tiny Stocks that Are Poised for Explosive Returns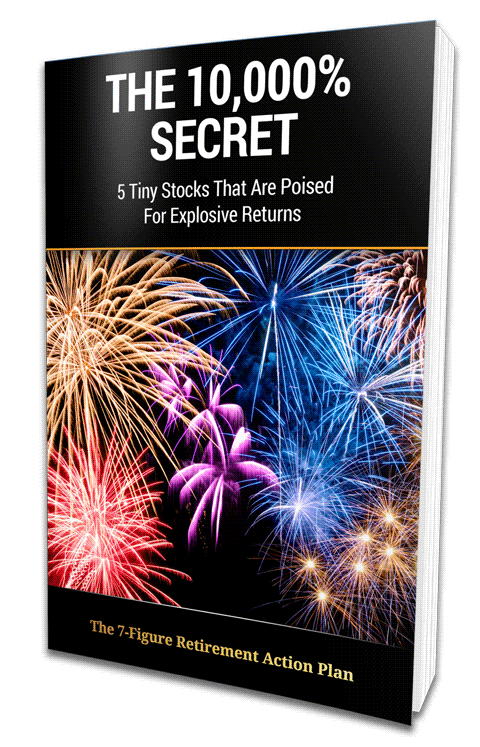 Every investor who is looking to quickly achieve a seven-figure retirement should have a small amount of their capital spread across a handful of highly speculative microcap stocks.
Oftentimes they trade for pennies, maybe $1, or $5 a share.
They are certainly riskier than Blue Chips, but their upside potential is exponentially greater.
Look at furniture giant Pier 1 Imports. Way back when, it started as a microcap.
Then it rose as much as 18,500%, making a fortune for those who purchased shares.
Weight loss company Medifast and Monster were also once microcaps that would go on to deliver 9,900% and 10,000% windfalls.
5-stocks-
In The 10,000% Secret, I will give you the exciting details on:
A cutting edge biometrics company – think fingerprint scans and facial recognition. It currently trades for around $5 a share.

A medical startup for smokers with an amazing "nicotine modulation device." Its stock is priced at under $2 a share.

A future biotech heavyweight. It has a growing patent portfolio for their miraculous process for creating synthetic human tissue. Today, this small stock trades for around $4 a share.
This is just a snapshot of what you'll receive in The 10,000% Secret.
And in the next special report we're going to target an area of the market that famous investors like George Soros and Jim Rogers have dipped into for decades, creating massive fortunes.
It's called...
The New Way to Buy Gold
Three Under-the-Radar Investments For This Precious Metal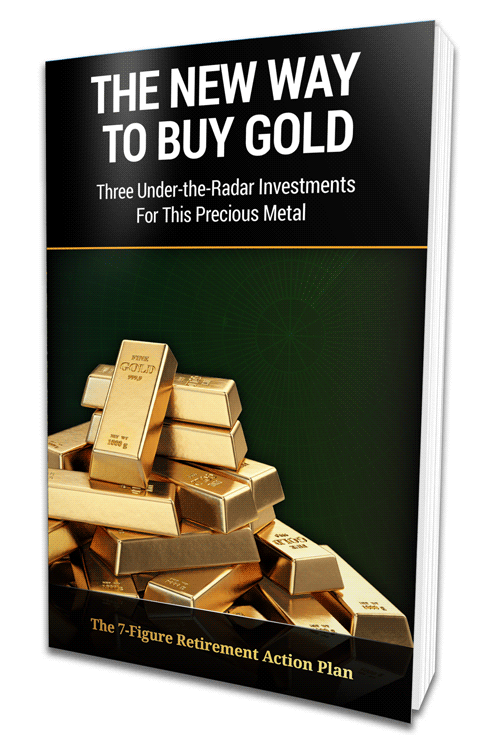 I am by no means a gold bug.
But given some very predictable historical patterns, I believe a massive bull run could be imminent.
So it would be wise to add this precious metal to your portfolio as soon as possible.
However, not all gold investments are created equal.
Just buying it on the open market can mean overpaying by 5% even 10% to dealer markups.
And physical gold in shops can be overpriced by as much as 300%.
But you won't have to worry about any of this.
In The New Way to Buy Gold, I reveal how you can capitalize on:
An Exclusive Deal to Acquire Gold Bullion and Coins at Wholesale Rates

Earn 3X the Profits From Gold
The Tiny Miner That's Unearthed a $5.2 Billion Peruvian Treasure Trove
The 7-Figure Retirement Action Plan could help you become a millionaire in your golden years…
And the years leading up to them, as well.
That's the good news.
But here's the bad news: The more you make, the more the IRS will try to take from you.
So I've created a final special report that is going to protect you. It's called…
IRS-Proof Your Life
The Ultimate Blueprint for Keeping Uncle Sam's Hands Off Your Money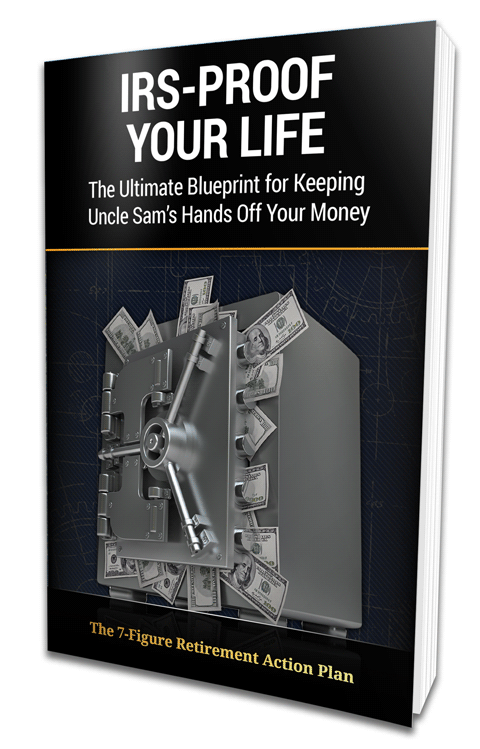 This is by far the most comprehensive resource ever created for defending your wealth from over-taxation.
It will hand you:
The #1 Secret for Avoiding an IRS Audit and Pocketing an Extra $1,860

The "Invisible" Bank Account That Can "Hide" $100,000 of Your Income
I'm going to show you how to…
Legally Skirt a $1,039 Insurance Tax You Could Owe This Year.

Double Your Home Deduction This Year and EVERY Year for the Rest of Your Life!

Slash Your Dividend Taxes By 60%

Take advantage of a Powerful "Calendar Loophole" That Can Add $6,000 to Your Retirement Account
There's so much in this report – it would take me all day to cover everything.
The total value of Unleash the Power of 26(f) Programs, Earn a Raise in Your Retirement, The 10,000% Secret, The New Way to Buy Gold, and IRS-Proof Your Life is easily $425.
Heck, it's probably worth five-to-ten times that.
But that doesn't matter.
Because if you are one of the first 500 people to step forward today...
The 7-Figure Retirement Action Plan Can Be Yours for FREE.
But I don't view this as a one-and-done relationship.
I'm in this for the long haul.
You deserve the opportunity to live a seven-figure retirement.
Nothing less is acceptable.
And to Execute This Mission to Perfection I Have One More Surprise.
Along with The 7-Figure Retirement Action Plan…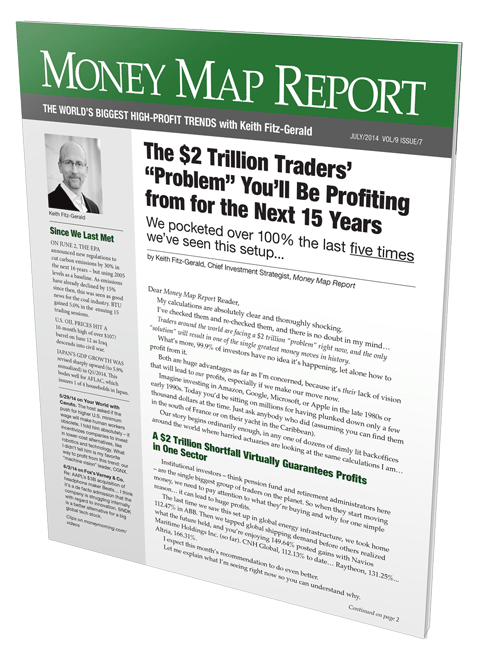 I'm also including a risk-free trial to my Money Map Report.
I launched this publication so folks like you could take advantage of the simplest secret the wealthiest 1% use to boost their net worth.
The richest investors identify an exploding trend and they target the stocks primed to capitalize on that trend.
It's common sense.
It's easy to understand.
And it's how the rich get richer.
My team and I here at Money Morning, across the board, have been using this simple secret to deliver one windfall after another to those who follow our research.
Look at Pharmacyclics, and Celldex Therapeutics…
Ram Energy, Ambarella and Galapagos…
As well as NetQin Mobile, Micron Technology and Westport Innovations…
Some have hit peak gains that outperformed even our most aggressive expectations…
While others are still open and climbing!
| | |
| --- | --- |
| Neurocrine Biosciences - 421% | Ambarella - 663% |
| Priceline - 229% | Galápagos - 402% |
| Costco - 300% | Crosstex Energy - 254% |
| Navios Maritime - 400% | Repligen Corp. - 418% |
| Silvercorp Metals - 204% | Ekso Bionics Holdings - 310% |
| Pharmacyclics - 818% | NXP Semiconductors - 380% |
| Gilead Sciences - 411% | NetQin Mobile - 396% |
| Celldex Therapeutics - 629% | AMN Healthcare Services - 286% |
| Novavax - 300% | Micron Technology - 352% |
| Ram Energy - 421% | Dyax Corp. - 406% |
| iShares Russell 2000 - 228% | Westport Innovations - 543% |
| Inovio Pharmaceuticals - 361% | |
As a member of the Money Map Report, every month you will receive a new edition delivered to both your email inbox and your mailbox.
Each edition will explore two powerful trends.
And I will reveal two lucrative opportunities that will give you the chance to capitalize on these trends.
So that's 24 investment recommendations a year!
Stopping cybercrime is a perfect example of this.
According to Forbes, the rise of hackers digitally breaking into major corporations and government agencies is projected to cause $2.1 trillion in damage.
Which is why a lot of money is now flooding into the small firms who are developing cyber defense systems.
So in a recent edition of the Money Map Report, I recommended a true innovator in this field.
Using machine learning, their software is able to decipher new cyber-attacks in real-time.
Already Microsoft, Wells Fargo, Walt Disney, Netflix, NASDAQ, and Raytheon are turning to them.
In other recent editions of the Money Map Report I've uncovered instability at global central banks… I've tracked the unstoppable march toward driverless cars… And revealed how members could buy into a "retirement warranty" investment that is on track to pay out double every three years.
Now, along with the monthly editions of the Money Map Report, every week you will receive The Digital Debriefing.
This is a complete rundown of the important events that have taken place with our current recommendations.
And whenever it's time to close out one of our investment opportunities, I will issue a real-time sell alert.
With Seattle Genetics, it only took 63 days for me to issue a sell alert that gave readers the opportunity to capture a 100% gain.
It also took about two months to grab 100% on a ProShares ETF that shorted Treasuries.
And whether it's 303% on Altria, 205% on Raytheon, or 100% on American Water Works, rest assured, when it's time to cash out, that sell alert will arrive promptly.
Your subscription also includes 24/7 access to a Members-Only website.
And if you ever have any questions, my VIP Concierge Service will be ready to help you with your membership.
I can tell you that the major financial institutions pay tens, even hundreds of thousands of dollars a year for this level of research.
But this isn't for them.
It's for you.
Which is why the regular price for a one-year subscription to the Money Map Report is $299.
This way, anyone who is looking to achieve the seven-figure retirement they've always dreamed of can afford it.
However, if you are one of the first 500 people to step forward today, I will authorize the biggest discount I've ever allowed on your Money Map Report subscription.
Forget 50%, 60%, 70%, or even 80% off.
I'm going to make you an offer that is too good to refuse.
Plus, I'm going to send you The 7-Figure Retirement Action Plan for free…
Which includes Unleashing the Power of 26(f) Programs, plus four additional must-have retirement resources.
But frankly, even those who do pay full price are still finding my research to be one of the best investments they'll ever make.
"If all goes as planned, I'll be able to retire at age 56 or even sooner!"
– Doug Kies
I love opening up my inbox and reading how members are using my research to retire earlier than they ever believed was possible.
"I'm already up $7,000 after just two weeks on board!"
– Erin Felding
Some are telling me how they're making thousands of dollars right out of the gate.
"I have made about $12,000 so far!"
– Grant Ryson
And that is music to my ears.
Because there is no better way to help you jumpstart your seven-figure retirement goals, than by putting real money in your account right away.
"In 6 months, I've made between $40,000 - $50,000."
– Robert Montrose
When members tell me that they've made $40,000 or $50,000…
I know my work is helping change their lives.
"Thanks to you I've made $405,000."
– William Connors
And for those that are making hundreds of thousands of dollars a year…
"I've profited in excess of $1.5 million. You have my profound appreciation."
– Gary Lee
Or even over $1 million…
I know these folks are well on their way to living a golden retirement.
And I want you to be my next success story.
So here's what I'm going to do.
If you are one of the first 500 people to accept this invitation today, I will send you The 7-Figure Retirement Action Plan for FREE.
And I'll authorize a discount off your Money Map Report subscription that's so big…
You'll literally only pay pennies a day.
Click the button below and you'll see how good this deal is.
Plus, even at this rock-bottom rate, I want you to feel confident that this is money well spent. So…
I'm Including a 60-Day,
100% Money Back Guarantee!
And regardless of your decision, I insist you keep The 7-Figure Retirement Action Plan as my way of saying thank you.
Listen... We Are in a Race Against Time.
April 10th is not that far away.
The government's retirement blackout will soon go into effect.
And every day you are not "enrolled" in a 26(f) Program is one more day that you aren't getting the chance to reap the immense rewards.
So click the button below to reserve The 7-Figure Retirement Action Plan and the Money Map Report for literally pennies a day.
But remember, I can only make this offer available to the first 500 people who step forward today.
I highly doubt this will be available in a few hours, much less tomorrow.
I look forward to us working together.
I'm Keith Fitz-Gerald.
Thanks for joining me.
Have a great day!
Keith Fitz-Gerald
December 2016