Over the past five-plus years of a near-zero interest rate environment, dividend-paying stocks - especially high dividend stocks - have been an attractive option for investors. But rising rates on the horizon necessarily change dividend stocks' favor in investors' portfolios.
Earlier this month, the Federal Open Market Committee (FOMC) met and decided to alter language on when the Fed would start to consider an increase in interest rates. The new language provides the central bank with greater discretion to implement a rate increase, i.e. regardless of the national unemployment rate, which sits today at 6.5%.
Contrary to what the prevailing "wisdom" is, the Fed's taper and eventual interest rate hike "will not unfairly punish dividend stocks," according to Money Morning Chief Investment Strategist Keith Fitz-Gerald.
"In fact, I believe that the opposite is true," Fitz-Gerald said. "Dividend-paying stocks have always been markedly more stable than their non-dividend-paying brethren. More importantly, they've shown that they really are worth the valuation assigned to them."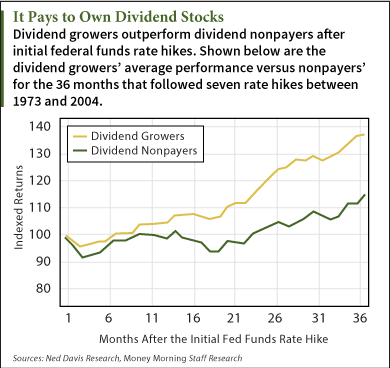 All dividends are not the same, however. The key is not the payout rate or even the percent yield.
The key for investors, Fitz-Gerald points out, is to choose dividend growth potential over high dividend stocks.
He recommends focusing on companies that continuously raise payouts over time - they historically outperform companies that don't pay dividends in the wake of Fed rate hikes.
Not only do investors reap benefits from the cold hard cash paid out by such companies on a quarterly basis (most of the time), but they also benefit from the growth in their cash flow, according to Fitz-Gerald.
Hold the stock long enough and the dividends received can actually end up being more than the cash initially invested.
Moreover, companies with a long history of dividend growth display higher returns on equity (ROE). Companies in the Nasdaq US Dividend Achievers Index (DAA) have logged a 22% annual ROE over the last decade. Compare that with a 13% annual ROE for all companies in the S&P 500 Index, according to exchange-traded fund sponsor and asset manager Wisdom Tree.
"In some cases, the dividends are so steady and increase so much that over time you can actually make more in dividends than you originally paid to buy the stocks that produced them," Fitz-Gerald said.
A portfolio that includes dividend growers is one that tends to beat the market - and with market returns this year expected to be modest compared to the 32% return (including dividends) logged in 2013, investing in dividend growers is a smart move.
So, instead of chasing after high dividend stocks, here are a few dividend growth stocks that stand to weather the Fed's storm - and provide investors with lucrative payouts...
Dividend Growth Stocks to Buy
One great example of a consistent dividend growth stock is Altria Group Inc. (NYSE: MO). Investors who've stuck with Altria since 1999 - with the decade that follows being written off by many as "uninvestable," noted Fitz-Gerald - have enjoyed returns upward of 1,000%.
Altria's forward annual dividend yield is 2.50%, and its five-year average dividend yield is 3%. Its ex-dividend date was Feb. 12, 2014. MO stock is currently priced at $37.05 per share, with a 52-week low of $33.12, and high of $38.58.
Investors who have held Kinder Morgan Energy Partners LP (NYSE: KMP) or Reynolds American Inc. (NYSE: RAI) over the same time frame as Altria have seen total returns of 1,578% and 3,311%, respectively - with returns from dividends far exceeding capital gains in both cases.
Kinder Morgan's forward annual dividend yield is 7.40%, with a five-year average dividend yield of 6.3%. KMP stock currently sits at $73.50 per share and has a 52-week range of $71.32 to $92.99.
Reynolds has a forward annual dividend yield of 5% and a five-year average dividend yield of 5.8%. RAI stock is currently $53.03 per share, with a 52-week range of $44.01 to $56.77.
Finally, Fitz-Gerald recommends the iShares Emerging Markets Dividend ETF (DVYE) - and funds like it - as a great buy right now that "gets better by the day."
"It's got a little of everything, so it's a very efficient way to invest," Fitz-Gerald said. "This ETF is dividend focused and, consequently, chock full of companies with real revenue in Asia and South America among other global regions. That's always a plus."
NOW: There's an old French proverb that says: Achetez aux canons, vendez aux clarions. That's "buy on the cannons, sell on the trumpets." Now is the time to cash in big on Russia's tech market - and we'll show you how...