U.S. stocks opened higher Friday, with all three major benchmarks comfortably in the green right out of the gate.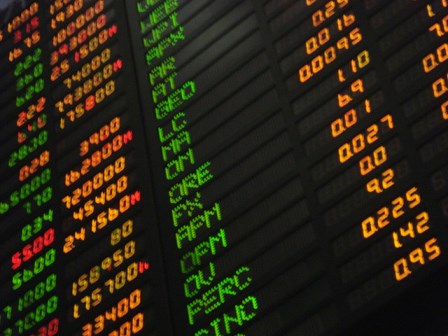 As has been the case over the last several Fridays, initial public offerings (IPOs) dominated market news, with six companies debuting today.
It was a mixed picture for the half dozen new issues, with some pricing below the expected range, some slipping on the open, and others posting modest gains.
But plenty of other equities moved higher today on analysts' actions, earnings, and company news. Following are 12 of Friday's hot stocks to watch.
Today's Hot Stocks List
Amgen Inc. (Nasdaq: AMGN) shares rose more than 1% to $124.12 in morning trading after Jefferies raised its price target on the stock to $144 from $138. Sunday, AMGN will present pivotal phase 3 data from five clinical studies evaluating evolocumab (AMG 145). Evolocumab is an investigational fully human monoclonal antibody that inhibits a protein that reduces the liver's ability to remove "bad" cholesterol from the blood. AMGN will release details at the American College of Cardiology's 63rd Annual Scientific Session in Washington, D.C.
Baxter International Inc. (NYSE: BAX) rose 1% to $73.75 after RBC Capital Markets raised its price target on shares to $76. Thursday, the healthcare giant announced plans to split into two separate companies, one focused on biopharmaceuticals and one on medical products.
BlackBerry Ltd. (Nasdaq: BBRY) shares were boosted on better-than-expected Q4 earnings. Shares of the beleaguered smartphone maker rose more 6% to $9.64 on heavy volume in early trading. BBRY reported a loss of $0.08 per share in the quarter, handily beating forecasts of a $0.55 per share loss. Sales were in line at $976 million. The company lost $423 million in Q4, down sharply from the whopping $4.4 billion loss posted during the prior quarter.
Bofi Holding Inc. (Nasdaq: BOFI) shares bounced 15% to $88.18, following a two week sell-off from yearly highs of $106.55. BOFI, America's 22nd largest bank, is the holding company for the Bank of the Internet Federal Bank, a nationwide bank based in San Diego. It has been one of the best-performing stocks over the last five years as investors and consumers have come to realize that Internet banking is here to stay.
CBS Outdoor Americas Inc. (NYSE: CBSO) shares climbed more than 6% intraday to $30.47 in its first trading day as a public company. The outdoor advertising subsidiary of CBS Corp. (NYSE: CBS), which rose 2.5% to $62.92, offered 20 million shares at $28 each. That was the high end of the expected $26 to $28 range. The New York-based company raised $560 in the IPO.
Facebook Inc. (Nasdaq: FB) shares rose 1.5% to $61.95 as it continued its shopping spree. The social networking giant is acquiring UK-based aerospace company Ascenta for $20 million. The purchase furthers the company's plan of delivering web access to remote areas via drones, satellites, and lasers.
Idera Pharmaceuticals Inc. (Nasdaq: IDRA) shares surged 20% to $4.75 in morning trading. An hour into Friday's session, nearly 7 million shares changed hands, twice its average daily volume. Sending the Cambridge, Mass. development stage biotechnology company soaring was positive top-line data in phase 2 trials of IMO-8400. The trial met primary objectives of demonstrating safety and tolerability over a 12-week period for the treatment of plaque psoriasis.
Microsoft Corp. (Nasdaq: MSFT) shares moved up 2.5% to $40.30 on a string of company-related news. The tech giant plans to ship 25 million Window tablets in 2014, according to reports. Plus, TechCrunch reported it has discovered MSFT ponied-up some $150 million to acquire patents from Osterhout Design Group, which mostly produces wearable devices and gadgets for the military and other government organizations. And, RBC Capital Markets upped its price target on MSFT to $44 from $37.
Oracle Corp. (NYSE: ORCL) shares rose 1.53% to $39.85 thanks to bullish upgrade from Cantor Fitzgerald. The firm initiated coverage of the stock with a "Buy" rating and $50 price target.
Restoration Hardware Holdings Inc. (NYSE: RH) shares rose nearly 15% to $72.69 intraday after reporting continued sales growth. The upscale retailer of home goods posted Q4 earnings per share (EPS) in line with guidance and guided Q1 EPS above consensus. Additionally, the Corte Madera, Calif. company said it hired retail veteran Doug Diemoz as its chief development officer.
SolarCity Corp. (Nasdaq: SCTY) shares gained 5% to $64.28 after Raymond James upgraded the stock to "Outperform" from "Market Perform." The firm also raised its price target for the solar energy provider to $75. In a note, analysts pointed to the stock's recent 30% pullback after reaching its high in late February as an "enticing" reason to get in on the stock now. "Of course we can't promise that the stock's recovery from this recent correction will be as quick as last fall's six weeks, but there is a potentially impactful near-term catalyst," Raymond James wrote.
2U Inc. (NYSE: TWOU) shares rose some 7% in its debut to $14.34. The Landover, Md.-based company priced 9.75 million shares (1.175 million by selling stockholders) at $13 per share, the high end of the $11 to $13 expected range. 2U provides cloud-based software-as-a-service (SaaS) solutions for nonprofit colleges and universities to deliver education to qualified students.
The medical marijuana movement is growing rapidly, and there's big money to be made in this controversial industry. Its best profit play is up 65% already this year, and there's plenty of upside ahead...