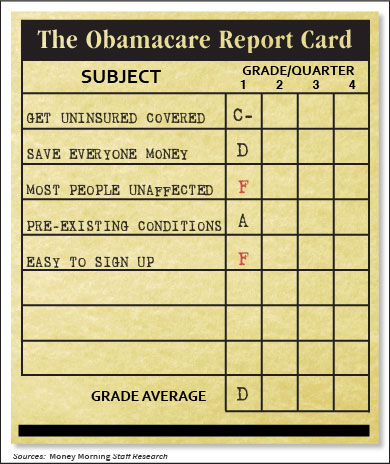 Now that we've passed the March 31 deadline for people to sign up for insurance under the Affordable Care Act, the question needs to be asked: Is Obamacare failing?
While the new healthcare law was passed in 2010, most of it went into effect Jan. 1, with the first Obamacare enrollment period running from Oct. 1 through yesterday (Monday).
As Obamacare passes this major milestone, we decided to measure the law's success by the goals that the Obama administration set and the promises it made.
Let's dig right in to Money Morning's Obamacare report card...
Is Obamacare Failing? Time to Grade
Covering the Uninsured
The primary goal of the ACA was to make sure that the 45 million Americans without health insurance could get it. While a last-minute push appears to have gotten the number of people signing up close to the 7 million Obama administration officials said they wanted, it's hard to say exactly how many of these folks lacked insurance before. Certainly, some of the people signing up through the Obamacare exchanges were among the 5 million who lost their coverage when their plans got canceled last year for not being compliant with the law.
And a survey by the McKinsey consulting firm earlier this month found that just 27% of the enrollees were previously uninsured. Goldman Sachs estimates that just 1 million of the enrollees will have been previously uninsured; their number is so low because they believe as many as a third of the people who selected a plan at an exchange have not paid the premium - and thus are not yet covered.
One bright spot has been a spurt in the number of people signing up for Medicaid; Obamacare greatly expanded eligibility for Medicaid in an effort to get coverage for those who could not afford insurance before. These numbers could be better, but many Republican-governed states have refused to participate in the expanded program.
The final overall count won't be in for a while - and even then, it will be disputed - but so far Obamacare has done a so-so job of getting the uninsured covered. The Congressional Budget Office says that by 2017 the number of uninsured will be 30 million and inch back up to 31 million by 2024. That's much better than 47 million, but it still leaves more than half of the law's target population without coverage.
Grade: C-
That's not a grade to be especially proud of, but it gets worse...
Everyone Will Save Money
When campaigning for the law - and even after it was passed - President Barack Obama spoke of how the ACA would reduce healthcare costs.
The nation's spending on healthcare overall rose less than 4% in 2012, but most economists say the slow economy, not Obamacare, is responsible. In any event, many of Obamacare's provisions are just becoming effective this year, so we'll have to wait and see whether they really do have an impact on slowing cost increases.
Of greater concern to the average American is how much healthcare will cost them. During his 2008 campaign, President Obama promised his law would cut a typical family's premiums by $2,500, but it doesn't seem to be working out that way.
In fact, some health industry officials told The Hill two weeks ago that premiums will "skyrocket" in 2015. How much will vary by state, but some Americans could see their premiums double or triple. Plus, many plans with lower premiums have very high deductibles, meaning that many people will pay more out of pocket for health services.
Of course, some of those who obtained insurance through the exchanges and who qualified for subsidies are paying less. And those who qualify for Medicaid are getting covered for free. But many people will see the amount of money they spend on healthcare rise substantially.
Grade: D
Most People Won't Be Affected
By now, pretty much everyone knows that the president's oft-repeated promise of "If you like your health care, you can keep it" was not only untrue, it was named Politifact's "Lie of the Year."
One of the reasons more American's didn't object to the ACA at the time it was passed was specifically because the president said it would have little to no impact on people who had health coverage and liked it, be it employer-sponsored or through the individual market.
Last year, some 5 million Americans with individual plans had their policies canceled; at some point (with the constant delays, it's hard to say when), millions with employer-sponsored plans will either lose those policies or see major changes.
And as noted above, many people will see their healthcare costs increase as premiums and deductibles rise to help offset the costs of covering people who couldn't get insurance before.
Grade: F
Pre-Existing Conditions
This provision took effect not long after the ACA was passed. Insurance companies routinely refused coverage to people who had almost any kind of pre-existing condition out of concern it would cost them more in outlays. Now that's against the law, allowing millions to get coverage who could not before. This part of Obamacare has been an unqualified success; even most conservative opponents of the law praise this change.
Grade: A
Signing Up Will Be Easy
President Obama often promised that signing up for health insurance at the exchanges would be drop-dead easy.
"Now, this is real simple. It's a website where you can compare and purchase affordable health insurance plans, side-by-side, the same way you shop for a plane ticket on Kayak - (laughter) - same way you shop for a TV on Amazon," the president said in a speech last September, just days before the Obamacare website, Healthcare.gov, launched.
The site crashed almost immediately and was mostly down for week, making it nearly impossible for anyone to use it. And even when the site was up and running, the maze of options and problems with the payment system left many unsure if they had signed up successfully (some found out the hard way - trying to get healthcare in January and learning they had no insurance).
Even on Monday, the deadline for enrolling in Obamacare, the website was down for some four hours. Ironically, Valerie Jarrett, a senior advisor to President Obama, tweeted this Monday morning: "Sign up for health care today - It's 'easy-peasy.'"
Grade: F
OVERALL GRADE: D
So, overall, is Obamacare failing? Well, not totally, but this isn't a report card any student would want to take home to Mom and Dad. We'll check back next term...
What sort of grades would you give to Obamacare at this point? Do you think it will get better or worse in the months ahead? Share your opinion on Twitter @moneymorning or Facebook. using #obamacarereportcard.
Like many others, small businesses are expected to get hit hard by the healthcare law as more of it goes into effect. A recent report from the Centers for Medicare & Medicaid Services has forecast massive health insurance premium increases as a result of Obamacare...
Related Articles: