In December 2013, I let our readers in on a way to invest directly in a new oil and gas drilling venture.
In the time since, I've been spending a great deal of time at the drilling site in South Texas, keeping an eye on the progress.
Now, there's news to report. Great news...
It's a gusher! Test wells at Money Map Project #1 have struck oil and gas in very promising quantities.
The strike happened suddenly, and production was nearly overwhelming, with barrels filling and gas flares lighting up the sky, revealing great potential natural gas opportunities as well.
And there was even more good news coming from elsewhere in Texas, where it looks like we have zeroed in on another "sweet spot."
But first, let me describe to you what just what happened in South Texas, because you don't want to miss this incredible - and massively profitable - news...
Here's How the Amazing Scene Played Out
On May 10, when the Willard #1H-2 well encountered a veritable gusher of oil and gas at an early stage while drilling horizontally in the Buda Lime, the production was coming in at four barrels a minute.
In all, between 200 and 300 barrels of oil quickly accumulated in the pit, while a gas flare of between 40 and 70 feet also occurred.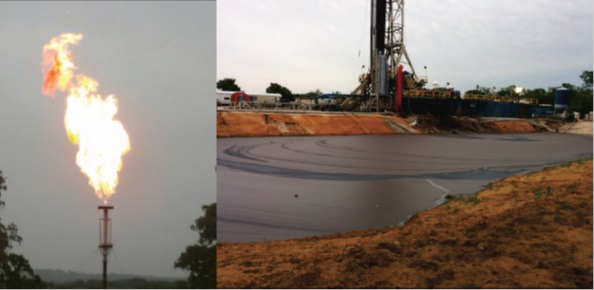 As a result, the #1H-2 flow was closed off on Sunday to complete the drilling. The well still had about 1,500 feet to go into the Buda Lime. Upon completion, both components of the drilling program (#H-1 and #H-2) will be brought on line together for full production.
This was the scene in Burleson County, Texas, on Saturday.
Keep in mind, these are only the first two of a 25-well project, and Money Map Project #1 investors will receive profits for the life of the wells.
But the fun didn't end there. When flow was opened again on Wednesday, things got even better.
Despite the fact the well hasn't even been put into full production yet, we first received 100 barrels and then 250 barrels per hour.
By day's end, we had over 1,500 barrels in the pit (with deliveries already commencing) and a steady gas flare of 50 feet.
Today, the field crew is slowing down the flow rate to finish up the drilling. Initial estimates on site put this single well - #1H-2 - at daily production of between 1,000 and 2,000 barrels.
At current market prices that would throw off as much as $200,000 or more in revenue each day.
All from just our first well.
It followed an earlier decision to extend the Willard #1H, which had been completed into the Austin Chalk, with a second drilling below into the Buda Lime, thereby saving time and drilling expenses (the rig was already there and operating). We decided to hold the flow from the first well until the second is completed to maximize the production return.
Initial indications now point toward a reserve of both oil and gas much larger than even I had hoped for. But that will be borne out only when full production commences shortly.
Another Sweet Spot... And It Just Gets Better from Here
But again, that's not the only good news I have today...
There are also positive developments occurring in our East Texas plays, with production reports from our operator and other nearby companies that indicate we have found another sweet spot.
With the acquisition of the Whelan Lease, we are already in production territory on the Manziel acreage. Yes, this is production on the land of a family whose grandson is on his way to the Cleveland Browns to pursue another line of work.
Of course, the Money Map folks who have opted in to our record-setting first project (the first ever project that allows accredited retail investors into drilling projects for a fraction of what it used to cost) also get something else...
Access to all of the projects I design for an entire year without spending anything else for the subscription!
The meetings in Tulsa were to finalize the soon to be announced Money Map Project #2.
This project is designed to build on our success by complementing the first project with a deal that combines the enhancement of existing oil wells with rapid-drilled natural gas wells.
This will be a very quick-hit project, in which investors will be receiving checks as early as the first month or two after the project begins. Once again, those investing will be receiving checks for the life of the wells.
So stay tuned, the particulars are going out very soon. This is getting really exciting (and profitable). Our first two projects will be generating some serious ("Texas rich" level) money...