The stock market today ended with the Dow Jones Industrial Average and Standard & Poor's 500 Index closing at record-high levels.
Here's the scorecard from today's trading session: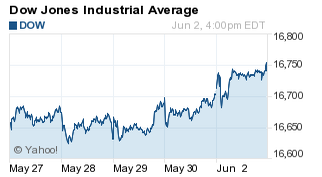 DOW: 16,743.63, +0.2%
S&P 500: 1,924.97, +0.1%
NASDAQ: 4,237.20, -0.1%.
And here are the top stories from the stock market today:
The Big Unveil: At its 25th annual conference for software developers, Apple Inc. (Nasdaq: AAPL) offered updates on its newest versions of its desktop and mobile operating systems, OS X Yosemite, and iOS 8. In a keynote speech, Apple CEO Tim Cook announced software updates and new features, including its new HealthKit app. Shares of the company's stock were down a little more than 1% on the day.
The Activist Approach: According to a regulatory filing, activist investor Bill Ackman is asking shareholders of Allergan Inc. (NYSE: AGN) to oust six company board members. Ackman has teamed with Valeant Pharmaceuticals Intl Inc. (NYSE: VRX) in an effort to purchase the Botox manufacturer, which has rejected every offer thus far. Ackman's hedge fund, Pershing Square Capital Management, is Allergan's largest shareholder, with a 9.7% stake.
Profiting Off U.S. Production: On Monday, Marathon Oil Corp. (NYSE: MRO) announced plans to sell its Norwegian business assets to Det Norske Oljeselskap for $2.7 billion. The deal, which will close in the fourth quarter, is a sign of the company's greater strategy to boost its oil and gas production in the United States.
New Investor Guide for 2014: Finally - "Everything You Need to Know About Trading and Investing" - all in one place. Here's how to get all the information you need to start trading - and making money - today.
Targeting Global Growth: Over the next few years, hotel giant Marriott International Inc. (Nasdaq: MAR) will add more than 200 properties to its global luxury and lifestyle hotel network. The firm's owners and franchisees are expected to spend more than $15 billion to accomplish this goal.
The Megadeals Continue: One of the nation's largest healthcare real estate investment trusts Ventas Inc. (NYSE: VTR) slipped more than 2.5% this afternoon. The company announced plans to buy American Realty Capital Healthcare Trust Inc. (Nasdaq: HCT) in a $2.6 billion cash-and-stock deal.
Banks Behaving Badly: A European judge has ordered an investigation intoSwiss megabank UBS AG (NYSE: UBS) for suspected money laundering and other illegal activities related to tax evasion. Although no charges have been filed, the company's French and German business units have both been probed in the past.
Now for our special list of some of the best investments to make now based on the stock market today (for Money Morning Members only):
This Is Like Investing in China... In 1980: A potential sea change is underway in India. And with a new, impressive prime minister, and a burgeoning consumer population, they're setting up as the next economic miracle... Here's how to make big profits from this nation's coming surge...
The Next Trillion-Dollar Mortgage Meltdown May Be Coming: The fourth securitization deal of big investor-owned single-family homes for rent is here. Is this just another Wall Street gamble that will wreck the economy again, or is this time different? You be the judge. But Shah will tell you where he stands... and more important, how to protect yourself...
This Defense Tech Play Is Scorching the Market: Many investors believe that with our presence in Iraq largely gone, defense firms will offer mediocre returns at best. But our Defense & Tech Specialist Michael A. Robinson is not buying into it. He says massive profit opportunities are still there. And the market and the government are lining up behind them...