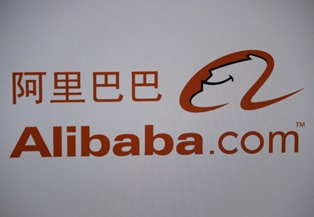 Investors were given an update on the Alibaba IPO today (Tuesday) when Yahoo! Inc. (Nasdaq: YHOO) reported second-quarter earnings. Yahoo owns a 24% stake in Alibaba Group Holding Ltd. (NYSE: BABA) and will be selling a large percentage of its shares through the IPO.
In the report, Yahoo announced that it will be selling fewer of its Alibaba shares than initially planned. Yahoo will now sell 140 million shares through the IPO instead of the original 208 million that had been agreed upon.
According to The Wall Street Journal, analysts have been expecting Yahoo to receive approximately $10 billion from selling its shares in Alibaba.
By selling fewer shares, Yahoo will maintain more control in Alibaba post-IPO than many had anticipated. Currently, Yahoo owns 523.6 million shares of Alibaba.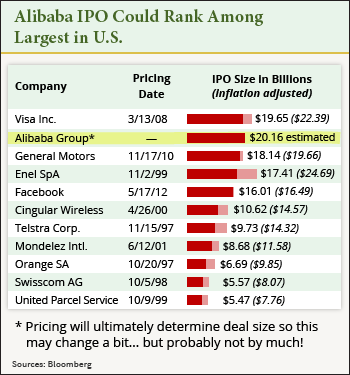 Yahoo also provided further details on what it will do with the proceeds it receives from the Alibaba IPO.
"[W]e are aware that there has been much discussion around the allocation of the Alibaba IPO proceeds," Chief Financial Officer Ken Goldman said. "We would like to take this opportunity to let our investors know that we are committed to return at least half of the after-tax IPO proceeds to shareholders, in line with our overarching commitment to maximizing shareholder value through prudent capital allocation."
Yahoo investors have been anxiously awaiting the Alibaba IPO, and today's confirmation that half of the IPO's proceeds will be returned to them is a big win.
The Alibaba IPO has continued to gain momentum since it was first rumored about in late 2013. Numerous estimates place the Alibaba IPO over the $20 billion mark, which would make it the largest U.S. IPO of all time, surpassing the $19.65 raised by Visa Inc. (NYSE: V) in 2008.
Last week, Alibaba officials announced that the company will begin the IPO process at the end of July, which puts the tentative date for the IPO in mid-August.
As the Alibaba IPO date approaches, here are some other "must-know" facts for investors...
"Must-Know" Facts About the Alibaba IPO
Alibaba's Disruptive Leader Is on Fire: Alibaba's former founder and current Chairman Jack Ma had a surprising start. Ma began his career as a tech with no computing or e-commerce experience. But that didn't stop him from creating China's largest e-commerce company.
"Innovation in many industries has been triggered by outsiders," Ma wrote in a June 2013 article in the Communist party's official newspaper the People's Daily. "The finance industry needs a disrupter, it needs an outsider to come in and carry out a transformation."
Inexperience hasn't prevented Ma from bringing Alibaba into numerous markets. Ma and Alibaba have purchased logistics, retail, commerce, and media companies all within the last year. He also purchased a professional soccer team in early June.
Chinese E-Commerce Is Exploding: "Alibaba is the dominant e-commerce player in a marketplace - China - that's seeing incredible growth in online commerce," Money Morning's Executive Editor Bill Patalon said. "According to the latest research I've seen, e-commerce in China is projected to hit $540 billion by 2015, and that's just for starters. By 2020, China's e-commerce market will be worth more than the United States, the United Kingdom, Japan, Germany, and France combined. So we know that growth is coming... and we know that Alibaba is the No. 1 gun."
"Look at it another way: the number of consumers and business folks connected to the Internet in China - whether you're talking about computers, tablets, or smartphones - is bigger than the entire U.S. population. And the government there is actually pushing growth. Beijing has mandated that 1.2 million folks - 85% of its population - will have broadband connections (3G or 4G) by 2020."
You Can Profit From Alibaba Now: The best news about this looming IPO is that it has created a major profit opportunity that most investors haven't yet noticed... It's happening now, months before Alibaba hits the market...
In fact, this could be your one and only chance to make the kind of gains normally reserved for the high-net-worth investors and bankers. And there are three ways to play. You can learn more about this Alibaba profit play here.
Join the conversation on Twitter @moneymorning and @KyleAndersonMM using #Alibaba
Related Articles: