El Pollo Loco Holdings Inc. (Nasdaq: LOCO) stock soared more than 33% from its offer price today (Friday), the company's first day of trading.
El Pollo Loco is a California-based, quick-service restaurant chain with 401 locations in California, Arizona, Nevada, Texas, and Utah. The company specializes in flame-grilled chicken and a variety of Mexican-themed dishes.
The company announced last night that it priced its shares at $15 each - the high end of its initial $13 to $15 range. Then LOCO stock opened this morning at $19 and climbed as high as $20. Through the IPO, LOCO sold 7.1 million shares and raised $107.1 million.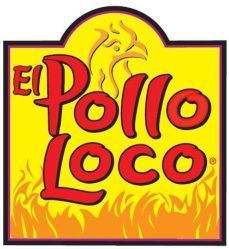 In its IPO filing, LOCO reported that it experienced revenue growth of 7.2% in the first quarter of 2014. It's also had positive same-store sales in each of the last 11 quarters.
On the flip side, the company did report a loss of $16.9 million in 2013 after having lost $7.9 million in 2012.
At the time of the initial public offering, LOCO had a market value of roughly $538 million. According to the company's IPO filing, it will be using much of the money raised to repay debt. Jefferies Group LLC, Morgan Stanley (NYSE: MS), and Robert W. Baird & Co. served as the lead underwriters on the deal.
The company joins a mixed bag of restaurant stocks to hit the market in the last year. Shares of the sandwich chain Potbelly Corp. (Nasdaq: PBPB) have dropped 62% since hitting the market in October. Pizza chain Papa Murphy's Holdings Inc. (Nasdaq:
FRSH) has seen its shares fall 20% since its IPO in May.
However, chain restaurant Zoe's Kitchen Inc. (NYSE: ZOES) has seen a 29% increase from its open price.
Big first-day "pops" for stocks are common among companies that have just completed an initial public offering.
One of the most noteworthy of 2014 was GoPro Inc. (Nasdaq: GPRO), which closed its first day up 31% from its offer price after climbing as high as 37.5%. GPRO stock soared 103% in its first four trading days.
Those initial surges from new stocks have been even more frequent in 2014. In fact, this year's IPO market has been the hottest since the dot-com era of 2000...
LOCO Stock: Another 2014 IPO Hit
Through the first half of 2014, 147 companies made their public debut. At that point, 2014 had seen more initial public offerings than any year since 2000, when 406 companies went public in 12 months.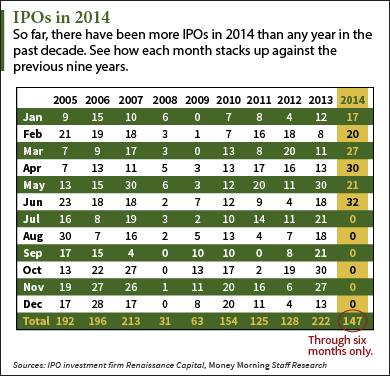 In fact, 2014 has seen more IPOs in six months than 2008, 2009, 2011, and 2012 saw all year.
And those newly public companies have done well for themselves so far this year. Those 147 companies averaged a first-day pop of 14% and an overall gain of 20.4%.
"As the recent GoPro deal underscores, the IPO market is white-hot right now," Money Morning's Executive Editor Bill Patalon said. "A brand-new report from Renaissance Capital says that IPO proceeds were up 42.4% in the second quarter on a year-over-year basis. Global IPO proceeds are up by the same amount year to date."
However, while many stocks like LOCO ride the momentum of the "white-hot" IPO market when they first go public, they frequently experience a pullback shortly after.
GPRO stock dropped considerably and is down 15% since July 2. Another one of 2014's biggest first-day winners, Zoe's Kitchen, climbed 88% from its offer price in its first three trading sessions before dropping 7% over the next four days.
As such, investors shouldn't be surprised if LOCO stock continues its momentum for several trading days before experiencing a pullback.  
Share this story on Twitter @moneymorning and @KyleAndersonMM using #Loco.
Now: This "miracle material" is our secret weapon in the coming energy war. Here's how you can start profiting today...
Related Articles: