By William Patalon III
Executive Editor
Money Morning/The Money Map Report
Just days after Money Morning Investment Director Keith Fitz-Gerald reiterated his prediction that oil prices would reach $187 a barrel within 36 months, Wall Street giant Goldman Sachs Group Inc. (GS) issued a report predicting crude oil prices would reach $175 in the next few years.
Money Morning first mentioned Fitz-Gerald's belief that the $187 price target was a possibility in an article back in December when oil was trading at $90 a barrel. Fitz-Gerald then reiterated his prediction in an interview with Money Morning two weeks ago. When oil prices took off on their record run, we published the prediction as part of an in-depth analysis of the crude-oil market.
The article ran last Thursday, and the response has been stunning: It's been picked up by other news services, and posted on Web sites all over the world.
Then, just last Friday, Goldman Sachs followed suit and said that crude oil prices could hit $175 a barrel in the next few years as the commodities sector experiences "explosive rallies" that are spurred by supply constraints. The prediction was contained in an investment research report that concluded that political decisions on money flows, labor and technology were "substantially constraining supply growth" of commodities, Bloomberg News reported.
A significant under-investment in refineries, mines and land was helping fuel the leap in commodity prices.
"This will likely support the ongoing structural bull market in commodities until these policy-driven investment constraints are removed and/or demand is adjusted," Goldman Sachs said.
Pain and Profit
Although rising oil and gasoline prices are extremely painful for consumers to deal with, Money Morning's Fitz-Gerald contends that they also represent one of the greatest profit opportunities investors will see for a long time.
"Many people think high oil prices are a bubble. Maybe, but not for long and certainly not given the growth in global demand," Fitz-Gerald says. "Of course, prices will not stabilize anytime soon. Savvy investors [will realize that] we are still in the very early stages of a generational game with the potential to be played for great profits." [Editor's Note: To read the full Money Morning research report – which includes Fitz-Gerald's three profit plays – please click here. The report is free of charge].
Oil prices spiked to a record level of $111 a barrel on Thursday as the U.S. greenback hit a 12-year low against the Japanese yen and an all-time record low against the euro. A key cause for the dollar's weakness: Investors continue to question whether the U.S. Federal Reserve's strategies for restoring order to the sputtering financial markets have any real long-term validity.
On Friday, gold spiked to a key historic high of more than $1,000 an ounce – eclipsing a psychologically significant barrier – as investors continued to turn to the yellow metal and other commodities as a way of hedging against the plunging greenback.
Goldman Sachs said $175 a barrel crude "represents the price level required to maintain trend economic growth against our anaemic supply growth forecasts, assuming growth in the U.S. [economy] re-accelerates early next year."
Late last month, Matthew R. Simmons, chairman of the Houston-based investment bank Simmons & Co. International, actually predicted that oil prices could climb as high as $378 a barrel – characterizing current prices in the $100 range as "preposterously cheap."
To underscore his point, Simmons told the Arabian Business news service that in the United Kingdom capital of London, gasoline can sell for as much as $9 a gallon. And even that doesn't deter motorists from driving their cars.
Prices at that level don't "seem to have slowed anyone down. It works out as much as $378 a barrel. Yes [I can see it reaching that high]," he told the news service.
Just last week, the International Energy Agency (IEA) warned last week the era of cheap oil had ended. In fact, only a sustained global recession could send oil back down below the $60 a barrel level for any length of time.
The Four Factors Fueling Higher Prices
Back in early 2002, oil was trading at less than $20 a barrel. Before it began its northward march from that point, Fitz-Gerald conservatively predicted that oil prices would reach $100 a barrel within 10 years. His price prediction was right on target.
Once crude prices hit that psychologically key "century mark," Fitz-Gerald reassessed the market and ultimately boosted his target price to the $187 a barrel level. But Fitz-Gerald sees oil-and-gasoline prices going higher – much higher. And he's very clear about just why that's going to happen, listing four key catalysts:
Obfuscation by OPEC: Members of the Organization of the Petroleum Exporting Countries have been misrepresenting their reserve capabilities for years. The key players have reported no new discoveries for decades.

Terrorism Threats: The odds that a terrorist act will interrupt oil supplies – in the near term or the long term – are higher than most security experts would ever publicly confirm, Fitz-Gerald says. And this is especially problematic because of the double-whammy effect: Damage to a major pipeline or a strategic refinery could crimp supplies just as demand is continuing to escalate.
The Dollar Doldrums: Oil is priced in dollars. And the dollar is in the dumper. Indeed, rising inflation and falling interest rates have put the greenback into a steep downward spiral. And if prices keep rising, and if Federal Reserve policymakers keep cutting short-term interest rates, the dollar will continue to lose altitude against other key global currencies. OPEC members will counter the greenback decline by marking up the price of crude, causing prices to increase still more in dollar-denominated terms.
Cruising Goes Global: As an increasing number of households in China, India and other advancing overseas economies join the world's middle class, they'll start making such basic purchases as electronic goods, houses – and automobiles. The fact that China's oil imports jumped 18% in one month is evidence enough that this is happening. And the fact that leading India automaker Tata Motors Ltd (TTM) has unveiled a $2,500 car, the Nano, underscores that international carmakers are looking to recruit a whole new group of motorists. The fallout: For U.S. refiners, oil will first get lots more expensive, and then supplies will start to dry up as countries opt to halt exports and keep the precious black gold for themselves.
Oil Becomes a Strategic Asset
Oil prices have made a major move in the past five years – just as the emergence of China, Russia and several other key economies transformed crude-oil pricing into much more of a global game. High prices have sent cash pouring into the coffers of oil-producers in Asia and the Middle East. Many countries have used that capital to finance global investment initiatives, creating government-controlled "sovereign wealth funds" to do their bidding.
Little wonder crude oil has become a strategic asset – as well as an energy source.
"As oil and other fuels become a more and more precious resource, OPEC countries, China, Russia and others will begin holding back oil, instead of putting it into the market," Fitz-Gerald says. "That's going to be devastating in the short-run."
Some big oil consumers such as the United States have lobbied OPEC to boost production in order to bring market prices down. But it's done no good: Members of the OPEC have said over and over that market supplies are adequate and that the surging prices are not something that they can control.
China – a growing consumer of oil – has embraced a different strategy: To create captive supplies of crude, China has demonstrated that it's more than willing to endure controversy and cut deals with countries U.S. refiners either can't or won't deal with. China Petroleum & Chemical Corp. (SNP), and PetroChina Company Ltd. (PTR) – two of China's biggest oil companies – have invested in such political hot spots as Africa and Iran.
The Chinese government, desperate to lock down supplies of such crucial natural resources as metal ores and crude oil, has sealed deals with Sudan, Chad and the Congo. African Business reports that trade between Africa and China has advanced at a rate of 40% a year since 2001. In 2006, bilateral trade between the two was $50 billion.
Already, 14% of China's oil imports come from Angola. About 60% of Sudan's oil goes to China.
News and Related Story Links:
Here Are 10 "One-Click" Ways to Earn 10% or Better on Your Money Every Quarter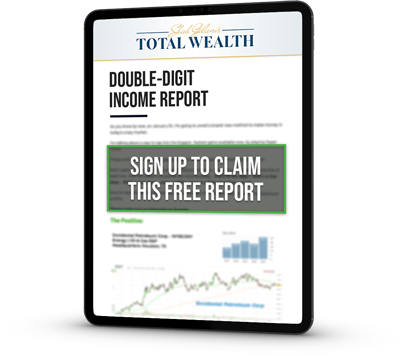 Appreciation is great, but it's possible to get even more out of the shares you own. A lot more: you can easily beat inflation and collect regular income to spare. There are no complicated trades to put on, no high-level options clearances necessary. In fact, you can do this with a couple of mouse clicks – passive income redefined. Click here for the report…
About the Author
Before he moved into the investment-research business in 2005, William (Bill) Patalon III spent 22 years as an award-winning financial reporter, columnist, and editor. Today he is the Executive Editor and Senior Research Analyst for Money Morning at Money Map Press.