In the past 12 months we've witnessed a series of market events that most of us would never have imagined possible, including violent trading swings, the failure of brand-name financial institutions, frozen credit markets and world leaders caught unawares and rendered powerless. Little wonder it remains unclear just when, or how, the markets will hit bottom.
The key is how we handle things in the meantime.
As you might expect, I've been inundated with questions, comments and suggestions in recent weeks and I'd like to share a few of them with you today that cover your biggest concerns:
It's Time to Share
Reader Comment: In response to last week's message on postponing my Ironman dreams, Diane R. wrote to remind us that in a world where so many people have become marginalized and dropped through the bottom, it's important to not only pare down, but to do so by sharing our abundance with those who have nothing.
Keith's Response: I couldn't agree more. In fact, when I've talked with people who lived through the Great Depression or survived the immediate aftermath of a catastrophic events like WWII or any of half a dozen natural disasters, sooner or later the conversation turns to sharing as an important part of the healing process both emotionally and financially. Not only does the act of sharing help us get through adversity individually, but it helps us maintain a healthy respect for each other and that serves us collectively. Thanks for the reminder!
Courage When Days Are Darkest
Reader Comment(s): Victor M., John A., and Matt C. wrote that "it's nice to see your advice goes beyond the usual good investment opportunities," calling last week's Money Morning missive "an excellent piece of work" with a "powerful, simple message."
Wrote one of the gentleman: "My wife and I hope that you do fulfill that China Dream one day, or one similar to it."
Keith's Response: Thanks guys. Your words harken those of Thucydides (c 460BC - c 395BC), who said that "the bravest are surely those who have the clearest vision of what is before them, glory and danger alike, and yet notwithstanding go out to meet it." That's why it's important to not give up.
Studies show that even the most vicious bear markets eventually are replaced by a bull market. More importantly, these studies show that the investors who continue to put money to work when the days are the darkest (like now) tend to reap the biggest rewards. The historical record is very clear on this point: It's when people are the most disheartened that rebounds begin.
Respect the Unknown
Reader Comment(s): While the vast majority of readers found my comments last week reassuring, a few readers - like R. Greenhold - said they found my note somewhat "alarming." Mr. Greenhold wanted to know whether I "[knew] something special about how bad this is going to get and can I share it?"
Keith's Response: I don't know any more than the next person about what's coming. The difference is that, having spent two decades trading, I believe that it's important to face the unknown head-on, and not run from risk. Instead, it's important to deal with it intelligently. And right now that includes a healthy respect for things I can't control …which is exactly why I postponed my China Ironman entry. I'd rather be safe and regret that I cancelled my race than be sorry I didn't if everything really goes to heck in a hand basket.
Common Sense Savings
Reader Comment: Patti R. enjoyed my "excellent e-mail" and observed that she'd "found that needs shrink to match income - 10% deducted by another party is never missed. Figure out what you need for what purpose each week, and put the actual cash away in an enveloped labeled for each purpose. It's worked for me for years."
Keith's Response: Great idea, Patti. Here's an additional tip: By converting the cash to traveler's checks, we not only force ourselves to save, but we also hedge against our money getting lost or stolen.
Denial Is Not a River
Reader Comment: One reader, who opted to not sign his name, I was chastised for thinking people spend their weekends "caring about money."
Keith's Response: Guilty as charged. I find that most people actually appreciate a few quiet minutes to think about important topics, and one of those important topics is money - especially right now. And I receive plenty of feedback from readers all over the world confirming this.
In closing, there's no doubt the world has changed but, during periods like this one, it's important that some things have stayed the same. Success will come from sticking to our plans and to each other. Perhaps the single worst thing we can do right now is to try and go it alone.
Best regards,
Keith Fitz-Gerald
Investment Director
Money Morning/The Money Map Report
[Editor's Note: As Investment Director Keith Fitz-Gerald's commentary underscores, uncertainty has been the watchword in the whipsaw markets of recent months. Just when it seems as if clear patterns have emerged, another bad-news revelation seems to jump up out of nowhere to roil then markets anew. But what if you knew what that next "revelation" was going to be? And you had enough time to prepare a strategy to tackle this new development - or, better still, someone also handed you a strategy with which to capitalize on this event. Money Morning's latest investment report does just that: It predicts five key "aftershocks" that we expect will emanate from the U.S. financial crisis, and talks about the opportunities for substantial profits that will flow forth from these "seismic" market events. Indeed, we're so excited about the potential for these new predictions that we've actually launched a news series to watch as they unfold in the weeks and months to come. To read the first installment, check out "The Five Financial Crisis "Aftershocks" Investors Can Play for Profit." Make sure to watch for additional installments. And in the meantime, take a look at our full research report on aftershock investing.]
News and Related Story Links:
Here Are 10 "One-Click" Ways to Earn 10% or Better on Your Money Every Quarter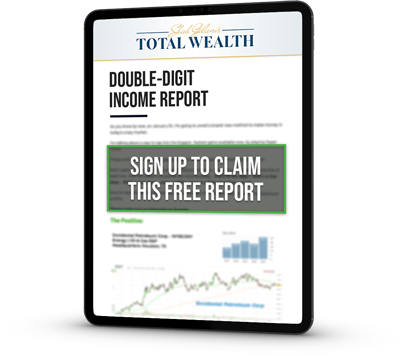 Appreciation is great, but it's possible to get even more out of the shares you own. A lot more: you can easily beat inflation and collect regular income to spare. There are no complicated trades to put on, no high-level options clearances necessary. In fact, you can do this with a couple of mouse clicks – passive income redefined. Click here for the report…
About the Author
Keith is a seasoned market analyst and professional trader with more than 37 years of global experience. He is one of very few experts to correctly see both the dot.bomb crisis and the ongoing financial crisis coming ahead of time - and one of even fewer to help millions of investors around the world successfully navigate them both. Forbes hailed him as a "Market Visionary." He is a regular on FOX Business News and Yahoo! Finance, and his observations have been featured in Bloomberg, The Wall Street Journal, WIRED, and MarketWatch. Keith previously led The Money Map Report, Money Map's flagship newsletter, as Chief Investment Strategist, from 20007 to 2020. Keith holds a BS in management and finance from Skidmore College and an MS in international finance (with a focus on Japanese business science) from Chaminade University. He regularly travels the world in search of investment opportunities others don't yet see or understand.