With the announcement that it intends to build the world's largest solar power plant, China is rapidly evolving into the world's largest market for solar energy. And with heavy government backing, Chinese solar companies are quickly becoming global leaders.
Fast-growing industry and a reliance on coal-fired power plants turned China into the world's largest emitter of greenhouse gas a few years ago. Clouds of smog far thicker than that of Los Angeles hang over many of its cities and much of the water is densely polluted. But that's something the central government aims to change.
China plans to reduce energy consumption per unit of its gross domestic product (GDP) by 20% of 2005 levels by the end of next year. It's more immediate goal is to reduce reliance on coal-fired plants to 60% of its energy production from 70%, and replace with renewable energy sources like wind and solar.
Since 2007, about 54 gigawatts – about 7% of the nation's electricity-generating capacity – of coal and oil-fired power plants have been closed down as part of the effort to reduce carbon emissions.
Alternative energy sources, including wind, solar, and hydropower, are in line to replace fossil fuels. China's market for green technology could reach $1 trillion annually, or about 15% of the country's forecast 2013 GDP, according to a report released last week by the China Greentech Initiative and the American Chamber of Commerce.
"Climate change brings a range of new risks and challenges for business, but it is also creating huge opportunities, particularly in the greentech sectors," Richard Gledhill, global leader on climate change and carbon market services for consultancy PricewaterhouseCoopers, told the People's Daily. "The International Energy Agency predicts that we will have to spend an additional $9 trillion over the next 20 years to deliver a stabilization scenario of two degrees Celsius."
Already solar companies in China are benefiting from the government's push for clean technology.  China plans to install more than 500 millawatts of solar pilot projects in two to three years.
"Given the nascent nature of China's solar domestic market, this 500 mW program, though not huge, sends a strong signal that China is serious about developing its domestic solar market, and will undoubtedly stimulate more activity in domestic deployment by enterprises outside of the subsidy program," Julian Wong, a senior policy analyst with the Center for American Progress, told the People's Daily.
The central government could raise its 2020 solar power generation target more than fivefold to at least 10 gigawatts, the paper reported. Analysts expect that more than two gigawatts of new solar capacity will be installed by 2011, up from about 100 mW in 2008.
To help the country meet its goal, the central government in July said it would subsidize 50% of investment for solar projects as well as transmission and distribution systems that connect to grid networks. The subsidy rises to 70% for independent photovoltaic power generating systems in remote regions of the country that have no power supply.
However, Chinese solar companies aren't just benefiting from the growing market of the mainland. Many are now building factories in the United States to bypass protectionist legislation. They're also encouraging executives to join industry trade groups to squelch any anti-Chinese sentiment.
One such company is Suntech Power Holdings Co. (NYSE ADR: STP), which earlier this year said it plans to build a factory in the Southwest United States. The company said it is exploring opportunities in several states as it seeks to expand its presence in the U.S. solar market.
"It'll be to facilitate sales — 'buy American' and things like that," Steven Chan, Suntech's head of global sales and marketing told The New York Times.
However, Suntech Chief Executive Officer Shi Zhengrong told The Times in an interview that 90% of the workers at the $30 million factory will be blue-collar laborers welding together panels from solar wafers made in China. And because of the generous subsidies it receives from Beijing, Suntech can sell solar panels on the U.S. market for less than the cost of the materials, assembly and shipping.
Yingli Green Energy Holding Co. (NYSE ADR: YGE), another large Chinese manufacturer, announced last week that it also had a "preliminary plan" to build solar panels in the United States, The Times reported.
Suntech is on track to pass Germany's Q-Cells SE as the world's No. 2 supplier of photovoltaic cells. After losing $69 million before interest and tax in the first half of the year, Q-Cells said it would cut 500 jobs – nearly a fifth of its workforce. Two other German solar companies – Conergy and Solarworld – also reported steep losses and are fighting for survival.
"A large part of the German solar cell and solar module manufacturers will not survive," UBS AG analyst Patrick Hummel told the Financial Times Germany newspaper.
Both Conergy and Solarworld have accused Chinese manufacturers of dumping and called on Western governments to protect the solar industry with import tariffs on Chinese products. But so far there has been no action on the part of U.S. and European governments.
"It's absolutely disgraceful that [U.S. President Barack] Obama is going around the world saying we will not resort to protectionist measures against China when they're stealing the solar-panel business out from under us," Peter Morici, an economist at the University of Maryland and former chief economist of the U.S. International Trade Commission, told The San Diego Union-Tribune.
Morici noted that China's protectionist measures include a requirement that 75% of the content of government-purchased solar panels be Chinese-made. The United States has no such requirement.
In response to critics, Suntech's Shi insists that his firm is helping the solar industry by making the technology more affordable.
"Western countries worry about the dramatic price reduction and talk about dumping. That shows a protectionist attitude. That's wrong," Shi told the United Kingdom's Guardian. "We must work together to promote and utilise each other's strengths."
China recently  took a big step toward enhancing cooperation with Western solar companies by signing a deal with the Phoenix-based First Solar (Nasdaq: FSLR) to build the world's largest solar plant.
The 2,000 megawatt complex will be built in Ordos City in Inner Mongolia by 2019. At that size, it would be about 30 times larger than any existing solar power stations in Europe.
"There are a few existing solar projects of about 50 to 60 megawatts, but this would be the biggest by a country mile," Charles Yonts, an analyst specializing in alternative energy at CLSA Ltd. in Hong Kong, told Bloomberg. "China is suggesting the solar market will be up to 20,000 megawatts by 2020, but the scale of this project suggests these estimates are far too conservative."
First Solar will consider solar module and manufacturing sites in Ordos City as part of the agreement.
The deal raised the eyebrows of many industry leaders who were skeptical about China's willingness to work with Western companies.
"If you announce that we have such a huge need for solar panels that we are even going to put First Solar panels into China, all of a sudden we've gone from this massive threat to maybe we saw it the wrong way around," Stephan Dolezalek, managing director of Silicon Valley-based venture capital firm VantagePoint Venture Partners, told Reuters.
"Maybe we should see the size of the Chinese market as this enormous upside potential, and maybe all of solar should be seeing it much more positively."
BrightSource Energy Chief Executive Officer John Woolward said his company is moving "slowly and deliberately" to find a partner in China, while Tom Werner, chief executive of the California-based SunPower Corp. (Nasdaq: SPWRA) said the deal "clearly makes use more bullish on China."
"We hope that that will result in us being able to penetrate that market as well," he added.
Related News and Story Links:
Here Are 10 "One-Click" Ways to Earn 10% or Better on Your Money Every Quarter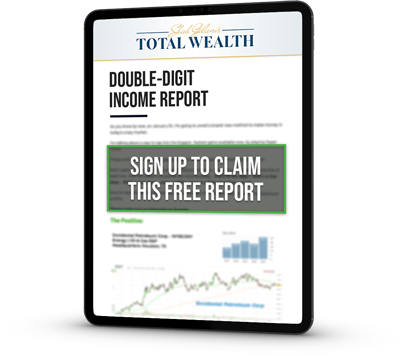 Appreciation is great, but it's possible to get even more out of the shares you own. A lot more: you can easily beat inflation and collect regular income to spare. There are no complicated trades to put on, no high-level options clearances necessary. In fact, you can do this with a couple of mouse clicks – passive income redefined. Click here for the report…