JPMorgan Chase & Co. (NYSE: JPM) Chief Executive Officer Jamie Dimon said he expected more municipal bankruptcies. In doing so, aligned himself with other critics of the muni-bond market, including analyst Meredith Whitney and Money Morning's own Martin Hutchinson.
"There have been six or seven municipal bankruptcies already," Dimon said Jan. 10 at JPMorgan's annual healthcare conference. "I think unfortunately you will see more."
Cities like Detroit and Harrisburg, PA have recently raised their prospects for bankruptcy. They're troubles reflect the dire situation of state governments that are dealing with about $140 billion in deficits in the next fiscal year, according to a report from the Center on Budget and Policy Priorities.
As states and cities reach their highest debt levels, municipal bond holders are concerned their seemingly safe investments are no longer guaranteed.
The muni-bond market took another hit Thursday when the New Jersey Economic Development Authority failed to generate enough investor interest to refinance it its variable-rate debt. The government agency was forced to reduce its planned $1.8 billion offering to $1.1 billion and pay a higher rate than expected.
Mutual fund company Vanguard Group last week backed away from three new muni bond funds due to the sector's bleak outlook.
"We believe that this delay is prudent given the high level of volatility in the municipal bond market," Rebecca Katz, a Vanguard spokeswoman, told The Wall Street Journal.
Yields on 30-year AAA-rated general obligation bonds rose to 5.01% Thursday due to higher perceived risk, according to Thomson Reuters Municipal Market Data. The bonds haven't hit a 5% yield since January 2009, during the financial crisis.
"If you are an investor in municipals you should be very, very careful," Dimon said at the conference.
Munis in the fourth quarter of 2010 suffered their worst quarterly performance in 16 years. Municipal bond investors have pulled $22.7 billion from muni funds in the past nine weeks.
Money Morning Contributing Editor Martin Hutchinson outlined the dangers for municipal bond investors as "deadbeat states" emerge.
"State-and-local government finances have taken a bigger beating during this economic downturn than during any other recession since World War II," said Hutchinson. "Even worse, that beating came after the easy money available during this stretch encouraged those same governments to venture well beyond any reasonable limits in terms of their borrowing."
Now these states and municipalities are facing record high debt loads and a dwindling tax revenue stream due to a battered housing market.
Financial analyst Meredith Whitney has been studying the state budget crisis for two years, and detailed the issue in the expose "State Budgets: The Day of Reckoning" that aired on Dec. 19 on the CBS News 60 Minutes program.
"Next to housing, this is the single most important issue in the United States, and certainly the largest threat to the U.S. economy," Whitney said.
Concerned companies have already started reducing their municipal debt holdings.
Warren Buffett's Berkshire Hathaway Inc. (NYSE: BRK.A, BRK.B) and The Allstate Corp. (NYSE: ALL), the largest publicly traded U.S. home and auto insurer, have both cut their muni investments. Buffett last year called the issue a "terrible problem."
Edmund "Ted" Kelly, CEO of Liberty Mutual Holding Co., has reduced municipal debt holdings in Connecticut, California and Illinois.
"The market is being held up to some extent by the belief that the federal government will bail out" the state and local issuers, Kelly told Bloomberg, which is not a sure thing.
Come spring, the $160 billion federal stimulus spigot will be turned off - yanking the financial IV that kept many states running during the recession. Newly elected Republicans taking control of the House of Representatives do not favor another federal bailout for debt-ridden states.
On top of record debt levels from overspending, states and local governments are dealing with a refinancing wave from deals made during the financial crisis.
When buyers of auction-rate securities disappeared during the credit crunch, municipalities started offering long-term bonds guaranteed by big banks with letters of credit. While most deals were designed to last a decade or more, the letters of credit are now expiring, about $53 billion this year alone.
That means borrowers could be forced into higher interest rates, or be left unable to secure new guarantees.
States are responding to their debt issues by cutting spending, eliminating jobs and raising taxes. They've realized they might not be able to get what they need from municipal bond investors.
"We now have to get to the business of climbing out of the hole. We've been digging it for a decade or more. We've gotta to climb now, and a climb is harder," New Jersey Gov. Gov. Chris Christie told 60 Minutes correspondent Steve Kroft.
New California Gov. Jerry Brown last week presented a state spending plan that included $12.5 billion in cuts, including an 8% to 10% reduction in state employees' pay.
"It's time to put away fiscal insolvency and bring in a new era of fiscal responsibility and jobs," Brown told reporters at a press conference in Sacramento. "It's better to take our medicine now and get the state on a balanced footing."
Gov. Brown also increased taxes across all brackets by 0.25%.
Illinois, the state in the worst fiscal danger, signed a tax increase into law Thursday. The change raises corporate tax rates to 9.5% from 7.3%, and individual income tax rates to 5% from 3%.
Joseph Henchman, tax counsel for The Tax Foundation in Washington, D.C., said Illinois and California's rate increases would be the beginning of a tax trend for the nation this year.
"It might be a year of dramatic tax increases given the constraints states are under," Henchman told ABC News. "There's always pressure to increase spending more than revenue growth, but the Tea Party and limited government dynamics will add to that pressure."
Money Morning's Hutchinson said other states were likely to follow New Jersey in having to cut back bond issues. But if municipalities and states want to significantly reduce the threat of municipal bond defaults, more needs to be done.
"Gov. Brown's budget may have solved the problem in California if the legislature passes it. And Gov. Christie is on the right track in New Jersey," said Hutchinson. "But there are enough potential deadbeat state around; it's pretty well likely one will go this year."
News and Related Story Links:
Here Are 10 "One-Click" Ways to Earn 10% or Better on Your Money Every Quarter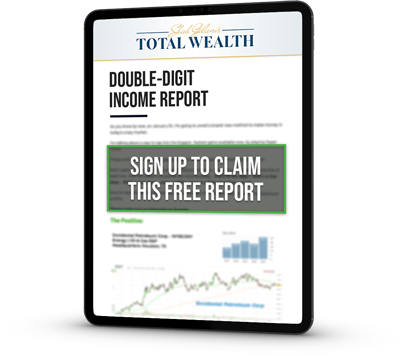 Appreciation is great, but it's possible to get even more out of the shares you own. A lot more: you can easily beat inflation and collect regular income to spare. There are no complicated trades to put on, no high-level options clearances necessary. In fact, you can do this with a couple of mouse clicks – passive income redefined. Click here for the report…