If you like bull markets, you better hope Janet Yellen is one of the most talkative Fed Chairs in history.
It's not that she's going to say anything brilliant or insightful, just that she says something -  anything - on a regular basis.
You see, there's a direct relationship between how much she says and what's happening in the markets. What she says is almost completely irrelevant.
I know people spend hours agonizing over the slightest nuances in each statement, but really none of those things matters.
Unless you are a policy wonk, Fed statements are pretty consistently useless pontifications made every 6 to 8 weeks by the head of a supposedly independent financial body that is, in fact, a highly politicized entity.
The Fed exercises little if any control over variables and targets that it changes at will and deems relevant at its sole discretion.
Harsh? You bet. But not without merit...
Flawed Fed Policies (Need Long Explanations)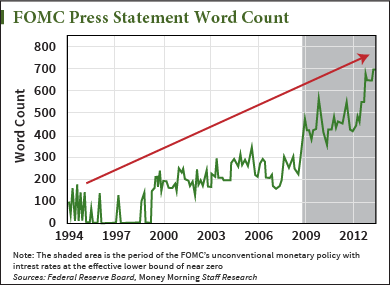 The first Federal Open Market Committee (FOMC) press statement was released on Feb. 4, 1994, and it was all of a whopping 99 words: short, succinct, and to the point.
By comparison, Yellen's first statement, issued after last week's FOMC meeting, was 877 words - a 785% increase in 20 years.
You can chalk this up to a more communicative Fed or the proliferation of media in the Internet Age if you want. It's not a stretch of the imagination with all the technology that we have at our disposal.
I think that'd be a big mistake.
I think the Fed is saying more in a deliberate attempt to explain its actions the way a child tries to justify getting his hand caught in the cookie jar. The goal is to bamboozle the American public into believing that expanding the Fed balance sheet by more than 450% in excess of $4 trillion is justifiable, responsible, and prudent.
I believe the fact that they are communicating more and saying less is very deliberate. Reality no longer fits their data, so Yellen is changing the data. She even blamed the weather, which is not too far from the "dog ate my homework."
As the Words Pile Up, So Do Fed Assets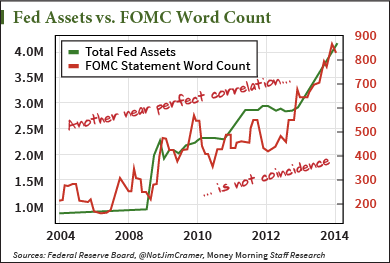 The Fed missed the financial crisis in formation and has been wrong about critical inflation and jobs data for several years in a row now, which means that it's got to "explain" itself in other ways.
Coincidence? I think not... there is a direct correlation between the rising FOMC word count and Fed assets.
To be fair, statistically speaking, correlation is not causation. If you remember your high school statistics classes, the fact that one data set is highly correlated to another does not mean that one caused the other.
But when you tie a third data set in, and a fourth and a fifth... coincidence goes right out the window.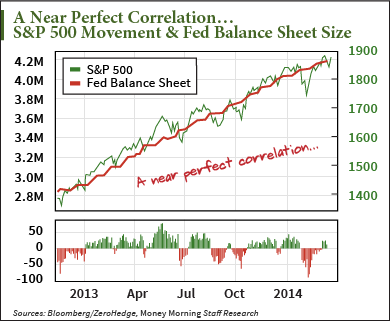 It's one thing to say that the Fed is simply doing a better job of communicating. And entirely another when you realize why...
Join the conversation. Click here to jump to comments…
About the Author
Keith is a seasoned market analyst and professional trader with more than 37 years of global experience. He is one of very few experts to correctly see both the dot.bomb crisis and the ongoing financial crisis coming ahead of time - and one of even fewer to help millions of investors around the world successfully navigate them both. Forbes hailed him as a "Market Visionary." He is a regular on FOX Business News and Yahoo! Finance, and his observations have been featured in Bloomberg, The Wall Street Journal, WIRED, and MarketWatch. Keith previously led The Money Map Report, Money Map's flagship newsletter, as Chief Investment Strategist, from 20007 to 2020. Keith holds a BS in management and finance from Skidmore College and an MS in international finance (with a focus on Japanese business science) from Chaminade University. He regularly travels the world in search of investment opportunities others don't yet see or understand.