Gold Prices 2014: Gold prices per ounce broke through $1,300 on Tuesday, ending the session at their highest level in two weeks.
June gold finished the day up $10.60 at $1,308.90 an ounce. Spot gold ended the session on a favorable note as well, up $12 at $1,309.50. The yellow metal is up 1.1% in April, and up 8% year to date.
Stoking yellow metal gains Tuesday was a weaker dollar and troubling headlines out of politically unstable Ukraine. Gold, a safe-haven investment, moves when market uncertainty and geopolitical tensions increase.
Senior Kitco.com analyst Jim Wyckoff confirmed with MarketWatch that gold is indeed "getting a boost from some safe-haven buying interest and by solid losses in the U.S. dollar index. The Russia-Ukraine matter is back on the front burner of the marketplace Tuesday."
The situation in Ukraine is growing grave. Tuesday, Russia's foreign ministry issued a warning that any use of force by Ukrainian authorities to extradite pro-Kremlin separatists could thrust the country into civil war. The separatists managed to gain control of government buildings in three eastern cities in Ukraine so far.
Contradictorily, bullion prices have pulled back sharply from the $1,400 level they reached in mid-March. However, those prices reflect the dated news of decreasing geopolitical tensions, when Russia stated it has no intention of invading other parts of Ukraine outside of Crimea. Expect bullion to charge higher on the more recent developments to the east.
Gold prices in 2014 gained additional momentum amid weakness in equity markets, and a March jobs report that was ho-hum at best.
The yellow metal's gains this year are tiring out bearish sentiment – investors are waking up to the opportunity in gold's rise…
The Bears Are Getting Tired, Boosting Gold Prices in 2014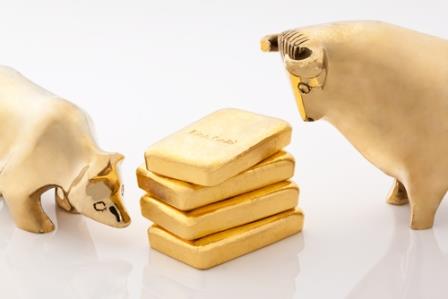 Last year was an excruciating year for gold bugs. The precious metal took a shellacking, ending 2013 down a steep 28%.
But things are looking much brighter for gold – and gold investors – this year.
"Gold has rebounded from late December into mid-March, tacking on about $200 an ounce, or nearly 17%," Money Morning Resource Specialist Peter Krauth said. "To a large extent, I think the bears were exhausted, and most (if not all) sellers had finally sold. So, gold was coming off a technical low and sentiment extreme around the $1,190 price range."
Alongside bullion, gold stocks and gold exchange-traded funds took a beating last year. The bleeding, however, appears to have subsided.
"The SPDR Gold Trust (NYSE: GLD), the largest physical gold ETF, sold off 42% of its metal between its record high in December 2012 and January 2014, or 564 tons of gold," Krauth explained. "That selling looks to have bottomed in mid-January and GLD holdings have started to grow again since then, a major trend reversal."
Industry experts believe consumers in Asia are picking up the outflows.
"Buying in that area has been exceedingly strong, with China's consumers buying up 41%, setting a new record of 1,065.8 tons and beating out perennial leader India at 974.8 tons," Krauth continued.
There's another factor behind rising gold prices in 2014 – massive buying (by the hundreds-of-tons) from these institutions…