Every once in a while I like to circle back to some of the great questions I get from you.
Today, I want to dive into one from Suzanne P., who wants to know if "Fibos" can help her make money in the markets.
In a word, yes. But, you've got to understand what "Fibo" analysis is and how it works to make it profitable....
The Mathematical Sequence That Shows Up Everywhere
"Fibo" is short for Fibonacci - as in, Leonardo Fibonacci. Born in Pisa, Italy, around 1170, he's considered by many to be the single most influential western mathematician of the Middle Ages. His 1202 book, Liber Abaci ("Book of Calculation"), remains instrumental to our understanding of mathematics to this day and is filled with examples that applied to money-changing, interest calculation, and commercial bookkeeping, for example.
Today we know Leonardo simply as "Fibonacci," which is same name given to a numerical series in his book that he did not discover but that he used as an example. Despite their reputation as being difficult or complex, in reality, Fibonacci numbers are easy to learn and easy to understand.
The sequence, if you're counting, looks like this... 1 1 2 3 5 8 13 21 34 55 and so on.
Right away you can see a pattern. One plus one equals two. One plus two equals three. Two plus three equals five. And so on.
But if you look closer, something else emerges. Every number in the series is approximately 0.618-to-1 in terms of its relationship to the number after it. This ratio never changes because the proportion remains the same.
This is important so don't lose that thought; we're going to come back to it in a minute.
What's simply amazing to me is that Fibonacci (and lots of scientists after him) have found Fibonacci numbers in nature. For example, the number of petals on flowers is often a Fibonacci number, as are the number of "cells" in a pineapple's skin. Pinecones, sunflowers, beehives... they all display Fibonacci's numbers or sequence in some way.
More amazingly, plant leaves are often arranged in spirals or shapes that, when counted, are found to be adjacent Fibonacci numbers. In fact, if you divide the arc they form along a vine, for example, the arc length angle ratio is equal to 137.5 degrees. The numbers are so consistent that the relationship is actually called the "Golden Ratio" or the "Golden Mean."
Mathematically, it looks like this, where the Greek letter phi represents the golden ratio:


Geometrically, if you draw it out, the Fibonacci ratio or "Golden Mean," if you prefer, looks like this...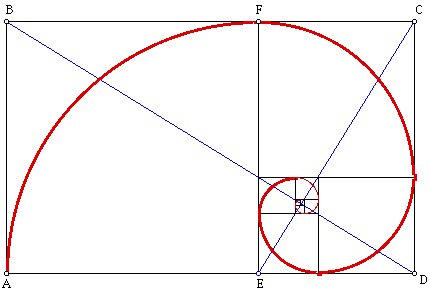 These relationships can be found all over the place in the natural world in everything from dolphins' fin sections to the ratio between human forearms and hands. Even the cochlea in our inner ear is a "golden" spiral adhering to this set of proportions.
Fibonacci numbers and ratios can also be found - you guessed it - in the stock market.
Join the conversation. Click here to jump to comments…
About the Author
Keith is a seasoned market analyst and professional trader with more than 37 years of global experience. He is one of very few experts to correctly see both the dot.bomb crisis and the ongoing financial crisis coming ahead of time - and one of even fewer to help millions of investors around the world successfully navigate them both. Forbes hailed him as a "Market Visionary." He is a regular on FOX Business News and Yahoo! Finance, and his observations have been featured in Bloomberg, The Wall Street Journal, WIRED, and MarketWatch. Keith previously led The Money Map Report, Money Map's flagship newsletter, as Chief Investment Strategist, from 20007 to 2020. Keith holds a BS in management and finance from Skidmore College and an MS in international finance (with a focus on Japanese business science) from Chaminade University. He regularly travels the world in search of investment opportunities others don't yet see or understand.