It was Sir Francis Bacon who gave us the truism that "knowledge is power."
And the 17th century English philosopher and statesman did so centuries before Wall Street was even conceived.
But the brokers, fund managers, and other pros who dreamed up the investment markets knew a good thing when they saw it. They embraced Bacon's maxim, launched the first U.S. stock exchange in 1790, and spent the next two centuries transforming this country's individual investors into scared vassals of the Wall Street elite.
And the big banks, brokerages, and other investment pros did this by never forgetting the simple precept that "knowledge is power."
I see this play out on an almost-daily basis thanks to the endless streams of impenetrable reports that come from the bankers in New York or our elected leaders in Washington.
Most Main Street investors lack the knowledge to "decode" these reports, so they also lack the power to respond in a constructive manner.
Instead most of us just react - panic really. An upbeat economic report prompts investors to shoot stocks higher one day. But on the next, a seemingly conflicting report causes share prices to plummet.
Wall Street isn't fazed by this whipsaw trading, of course: As individual investors, we must travel the road that's owned by the pros. And that means we must pay a "toll" - in the form of a commission or transaction fee - with every move we make.
In fact, there's even an incentive to make us take more trips - heading north (bullish) one day and south (bearish) the next: The more trips we take, the more of those "tolls" that we have to pay - and the larger the pile of profits that Wall Street reaps.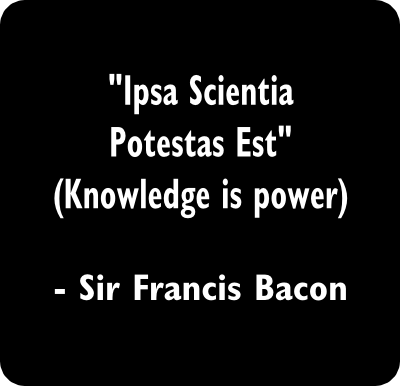 Knowledge isn't just power: It also represents profits... even wealth.
I'm putting such a fine point on this - and telling you about Francis Bacon - for a very specific reason: Thanks to the 30 years I've spent watching and working with Silicon Valley companies, I long ago "cracked the code" that gives Wall Street so much power over America's Main Street investors.
I've identified the three specific economic reports that matter - and have deciphered what they mean. And I know which ones are just claptrap - mind-numbing clutter - designed to maintain the very one-sided status quo.
And today I'm going to give you a backstage pass... so you'll have direct access to that "knowledge" - and the "power" profits that accompany it.
A Backstage Pass
I'm sure that almost all of you - at one time or another - have heard someone talk about a "velvet rope." If so, have you stopped to think about what the term means?
Think about some of the finer places you've visited - a Broadway play, a hot new restaurant, or that just-opened nightclub: As you wait your turn, the "gatekeeper" - a maître d', hostess, or bouncer - keeps you on that "other" side of a literal "velvet rope."
That wait can be long... and frustrating - especially when the "connected" patrons get in before you.
Wall Street plays the same game. The bankers, fund managers, and other pros want to keep you at bay - while giving their best clients first access to the "best-in-show" investments. But in this case, the velvet rope is knowledge - about the relative health of the U.S. and global economies.
And the Wall Street crowd will hate me for telling you this, but the game is nowhere near as complicated as the pros would have you believe. In fact, in assessing the strength of the U.S. economy as I analyze tech plays, I've really found that these three economic "data points" are the most important to follow:
Join the conversation. Click here to jump to comments…
About the Author
Michael A. Robinson is a 36-year Silicon Valley veteran and one of the top tech and biotech financial analysts working today. That's because, as a consultant, senior adviser, and board member for Silicon Valley venture capital firms, Michael enjoys privileged access to pioneering CEOs, scientists, and high-profile players. And he brings this entire world of Silicon Valley "insiders" right to you...
He was one of five people involved in early meetings for the $160 billion "cloud" computing phenomenon.
He was there as Lee Iacocca and Roger Smith, the CEOs of Chrysler and GM, led the robotics revolution that saved the U.S. automotive industry.
As cyber-security was becoming a focus of national security, Michael was with Dave DeWalt, the CEO of McAfee, right before Intel acquired his company for $7.8 billion.
This all means the entire world is constantly seeking Michael's insight.
In addition to being a regular guest and panelist on CNBC and Fox Business, he is also a Pulitzer Prize-nominated writer and reporter. His first book Overdrawn: The Bailout of American Savings warned people about the coming financial collapse - years before the word "bailout" became a household word.
Silicon Valley defense publications vie for his analysis. He's worked for Defense Media Network and Signal Magazine, as well as The New York Times, American Enterprise, and The Wall Street Journal.
And even with decades of experience, Michael believes there has never been a moment in time quite like this.
Right now, medical breakthroughs that once took years to develop are moving at a record speed. And that means we are going to see highly lucrative biotech investment opportunities come in fast and furious.
To help you navigate the historic opportunity in biotech, Michael launched the Bio-Tech Profit Alliance.
His other publications include: Strategic Tech Investor, The Nova-X Report, Bio-Technology Profit Alliance and Nexus-9 Network.