The gold spot price, after hitting a 2014 high of $1,383 in March, just tumbled to its lowest level in four months.
Gold fell last week to $1,243. That brings it close to where it started the year, at $1,221.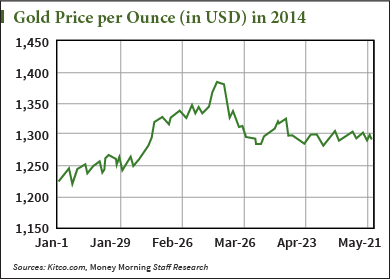 The gold spot price climbed for the first two and a half months of 2014, hitting a peak of $1,383 on March 14. After the high, the last half of March saw the gold spot price slip again. Prices started to steady in April, then shot up in May to $1,310 before falling to last week's low.
This week, spot gold has remained close to last week's low. It was quoted at $1,247.75 on Wednesday morning.
So after a nice gold price climb at 2014's start, what's weighing on the yellow metal now?
Money Morning Resource Specialist Peter Krauth gave us the story.