A burst of mergers and acquisitions dominated today's stock market news.
M&A activity year to date, driven by healthcare, pharmaceuticals, and telecommunications, has already topped $1 trillion. More billion-dollar deals were announced Monday in the healthcare and telecommunications sectors, as well as lucrative transactions in oil and tech.
And these deals are great news for the investors holding these hot stocks.
Here's a roundup of Monday's deals, and what they mean for the buyers and their respective industries.
Eight Hot Stocks Dominating M&A News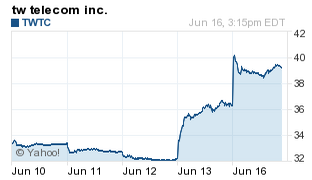 Level 3 Communications Inc. (NYSE: LVLT) has agreed to buy TW Telecom Inc. (Nasdaq: TWTC) for roughly $5.68 billion, as consolidation in the telecommunications industry continues. TWTC shareholders will receive $10 a share in cash and 0.7 LVLT shares for each TWTC share held. That's worth about $40.86 a share, a 12% premium above TWTC's closing price on Friday.
In acquiring TWTC, Level 3 gets a prominent player in network services, particularly Internet access and online-based voice calling to businesses. Indeed, TWTC posted $36.5 million in profit in 2013 on revenue of $1.6 billion. The buy also makes LVLT a stronger rival to AT&T Inc. (NYSE: T) and Verizon Communications Inc. (NYSE: VZ) in business and Internet services. LVLT expects the deal to generate about $240 million in cost savings.
TWTC shares surged nearly 10% to a 52-week high of $40.51 intraday. After trading as high as $44.70, just shy of its 52-week high of $44.44, LVLT shares slipped 5.74% to $41.56 in afternoon trading.
M&A activity in the telecom industry has caused some of the biggest deals of 2014, as companies vie for a bigger scale. Comcast Corp. (NYSE: CMCSA) has agreed to buy Time Warner Cable Inc. (NYSE: TWC) for $45.2 billion. AT&T Inc. (NYSE: T) is looking to take over DirecTV (Nasdaq: DTV) in a deal worth $67.1 billion. And, Sprint Corp. (NYSE: S) and T-Mobile USA (NYSE: TMUS) are mulling a merger.
The Wall Street Journal says more deals are likely as small TV channels are gobbled up. Yet, the most logical deal in the sector might be for CBS Corp. (NYSE: CBS) to merge with its former sister company Viacom Inc. (Nasdaq: VIA), according to The Journal.
Money Morning Members - keep reading. If you aren't already a Money Morning Member, sign up to get the rest of our hot stocks list - and you'll get our free guide: The Absolute Beginner's Guide to Trading and Investing
Medtronic Inc. (NYSE: MDT), a global leader in medical technology, services, and solutions, will acquire smaller rival Covidien Plc. (NYSE: COV) in a $42.9 billion cash and stock deal. Medtronic is paying $93.22 per Covidien share, a near 29% premium.
The tie-up brings together the No.4 and No. 8 players in medical devices to create the second-largest company in the industry, behind only Johnson & Johnson (NYSE: JNJ). Medtronic will reincorporate in Covidien's homeland Ireland, the latest move by U.S. companies aiming to take advantage of lower taxes outside the United States.
This deal, however, is driven by more than tax considerations.
"We believe that the Covidien deal is being driven by the need for Medtronic to have access to its OUS [outside the U.S.] cash, management's interest on becoming more relevant to hospitals by gaining scale across multiple segments of medical technology, and cost savings," Larry Biegelsen, a Well Fargo analyst, wrote in a research note Monday. Medtronic has some $14 billion in cash, most of it outside the United States.
JP Morgan upgraded Medtronic to "Overweight" from "Neutral" with a 12-month price target of $78. William Blair boosted its Medtronic rating to "Outperform" from "Market Perform." Covidien shares jumped about 25% to a 52-week high of $92.69. Initially up on the news, Medtronic shares slipped 2% to $59.50 midday.
The acquisition shines a light on the healthy M&A activity in medical technology and healthcare. Zimmer Holdings Inc. (NYSE: ZMH) bought privately held Biomet in April for $13.5 billion, joining two top providers of orthopedic, surgical, and dental products. Analysts expect the flurry of activity in the sector to continue. A takeover target repeatedly named is replacement joint maker Smith & Nephew Plc. (NYSE: SNN).
SanDisk Corp. (Nasdaq: SNDK), which makes flash memory for mobile devices, announced it is buying Fusion-io Inc. (NYSE: FIO) for about $1.1 billion. The all-cash offer of $11.35 per share is a 21% premium to Fusion's closing price on Friday.
Founded in 2006, Fusion makes advanced data storage systems. Best known for its chief scientist, Steve Wozniak, the Apple Inc. (Nasdaq; AAPL) co-founder, FIO went public in 2011 at $19 a share. That was a meteoric multiple of 41 times the previous year's sales, valuing the company at $1.48 billion. Shares opened at $25 and ended their first day of trading at $22.50. Since then, FIO shares have floundered. But, SNDK sees potential.
"Fusion-io will accelerate our efforts to enable the flash-transformed data center, helping companies better manage increasingly heavy data workloads at a lower cost of ownership," SanDisk Chief Executive Officer Sanjay Mehrota said in a statement. The deal is expected to close in Q3 and to begin adding to SNDK's earnings in Q2 of 2015.
Shares of FIO surged 23% to $11.45 on the news. SNDK shares rose more than 3% intraday to a 52-week high of $101.50.
Williams Companies Inc. (NYSE: WMB) agreed to pay $5.995 billion in cash to expand its ownership of Access Midstream Partners LP (NYSE: ACMP), a move aimed at increasing the energy company's presence in major shale regions. Williams is buying the remaining 50% of the privately held general-partner interest in Access Midstream that it didn't already own, as well as 55.1 million limited partner units. The move gives Williams a market value of around $36.9 billion. Williams is buying the stakes from Global Infrastructure Partners II. The purchase makes Williams one of the biggest U.S. transporters of oil and natural gas and an "industry-leading, large scale limited partnership."
"We expect the acquisition to deliver immediate and future dividend growth for Williams' shareholders and to further enhance our presence in attractive growth basins," Chief Executive Officer Alan Armstrong said in a statement. "In addition, we expect the acquisition of Access Midstream Partners will fortify Williams' stable, fee-based business model and support our industry-leading dividend growth strategy."
The deal is expected to close in Q3, after which Williams plans to boost its dividend 32% to $0.56 per share. Jefferies upgraded Williams to "Buy" from "Hold" and raised its price target to $65 following the news. WMB shares climbed roughly 25% to a 52-week high of $59.68 intraday. Meanwhile, Credit Suisse hiked its prices target on Access Midstream to $75 from $67. ACMP shares rose a more modest 1%, but still good enough for a 52-week high of $65.88.
The deal comes amid soaring domestic energy production and mounting demand for new pipelines, which Williams Cos. called an "ongoing energy infrastructure super-cycle." Indeed, advances in fracking put the United States on track to meet most, if not all, of its energy needs by 2020. But, this energy boom highlights the need for new ways to move fuels to market. Anticipate more deals in the industry.
Don't forget to download your free Member report: The Absolute Beginner's Guide to Trading and Investing. You can also access today's just-released investment analysis: How This Metal Problem Could Ignite China's Smoldering Crisis