A burst of mergers and acquisitions dominated today's stock market news.
M&A activity year to date, driven by healthcare, pharmaceuticals, and telecommunications, has already topped $1 trillion. More billion-dollar deals were announced Monday in the healthcare and telecommunications sectors, as well as lucrative transactions in oil and tech.
And these deals are great news for the investors holding these hot stocks.
Here's a roundup of Monday's deals, and what they mean for the buyers and their respective industries.
Eight Hot Stocks Dominating M&A News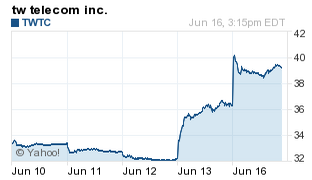 Level 3 Communications Inc. (NYSE: LVLT) has agreed to buy TW Telecom Inc. (Nasdaq: TWTC) for roughly $5.68 billion, as consolidation in the telecommunications industry continues. TWTC shareholders will receive $10 a share in cash and 0.7 LVLT shares for each TWTC share held. That's worth about $40.86 a share, a 12% premium above TWTC's closing price on Friday.
In acquiring TWTC, Level 3 gets a prominent player in network services, particularly Internet access and online-based voice calling to businesses. Indeed, TWTC posted $36.5 million in profit in 2013 on revenue of $1.6 billion. The buy also makes LVLT a stronger rival to AT&T Inc. (NYSE: T) and Verizon Communications Inc. (NYSE: VZ) in business and Internet services. LVLT expects the deal to generate about $240 million in cost savings.
TWTC shares surged nearly 10% to a 52-week high of $40.51 intraday. After trading as high as $44.70, just shy of its 52-week high of $44.44, LVLT shares slipped 5.74% to $41.56 in afternoon trading.
M&A activity in the telecom industry has caused some of the biggest deals of 2014, as companies vie for a bigger scale. Comcast Corp. (NYSE: CMCSA) has agreed to buy Time Warner Cable Inc. (NYSE: TWC) for $45.2 billion. AT&T Inc. (NYSE: T) is looking to take over DirecTV (Nasdaq: DTV) in a deal worth $67.1 billion. And, Sprint Corp. (NYSE: S) and T-Mobile USA (NYSE: TMUS) are mulling a merger.
The Wall Street Journal says more deals are likely as small TV channels are gobbled up. Yet, the most logical deal in the sector might be for CBS Corp. (NYSE: CBS) to merge with its former sister company Viacom Inc. (Nasdaq: VIA), according to The Journal.
Money Morning Members - keep reading. If you aren't already a Money Morning Member, sign up to get the rest of our hot stocks list - and you'll get our free guide: The Absolute Beginner's Guide to Trading and Investing