Crude oil prices are hovering near 52-week highs this morning (Wednesday), following news that Sunni militant fighters have attacked Iraq's main oil refinery in the city of Baiji.
According to reports, militants set the refinery on fire after gaining partial control of the facility Wednesday morning.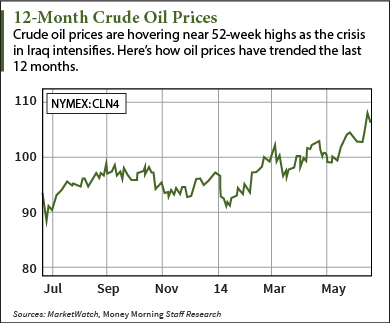 Crude oil prices reached $106.36 per barrel, just below last Thursday's high of $107.68 following the news.
Today's attack is part of a week-long campaign where militants from the Islamic State of Iraq and al-Sham (ISIL) have gained control of several cities in northern Iraq. The attacks are part of a Sunni uprising against the Shiite Muslim-controlled government.
The Baiji oil refinery is one of Iraq's main sources of domestic fuel, and today's attack does not impact production or exports from the country's oil fields in the southern part of the country. So far, the Sunni insurgence has only affected northern and central Iraq.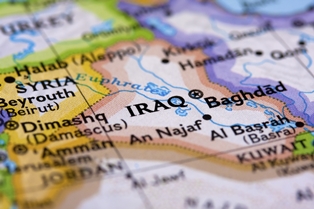 "The absolute majority of Iraqi oil comes from the south," Money Morning's Global Energy Strategist Dr. Kent Moors said. "To the extent that ISIL has Baghdad as its objective, the southern oil fields are not in danger."
"ISIL is a Sunni uprising in what is a Shiite-dominated country. The southern region centered around Basra is heavily Shia and becoming closer with each passing day to neighboring Iran, also a Shiite country."
Iran appears set on protecting the Shiite oil fields of southern Iraq as multiple reports this week detail the Iranian Revolutionary Guard and other militia forces moving into the southern region to protect the area.
For now, oil exports and southern production are not impacted by the ISIL movement, but the fall of the Baiji refinery today does increase concerns over the growing turmoil in the country.
And as concerns mount, there will be a big impact on crude oil prices today and in the future…