With interest rates at an all-time low, high-yield dividend stocks have replaced bonds as the best option to provide a stream of income in a portfolio.
Dividend payers deliver the added perk of equity ownership for potential growth. Plus, they tend to outperform stocks that don't pay dividends or that have slashed payouts.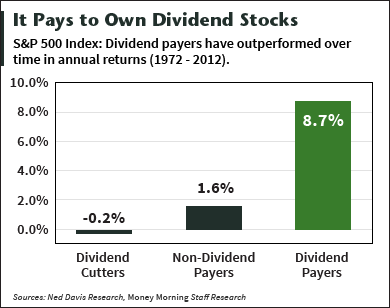 That's why investors keep flocking to Procter & Gamble (NYSE: PG), one of the ultimate dividend payers due to its 57 years of consecutive dividend increases. The consumer goods giant delivers a yield of 3.17%, compared to the current 1.68% yield on five-year Treasury bonds, and 2.55% yield on 10-year Treasuries.
But looking solely at dividend yield when evaluating a stock can be misleading. If a company's share price drops because it's not performing well, while the dividend remains the same, the percent yield will rise. For that reason, high yield can also signal a sick company.
In addition to looking at how much a stock yields, investors can also consider how much cash a company has to pay its dividend. That's where "mega caps" come in.
Mega caps are the biggest companies in the investment universe in terms of market capitalization, usually exceeding around $100 billion to $200 billion. Apple Inc. (Nasdaq: AAPL) is a mega cap, with a market capitalization around $569.08 billion, while eBay Inc. (Nasdaq: EBAY) is a large cap at $65.3 billion.
Companies with large capitalizations tend to have higher revenue and greater assets and capital than small-cap companies. High liquidity is a good sign for income investors since dividends are paid out in cash.  
And only eight mega cap, high-yield ividend stocks exist today. We've broken them down - and picked our favorite two for investors...
The Eight Mega Cap High-Yield Dividend Stocks
China Mobile Ltd. (NYSE ADR: CHL)
Div/yield: $1.04/4.08%
Market cap: $206.79 billion
P/E: 10.62
52-week range: $41.35 to $57.42
Mobile telecommunications giant China Mobile is the largest wireless telephone company in the world. It operates over most of mainland China and Hong Kong, with approximately 785 million customers.
Investment research firm Morningstar, which rates stocks based on the level of expected return, rates CHL as three out of five stars. A three-star stock indicates a projected fair return that compensates for risk. CHL stock traded at $52.35 per share on Tuesday.
Royal Dutch Shell Plc. (NYSE ADR: RDS.A)
Div/yield: $0.94/4.59%
Market cap: $274.54 billion
P/E: 21.50
52-week range: $63.08 to $83.42
Netherlands-based oil and gas giant RDS operates in more than 70 countries and employs 92,000 people worldwide. On Friday, Royal Dutch Shell was upgraded by JPMorgan analysts from a "Neutral" to "Overweight" rating. A couple days before then, on Wednesday, Nomura analysts also upgraded the stock from a "Neutral" to a "Buy," and Deutsche Bank from a "Hold" to a "Buy."
RDS stock traded at $81.96 per share on Tuesday, with a Morningstar rating of only two stars.
Novartis AG (NYSE ADR: NVS)
Div/yield: $2.76/3.06%
Market cap: $243.44 billion
P/E: 23.02
52-week range: $70.95 to $91.66
In 2014, Swiss drug manufacturer Novartis will see its prescription cancer treatment Gleevec go off patent, and with it nearly $4.69 billion in revenue. It will also lose its patents to Sandostatin ($1.59 billion) and Exforge ($1.46 billion).
Novartis is traded near its 52-week high on Tuesday at $90.05 per share. Morningstargave it a two-star rating.
Chevron Corp. (NYSE: CVX)
Div/yield: $1.07/3.32%
Market cap: $246.07 billion
P/E: 12.59
52-week range: $109.27 to $133.57
United States-based petro king Chevron has been around since 1879. From 2002 through 2007, the company earned roughly $72 billion, and averaged a 42% success rate for exploration wells. Morningstar also rates it as a three-star stock, and shares traded at $129.06 on Tuesday.
PetroChina Co. Ltd. (NYSE ADR: PTR)
Div/yield: $2.53/3.98%
Market cap: $226.43 billion
P/E: 11.53
52-week range: $94.75 to $129.93
PetroChina hit a fresh 52-week high today, trading at $129.93 in early hours. The oil and gas producer is the largest integrated Chinese oil company, and has enjoyed growth from China's economic surge. PTR stock received a three-star rating from Morningstar.
Verizon Communications Inc. (NYSE: VZ)
Div/yield: $0.53/4.18%
Market cap: $209.25 billion
P/E: 11.30
52-week range: $45.08 to $51.94
Telecom service provider Verizon was formed in 2000 with the merger of Bell Atlantic Corp. and GTE Corp. In 2013, the company brought in $120.6 billion in revenue, compared to $115.8 billion the year before. Recently, rumors have swirled that Verizon may purchase satellite-TV operator DISH Network Corp. (Nasdaq: DISH) to accelerate its wireless Internet speeds.
Rated as a two-star stock by Morningstar, VZ traded at $50.66 per share on Tuesday.
The last two mega caps are the strongest picks of among these high-yield dividend stocks - our expert calls one a "great foundational play for any investor's portfolio," while the other nabbed a four-star Morningstar rating...