The U.S. housing market is in trouble… again.
As I write this, several housing stocks I recommended my Short Side Fortunes subscribers get in on are down fairly sizably today. One stock is trading right now at $39.85. If it breaks below $38, that's bad news. Another is trading at $23.75. If it breaks below $23, that's bad news. And yet another is trading at $31.05. If it breaks below $30, that's bad news.
That will be good news for the shorts, but bad news for housing.
Why are there still dark clouds over our supposed economic recovery? We're five years on from the mortgage meltdown, after all, and housing prices have bounced back dramatically and interest rates are at near-record lows.
I've been saying it all along. The housing rally is fabricated. It is, as Pete Townshend sang in The Who's last great single, an "Eminence Front"…
An Eminence What?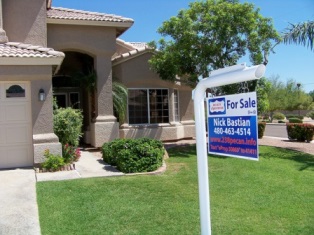 The so-called resurgence of the U.S. housing market is not about individuals and families buying back into the market, though of course some have. Home prices have bounced back because of institutional buyers paying cash for "affordable" housing.
I'm talking about the homes that were bid up when banks were giving mortgages away. These are houses in the $200,000 to $450,000 range… you know, the ones that banks foreclosed on in the tens of millions.
Institutions with cheap borrowing capabilities have been buying, with cash, foreclosed homes hand over fist in order to rent them out. And now they're securitizing packages of those homes and selling interests in pools of them to other institutional buyers looking for decent-yielding investments.
It's a trade.
Traders bid up those homes. It's not about a real recovery in housing.
Like I said, it's a trade.
As far as more expensive homes go, the buyers there are mostly foreigners taking money out of their respective countries – China, Russia, Ukraine, Latin America, Europe, South Africa, South Korea. These are people with money who want to park it here in real estate.
After all, there's more to gain from homeownership than 2.5%-yielding 10-year U.S. Treasury securities.
And the high, high end? How high is the high, high end, and what does it tell us about the state of the housing recovery?
Join the conversation. Click here to jump to comments…
About the Author
Shah Gilani is the Event Trading Specialist for Money Map Press. In Zenith Trading Circle Shah reveals the worst companies in the markets - right from his coveted Bankruptcy Almanac - and how readers can trade them over and over again for huge gains.Shah is also the proud founding editor of The Money Zone, where after eight years of development and 11 years of backtesting he has found the edge over stocks, giving his members the opportunity to rake in potential double, triple, or even quadruple-digit profits weekly with just a few quick steps. He also writes our most talked-about publication, Wall Street Insights & Indictments, where he reveals how Wall Street's high-stakes game is really played.