New details about the Tesla Gigafactory were released today (Thursday) when Panasonic Corp. announced that it will be investing in Tesla Motors Inc.'s (Nasdaq: TSLA) new production plant.
Tesla stock opened slightly up following the news.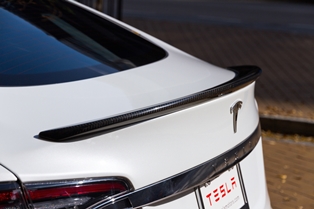 Panasonic did not provide many specifics on the partnership, and company officials said they had not decided on the size of the initial investment
"Given the high degree of interest in the factory in both Japan and the United States, we wanted to show our intent by signing an agreement as soon as possible. But a decision on investment will take a little longer," Panasonic Chief Financial Officer Hideaki Kawai said in a statement.
"However, Tesla is a very important partner to us and discussions are continuing. We need to look very carefully at auto demand and respond appropriately so of course that means taking a step-by-step approach to investment."
A Reuters report today cited unnamed sources who say Panasonic could initially invest between $200 million and $300 million in the Gigafactory. Overall, the plant is expected to cost around $5 billion to construct.
The $200 to $300 million Panasonic has agreed to offer is just a preliminary figure, and that total could end up reaching $1 billion.
Panasonic will be responsible for the equipment used to build the lithium-ion batteries. Tesla will be handling the costs of the buildings and the site.
The new factory is expected to revolutionize lithium-ion battery production and increase Tesla's output dramatically. According to Tesla, the plant will be able to supply power for more than 500,000 vehicles annually when it reaches full output capacity in 2020.
Chief Executive Officer Elon Musk has stated that he would like to begin construction on the Tesla Gigafactory by the end of 2014, and he would like the plant to be operational by 2017. No official site has been picked for the factory, but the company is reportedly deciding between locations in Arizona, California, Nevada, New Mexico, and Texas.
Tesla and Panasonic have worked together for years, and Panasonic currently develops the batteries for Tesla's Model S sedan. According to a contract that was signed in 2013, Panasonic is supplying Tesla with 2 billion battery cells from 2014 through 2017. Each Model S requires more than 7,000 battery cells.
Now that the Tesla Gigafactory is one step closer to construction, here is why this factory is so important to the future of Tesla - and TSLA stock...
Tesla Gigafactory: Revolutionizing the EV Market
Tesla produces around 800 electric vehicles (EVs) per week now, and is hoping to hit the 1,000 mark by the end of the year. Its main factory in Fremont, Calif., is currently being upgraded so that Tesla can begin producing its second vehicle, the crossover SUV Model X.
While those upgrades should help Tesla increase production by 25%, Tesla's future truly relies on the success of the Gigafactory.
When Musk first announced the Gigafactory, he set a production goal of 500,000 vehicles annually.
"The Gigafactory is designed to reduce cell costs much faster than the status quo and, by 2020, produce more lithium-ion batteries annually than were produced worldwide in 2013," the company stated when it first announced plans for the factory in February.
Not only will the Gigafactory produce a spike in output, it should also bring down the cost of Tesla vehicles. As the lithium batteries become less expensive to produce, the cost of vehicles will decrease as well.
Tesla has been working on a more inexpensive vehicle, the Model 3, which is expected to have a retail price around half of the Model S. The base price of a Model S is $71,000.
TSLA stock is up nearly 3% in the last five trading days, but the stock is about to see another large fluctuation this week...
How to Play TSLA Stock Now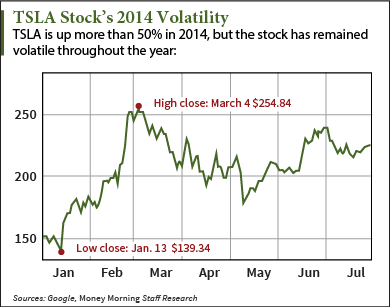 Tesla will report earnings after the bell on Thursday, an event that is sure to move Tesla stock.
TSLA has been extremely volatile throughout 2014. Year to date, TSLA is up more than 50%, but that hasn't been a smooth gain. From early March through early May, TSLA stock dipped more than 27%. In July, TSLA is down almost 6%.
As a momentum stock, TSLA has reacted to the news throughout the year. Investors should expect that again on Thursday. Any good or bad production or guidance figures should have a dramatic impact. Because of that near-term uncertainty, TSLA is not a short-term play.
However, TSLA remains a good stock for investors looking for aggressive long-term plays. The company is looking to revolutionize the automobile industry, and the Tesla Gigafactory is a prime example.
If the Gigafactory is as successful as Musk hopes, not only will Tesla have a major impact on vehicle production and the EV market as a whole, but the lithium-ion battery market will be impacted as well. Those batteries have numerous applications, including laptops, tablets, and smartphones.
Money Morning's Chief Investment Strategist Keith Fitz-Gerald has said the long-term potential for TSLA stock is undeniable.
"I think Elon Musk is one of the most dynamic CEOs on the planet, and I believe he has the potential to make Tesla a $1,000 stock within the decade," Fitz-Gerald said.
Share this story on Twitter @moneymorning and @KyleAndersonMM using #Tesla.
The fourth iteration of the Central Bank Gold Agreement (CBGA) has just been signed. But the real story isn't that the deal was signed, it's who hasn't signed... and what they're doing with their gold...
Related Articles: