New details about the Tesla Gigafactory were released today (Thursday) when Panasonic Corp. announced that it will be investing in Tesla Motors Inc.'s (Nasdaq: TSLA) new production plant.
Tesla stock opened slightly up following the news.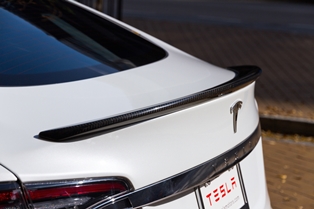 Panasonic did not provide many specifics on the partnership, and company officials said they had not decided on the size of the initial investment
"Given the high degree of interest in the factory in both Japan and the United States, we wanted to show our intent by signing an agreement as soon as possible. But a decision on investment will take a little longer," Panasonic Chief Financial Officer Hideaki Kawai said in a statement.
"However, Tesla is a very important partner to us and discussions are continuing. We need to look very carefully at auto demand and respond appropriately so of course that means taking a step-by-step approach to investment."
A Reuters report today cited unnamed sources who say Panasonic could initially invest between $200 million and $300 million in the Gigafactory. Overall, the plant is expected to cost around $5 billion to construct.
The $200 to $300 million Panasonic has agreed to offer is just a preliminary figure, and that total could end up reaching $1 billion.
Panasonic will be responsible for the equipment used to build the lithium-ion batteries. Tesla will be handling the costs of the buildings and the site.
The new factory is expected to revolutionize lithium-ion battery production and increase Tesla's output dramatically. According to Tesla, the plant will be able to supply power for more than 500,000 vehicles annually when it reaches full output capacity in 2020.
Chief Executive Officer Elon Musk has stated that he would like to begin construction on the Tesla Gigafactory by the end of 2014, and he would like the plant to be operational by 2017. No official site has been picked for the factory, but the company is reportedly deciding between locations in Arizona, California, Nevada, New Mexico, and Texas.
Tesla and Panasonic have worked together for years, and Panasonic currently develops the batteries for Tesla's Model S sedan. According to a contract that was signed in 2013, Panasonic is supplying Tesla with 2 billion battery cells from 2014 through 2017. Each Model S requires more than 7,000 battery cells.
Now that the Tesla Gigafactory is one step closer to construction, here is why this factory is so important to the future of Tesla - and TSLA stock...