Besides its environmental advantages, solar power has always had one great benefit: It's hyper local. Solar panels make it possible to generate electricity on-site, precisely where it's needed. Like a portable generator powered by the sun, solar energy promises power wherever the sun shines.
What began as backup to more conventional grid-networked sources of power has quickly blossomed into a separate profit center.
And a blockbuster acquisition announced earlier this month is about to make investing in solar energy a lot more appealing....
The Profits in "Off the Grid" Power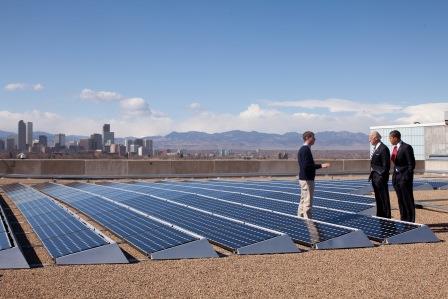 The demand to produce electricity on-site, whether in residential or commercial settings, has been steadily rising. It began as a strategy to provide power as a supplement to the electricity available from the grid.
But the big money is in self-contained systems that provide both back-up and stand-alone power.
These systems are sprouting up in parking lots and other outdoor spaces, as well as on rooftops. Many smaller companies have joined the rush to provide localized service to homeowners and businesses who want to get "extra" energy from the sun.
To be sure, there have been some hiccups along the way.
Several publicly traded companies have emerged to provide self-contained electricity generation, but the return on investment has been inconsistent at best. So has the adoption of these systems. But as independent solar power generators become more popular, engineers and architects will incorporate solar power into their construction plans.
There's no question that this technology provides operational cost savings, reliability, and energy security. That's nothing new.
In fact, my wife Marina and I have such services at our homes in Ft. Lauderdale and the Bahamas. The latter has proven very useful, given the frequent weather-related power interruptions in the islands.
And this type of localized energy isn't confined to solar. Right now, power sources run the gamut from natural gas to biomass to nuclear.
The Promise of New Forms of Energy
But it's the move into the following two new areas of energy generation, one of which was signaled by the acquisition I mentioned earlier, that's really exciting.
Join the conversation. Click here to jump to comments…
About the Author
Dr. Kent Moors is an internationally recognized expert in oil and natural gas policy, risk assessment, and emerging market economic development. He serves as an advisor to many U.S. governors and foreign governments. Kent details his latest global travels in his free Oil & Energy Investor e-letter. He makes specific investment recommendations in his newsletter, the Energy Advantage. For more active investors, he issues shorter-term trades in his Energy Inner Circle.