The Alibaba stock price today could be less volatile than most IPOs, as investors who couldn't get a piece of the initial public offering buy in to BABA stock today (Friday).
Alibaba stock will start trading on the New York Stock Exchange this morning. Alibaba priced shares at $68 last night.
Some things to know about Alibaba stock (NYSE: BABA):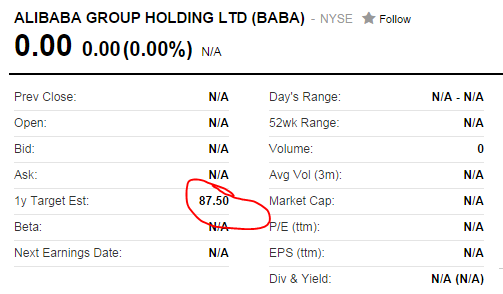 This is a historic stock deal. Profit opportunities like these come along once in an investor's lifetime. Ailbaba is going to set records for growth and for profits; it's the kind of company you want to own.
"According to the research I've seen, e-commerce in China is projected to hit $540 billion by 2015, and that's just for starters," said Money Morning Executive Editor Bill Patalon. "By 2020, China's e-commerce market will be worth more than the United States, the United Kingdom, Japan, Germany, and France combined. So we know that growth is coming… and we know that Alibaba is the No. 1 gun."
You can place your order today when BABA stock opens and hop in "at Market," meaning you'll pay whatever price is then available. Limit orders probably won't do you a whole lot of good given how volatile we expect the Alibaba stock price to be when trading starts.
One way to go is to buy half of your ideal position in BABA stock when the market opens on Friday then look for another opportunity to pick up the rest.
There are other ways to profit off a climbing Alibaba stock price without buying BABA. In fact, we have three. Go here for all the Alibaba stock price profit plays.