We found an energy stock to buy that has reaped the rewards of the shale boom – without ever drilling a well.
It has seen its stock rise 455% since March 2009.
That's more than twice the gain of the Standard & Poor's 500 (195%) and nearly triple the gain of the Dow Jones Industrial Average (162%).
This shale energy stock to buy is involved in the transportation of oil. And it benefits even more from shale gas.
To see why this stock to buy has done so remarkably well – and will continue to outperform the market – take a look at the shale energy market.
Shale Oil and Gas Production Is Taking Off
Over the coming decades, production of U.S. natural gas is expected to double from 2006 levels. That's mostly due to shale gas.
The prospect of decades of cheap and abundant natural gas has attracted more than $100 billion in investment to the U.S. chemical industry, according to the American Chemistry Council.
Most of that – about $90 billion – is directed to the construction and expansion of petrochemical plants along the Gulf Coast. The stock to buy we're talking about is ideally positioned to profit from this expansion, as we'll soon see.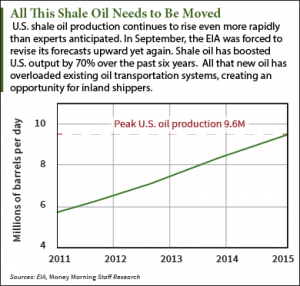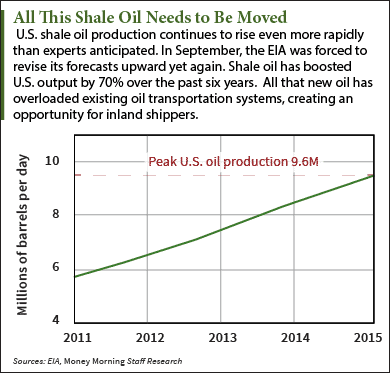 Then there's shale oil. From a peak of 9.6 million barrels a day, total U.S. oil production dipped as low as 5 million barrels a day in 2008.
But the shale oil boom has reversed that trend.
In fact, shale oil production has progressed so rapidly that it keeps getting ahead of U.S. Energy Information Administration (EIA) forecasts.
In September the EIA revised is projection for 2014 upward to 8.54 million barrels a day. Just one month later U.S. oil production hit 8.97 million barrels a day.
That kind of growth has strained domestic oil transportation systems, from pipelines to railroads. At the same time, it has created opportunities for other means of transporting oil – like inland shipping.
And one company in particular has been able to make the most of this opportunity…