Even stock markets, and their followers, appreciate a break every once in a while. On Black Friday, they get one.
The New York Stock Exchange and the Nasdaq will both close early at 1 p.m. Friday. The bond market, meanwhile, will close at 2 p.m.
Traders were first treated to a shortened day following Thanksgiving on Nov. 27, 1992, with a 2 p.m. closing. The next year, on Nov. 26, 1993, the exchanges gave traders an extra hour off with a 1 p.m. close. The 1 p.m. closing tradition on the day after Thanksgiving continues today.
Exchange officials made the decision to close early the day after Thanksgiving due to thin trading volume, the large number of traders who take the day off, and a nearly blank economic calendar.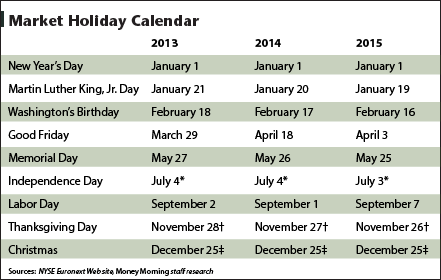 Other abbreviated trading days, with a 1 p.m. close, include the day before July 4 (when Independence Day falls mid-week) and Christmas Eve.
The nine times throughout the year when the markets are closed for a full day include: New Year's Day; Martin Luther King Jr. Day; President's Day; Good Friday; Memorial Day; Independence Day; Labor Day; Thanksgiving Day; and Christmas.
In addition, exchanges close for a full day of mourning (typically the day of the funeral) upon the death of a U.S. president.
While the day after Thanksgiving is a shortened one for markets, it tends to not be too short on equity gains.
Stocks Often Go Green on Black Friday
The day after Thanksgiving, aka Black Friday, gives investors a glimpse into how the holiday season is shaping up for retailers. And with more and more stores opening on Thanksgiving Day, market participants now get that first look on Turkey Day.
The holiday shopping season is crucial for retailers since most of their profitability for the entire year hinges on how they perform during this time.
Moreover, Black Friday, the biggest shopping day of the year, also provides investors with some insight into the overall health of the economy. If stores are busy and cash registers are ringing, that's good news for retailers and thus the stock market.
Some 140 million people are expected to hit the stores this Thanksgiving weekend, according to the National Retail Federation. More than $50 billion in sales is on the line and up for grabs in just a single weekend during what is retail's most competitive and lucrative season.
Indeed, Black Friday is said to be the shopping day that helps retailers go "in the black" after being "in the red."
But that's not exactly how Black Friday got its name.