As usual, a closer look at the U.S. Labor Department jobs report for November shows things aren't as rosy as they first seem...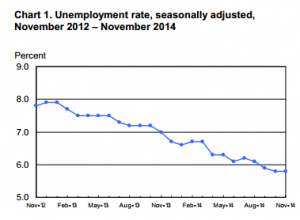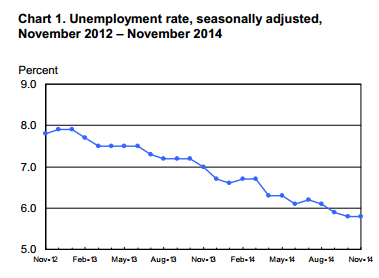 First, the big news. The jobs report showed employers added 321,000 jobs last month, crushing consensuses estimates of 230,000.
The unemployment rate remained unchanged from the prior month at 5.8%, however, as more people entered the workforce, the Labor Department said Friday.
November's gain was the largest monthly jump in payroll in nearly three years.
The Labor Department jobs report also showed the first signs of wage growth since the economic recovery of 2009.
"Perhaps more important than the hiring figures, the jobs report provides the first sign that worker incomes may start to increase after several decades of stagnation," Steven Pressman, professor of economics and finance at Monmouth University in West Long Branch, NJ, told Money Morning.
"Both hours worked and real wages increased in November according to the report. While promising, we will need to see these two labor market indicators increase for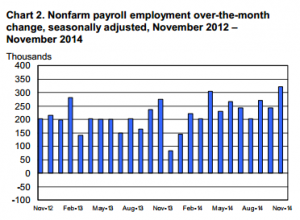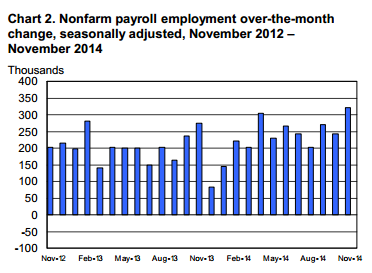 several months before we can conclude that the economy has reached the next stage of its economic expansions following the Great Recession - where workers receive higher pay, spend more, and stimulate further economic growth."
But it's far from "all clear" on the jobs front.
"Not to be a Grinch at this time of cheer, the household survey was good, but not nearly as positive as the firm survey," Pressman added. "The U.S. unemployment rate remained unchanged and employment growth was under 200,000 according to the household survey. In addition, the unemployment rate for adult males rose by 0.3 of a percentage point."
Also, the types of jobs added were not all high-paying ones. The biggest job gains were in business services, retail trade, education and health, and leisure and hospitality.
Finally, as the Zero Hedge blog pointed out, part-time jobs rose 77,000 while full-time jobs fell by 150,000.
Following are a dozen key takeaways from the U.S. jobs report today.
12 Highlights from the November Jobs Report
Professional and business services boosted headcount by 86,000, with notably strong hiring in accounting and bookkeeping. That compares to an average of 57,000 jobs per month over the last 12 months.
Retail employment increased by 50,000, thanks largely to a hike in hiring at car dealerships and clothing and accessory stores.
Healthcare added 29,000 jobs month over month. Over the past 12 months, employment in the sector has increased by 261,000.
Manufacturing created 28,000 jobs. Over the year, manufacturing has added 171,000 jobs, mainly in the durable goods sector.
Financial services added 20,000 jobs last month, with half of the gains in the insurance arena. Over the past year, insurance has contributed 70,000 jobs to the overall employment gain of 114,000 in financial activities.
Food services and drinking places hiked headcount by 27,000, bringing the year-to-date increase to 321,000.
Construction employment rose 20,000 in November. Over the last 12 months, construction has added 213,000 jobs, with just over half among specialty contractors.
Transportation and warehousing employment rose by 17,000. Over the past 12 months, the sector had created 143,000 jobs.
The average workweek for all employees on private nonfarm payrolls inched up by 0.1 hours to 34.6 hours.
[epom key="ddec3ef33420ef7c9964a4695c349764" redirect="" sourceid="" imported="false"]
Average hourly earnings rose by $0.09 to $24.66. Over the year, average hourly earnings have risen by 2.1%.
The labor force participation rate, the percentage of adults who participated in the labor force by either having a job during the month or actively seeking one, held steady at 62.8, a 36-year low. The rate, the lowest since 1978, has been nearly unchanged since April and remains one of the most hotly debated topics among economists.
Employment gains for September and October were revised upwards by a collective 44,000. September's tally was revised to 271,000 from 256,000, and October's figures to 243,000 from 214,000.
Don't Miss Today's Top Story: Wall Street cheerleaders are greeting lower oil prices with open arms. But investors should beware these self-appointed experts bearing gifts. For those who believe falling oil prices will usher in a magical economic rebirth - good luck with that. We must look at the whole economic picture as it is, not as others want it to be. It's time for some hard truths...
Related Articles: