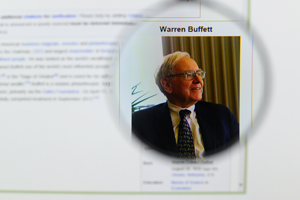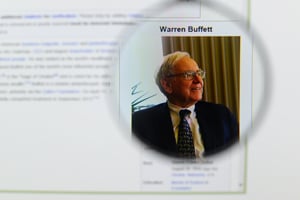 Berkshire Hathaway Inc. - the $370 billion American conglomerate famously headed by Warren Buffett - has two classes of stock that trade on the New York Stock Exchange: BRK.A and BRK.B. This article describes the difference between Berkshire A and B shares.
At a glance, there is one obvious dissimilarity: share price.
Berkshire A stock trades at roughly 1,500 times the value of Berkshire B (they're colloquially called "Baby B's"). For instance, BRK.A traded around $224,485 per share on Dec. 4, to BRK.B's $150 per share. In fact, BRK.A holds the title as the highest-priced shares on the New York Stock Exchange.
But there are plenty more differences between BRK.A and BRK.B stock than share price alone...
A Tale of Two Berkshire Stocks
Investing icon Warren Buffett took over Berkshire Hathaway in 1965. At that time, there was just a single class of BRK stock.
With Buffett's oversight, the 175-year-old Berkshire grew from a textile manufacturer into a massive holding company. It now oversees 80-plus businesses operating in a variety of industries. BRK notably owns GEICO, Dairy Queen, and Fruit of the Loom outright, just to name a few. It also owns half of H.J. Heinz Co. (NYSE: HNZ) and has significant holdings in Mars Inc., American Express Co. (NYSE: AXP), International Business Machines Corp. (NYSE: IBM), The Coca-Cola Co. (NYSE: KO), and more.
Buffett has said he would never split BRK stock. He wants a higher share price to attract a particular type of shareholder - one who invests for the long run, and isn't as concerned about daily price fluctuations. To this day, BRK.A has never been split.
But in 1996, Buffett and the Berkshire board did create Class B stock. This was done to ward off mutual fund (or "unit trust") managers who wanted to sell slices of BRK in smaller pieces.
"The unit trusts that have recently surfaced fly in the face of these goals," Buffett wrote in a 1996 annual letter to shareholders. "They would be sold by brokers working for big commissions, would impose other burdensome costs on their shareholders, and would be marketed en masse to unsophisticated buyers, apt to be seduced by our past record and beguiled by the publicity Berkshire and I have received in recent years. The sure outcome: a multitude of investors destined to be disappointed. Through our creation of the B stock - a low-denomination product far superior to Berkshire-only trusts - we hope to make the clones unmerchandisable."
Buffett created Class B to give investors the option to buy BRK shares at a lower price point, and directly. That effectively stamped out unit trusts. It filled market demand for a lower price point. It also eliminated the need to go through unit trusts, who would have charged extra fees, etc. that go along with the funds.
And while it wasn't a reason he created Class B, Buffett mentioned an added "convenience" - Class B allowed shareholders to pass BRK stock to heirs without exceeding the gift tax that Class A invariably triggered.
BRK.B began at one-thirtieth the price of BRK.A, and one-two hundredth of the per-share voting rights.
That altered in January 2010 when Buffett split Berkshire B shares 50-for-1.