This past year was the biggest for the IPO market since the dot-com era of 2000. And the market shows no signs of slowing down.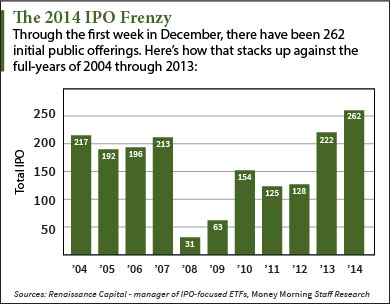 That's why we've pinpointed the five biggest 2015 IPOs for investors to watch.
According to Renaissance Capital, a manager of IPO-focused ETFs, there are currently 119 IPOs in the pipeline for 2015. Combined, those companies should raise roughly $23 billion.
That comes on the heels of a massive 2014 IPO market. Through the first week in December, 262 companies have raised $82.1 billion through initial public offerings. That's already 50% higher than last year's total, and there is still at least another $1 billion expected to come through five upcoming IPOs.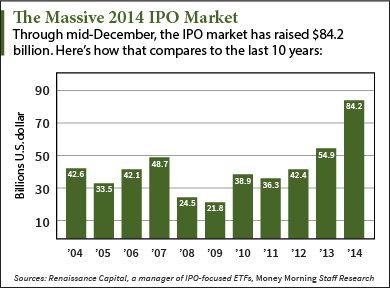 And the companies that went public in 2014 have been more successful, on average, than the IPOs of the previous 10 years. New stocks have averaged a 13.1% jump from their offer prices this year. Over the previous 10 years, new stocks gained 9.8% on average.
This year's new stocks have also outperformed the Dow Jones Industrial Average, up 6.9% in 2014.
The biggest winners of 2014 have been Radius Health Inc. (Nasdaq: RDUS), GoPro Inc. (Nasdaq: GPRO), and Atara Biotherapeutics Inc. (Nasdaq: ATRA). Those three stocks have gained 186%, 182%, and 177% from their offer prices, respectively.
But the biggest IPO story this year was Alibaba Group Holding Ltd. (NYSE: BABA). The Alibaba IPO was the largest initial public offering in history, raising $25 billion. On Sept. 18, BABA priced its shares at $68 each. Today, those shares are worth more than $106 – a 56% gain in less than three months.
Now it's time to get ready for what's next. As the IPO market continues its momentum into 2015, here are the five biggest upcoming IPOs to watch for the year ahead…
2015 IPOs to Watch, No. 1: GoDaddy Inc.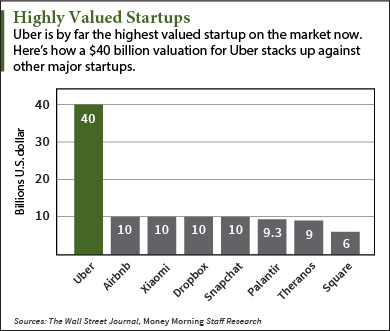 GoDaddy Inc. is reportedly planning an IPO for early 2015, seeking a $4.5 billion valuation.
The company first filed for an initial public offering in June 2014 and set a placeholder value of $100 million on the deal. Placeholder prices are common among IPO filings; GoDaddy will likely raise much more than that through an IPO.
GoDaddy is a web-domain company with more than 12.2 million customers and 57 million domain names. Founded in 1997, it's best known for its marketing. Its ads feature scantily clad models and celebrities and are run during high-profile events like the Super Bowl.
Advertising has helped the company create strong brand awareness in the United States, and ensures the GoDaddy IPO will be one of the most talked about deals of 2015.
But GoDaddy stock is not on our "best investments of 2015" list…
Despite 17 years in the business, GoDaddy is not profitable. In fact, it reported a loss of $89 million in the first half of 2014.
But the biggest challenge for GoDaddy stock will be its competition. Google Inc. (Nasdaq: GOOGL) unveiled its "Google Domain" business last summer, and that will be a major problem for GoDaddy. As one of the biggest tech companies in the  world, Google has far better resources and brand recognition.
Don't follow the crowd – right now, GoDaddy looks like an IPO to avoid in 2015.
Money Morning Members: Continue reading for four other IPOs to watch in 2015. For those new to Money Morning, sign up to keep reading – it's completely free…