Money Morning's "unloved" pick of the week is 3D tissue printing and testing company Organovo Holdings Inc. (NYSE: ONVO).
An unloved investment is one that's been beaten down – but is actually a great value. Investors then get an amazing entry point into a good long-term investment.
Several of Money Morning's experts have made note of the great potential of ONVO stock. Defense & Tech Specialist Michael Robinson first called attention to Organovo stock in July of 2013. Earlier this month, Money Morning Biotech Investing Specialist Ernie Tremblay recommended it.
Organovo Holdings Inc. (NYSE: ONVO) Stock: About the Company


San Diego, Calif.-based Organovo has its roots in organ printing research done in the mid-2000s. The company was formally incorporated in 2007, when current Chief Executive Officer Keith Murphy joined ONVO after leaving Amgen Inc. (Nasdaq: AMGN). The company went public in 2012. Organovo has come up with a way to 3D print samples of human livers that are living human tissue made of human cells. ONVO uses these liver samples to conduct tests of experimental compounds for big drug companies. The method can detect problems that don't show up in animal tissue testing. Organovo stock is a small-cap, with a valuation of just over $500 million. It employs about 60 people.
Organovo Holdings Inc. (NYSE: ONVO) Stock: Why It's Unloved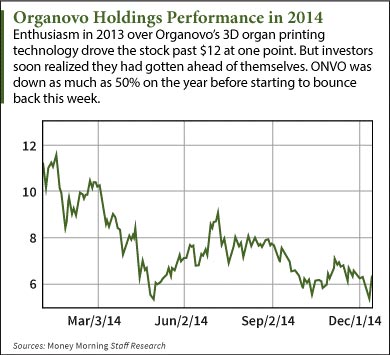 Investors got ahead of ONVO stock in 2013 to the point where it skyrocketed 345%. But, at the time, the technology was more of a promise than a reality.
Then investors got impatient. As 2013 turned to 2014, Organovo's quarterly losses grew larger. While losses are typical of development-stage companies, the rate at which ONVO was burning through cash raised the possibility that it could run out of money. Investors were also nervous. With 3D organ printing as the company's only business, there was no Plan B if it stumbled.
So investors started unloading ONVO. By April 2014, Organovo stock was down more than 58% from its all-time closing high of $12.75 and more than 50% on the year. Short-sellers also started piling in. This month more than a quarter (25.4%) of ONVO shares were sold short, up nearly 9% from November.
That kind of high "short interest" can signal a negative, but in this case it's a buying opportunity…