Oil prices today (Monday) dropped to new yearly lows after spending much of the morning on the rise.
At 1:00 pm EST, WTI oil fell more than 3% to $52.90 per barrel for February delivery. Brent oil was down 2.8% to $57.79 in afternoon trading.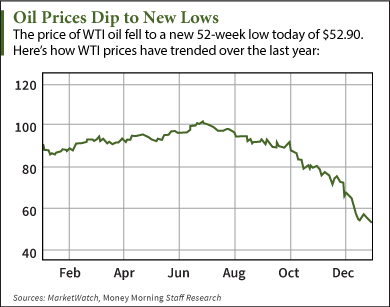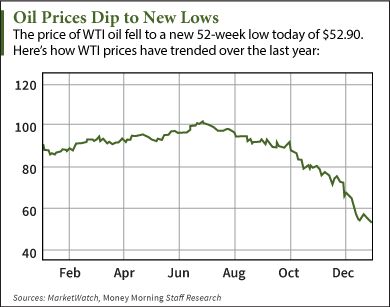 At today's lows, WTI and Brent oil are both down more than 47% from their June highs. If oil prices remain in this range, oil will experience its biggest one-year drop since 2008.
Today's plunge reversed the day's initial gains in crude oil prices. They rose Monday following a militant attack on Libya's largest oil port, Es Sider.
Last week, militants set six oil tanks ablaze at the port. This morning, officials reported the fire had been extinguished at three of the six damaged tanks. Es Sider has the capacity to hold roughly 6.2 million barrels of oil.
That news caused the price of Brent oil to climb as high as $60.43 per barrel. WTI oil traded up to $55.74.
However, the gains quickly reversed as traders realized the attacks will likely have little impact on the global oil supply glut.
OPEC nations, including Libya, pumped a combined 30.56 million barrels per day in November.   Through the attacks, just 850,000 barrels of crude oil were lost.
"Everyone's trying to put the issues in Libya into perspective," Frost and Sullivan's Director of Business Development Carl Larry told Reuters. "They have lost a lot of fuel, but what they're losing is a terminal, not real production on a pipeline."
Another reason the oil prices initially climbed is light trading volume, which is typical of the holiday season. When trading is slow, it doesn't take much to move the price considerably.
"There's tension in Libya, but liquidity is very thin so not much is needed to move oil prices," ABN Amro's Senior Energy Economist Hans van Cleef told Reuters.
While 2014 will be a losing year for oil, next year is already shaping up to be better.
In fact, we just outlined the reasons to be bullish on oil in our 2015 Oil Price Forecast.
You see, while the price of oil has dropped precipitously since June, prices won't remain at these muted levels for long.
"Crude has the ability to quickly self-correct, which is why long-time oil veterans aren't worried about falling prices," Money Morning's Global Energy Strategist Dr. Kent Moors said.
Here's what oil investors can expect in 2015 and the best way to profit from the energy sector...
Related Articles: