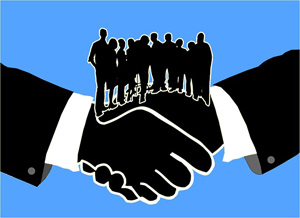 2015 Mergers and Acquisitions: M&A activity, if executed properly, can result in industry dominance and shareholder wealth.
In 2014, several anticipated mergers and acquisitions took place. Software and computer programming giant Oracle Corp. (NYSE: ORCL) acquired Micros Systems for $5.3 billion. Holcim Ltd. SA (VTX: HOLN), a Switzerland-based construction materials holding company, struck a preliminary deal to merge with Lafarge (OTCMKTS ADR: LFRGY), another construction materials company, to create the world's largest cement maker.
So what does 2015 have in store as far as mergers and acquisitions? Here are the most anticipated and industry-changing deals ahead…
Five of the Most Anticipated 2015 Mergers and Acquisitions
Zillow Inc. and Trulia Inc.
Shareholders of both Zillow Inc. (Nasdaq: Z), an online real estate database, and Trulia Inc. (NYSE: TRLA), an online residential real estate database, voted in December to approve a deal that would merge the two companies. If the $35 billion deal is sealed, the anticipated merger is expected to close some time in the first half of 2015. The companies have stated they plan to maintain their own brands and continue to keep prices competitive on advertising rates. Zillow is particularly encouraged to merge because News Corp. (Nasdaq: NWS) will acquire rival Move Inc. (Nasdaq: MOVE), operator of Realtor.com.
Zillow shares began the year at $81.88 and closed at $105.89 for a yearly gain of 29%. The market cap for Zillow is currently $3.81 billion. Trulia shares rose 33% last year to $46.03. The market cap for Trulia is currently $1.53 billion.
First NBC Bank Holding Co. and State Investors Bancorp Inc.
On Dec. 30, 2014, First NBC Bank Holding Co. (Nasdaq: FNCB) announced its intentions to acquire State Investors Bancorp Inc. (Nasdaq: SIBC) by the end of 2015's second quarter.
First NBC Bank Holding Co. is a bank and lending company based in New Orleans, La. Its share price began the year at $32.03 and closed at $35.20 – a gain of 10% for the year. The market cap for First NBC Bank Holding is currently $632.91 million.
State Investors is the holding company for State Investors Bank, a firm that performs business transactions from full-service banking branches in New Orleans. Share prices of SIBC began on Jan. 2, 2014, at $15.25, and closed on Dec. 31, 2014, at $20.72, for a 35% gain. The market cap for State Investors is currently $47.35 million.
Under the acquisition agreement, State Investors shareholders will receive $21.25 for every share of stock owned by the effective time of the merger. The amount of money payable to shareholders of State Investors is about $49 million. First NBC expects to pay about $2 million for outstanding State Investors stock options. With cost savings expected to come of the merger, shareholder value will increase.
Money Morning readers, read on to learn about a merger so controversial, Congress had to get involved…