As we shift into the "new age" of energy, one thing is very clear: This is no longer a zero sum game.
While crude will continue to be the star, other sources of energy, such as renewable energy, will start to gain market share.
A new energy balance will begin to take hold, and it will have less and less to do with crude.
As I recently discussed, this new world will include a massive move into renewables like wind and solar power.
But the truth is even bigger than that.
This new era will be driven by a major move into biofuels as well.
In fact, the projected future size of this market is nothing short of eye-opening…
Old Paradigms and Limitations Are Irrelevant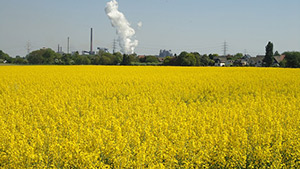 According to a recently released report entitled "Global Second Generation Biofuels – Size, Industry Analysis, Trends, Opportunities, Growth and Forecast, 2013 – 2020," the second generation, or "advanced," global biofuels market is expected to reach $23.9 billion by 2020, registering a 49.4% compound annual growth rate (CAGR) between 2014 and 2020.
And with more than 50% of the globally-installed capacity base, North America is now poised to generate the largest share of revenue.
These "second generation biofuels" have been developed to overcome the limitations commonly associated with traditional biofuels. These limitation include the threats they pose to biodiversity and a range of "food versus fuel" objections.
The persistent criticisms of corn-based ethanol are a perfect example of what I'm talking about.
Conversely, second generation biofuels are produced from a range of non-food crops and waste biomass, and is also more energy efficient than conventional fossil fuels. And, as a side benefit, these new biofuels minimize greenhouse gas (GHG) emissions by over 90%, making them environmentally attractive.
Along with the benefits offered by second generation biofuels, financial incentives and new regulations in the United States and Europe have been instrumental in driving the commercial production and adoption of these advanced biofuels.
One such initiative is the U.S. Renewable Fuel Standards (RFS), which requires that 36 billion gallons of renewable fuel be used by 2020. By comparison, just 9 billion gallons were required in 2008.
However, complexities associated with the production process and with high initial capital investment and land usage in the vicinity of feedstock have impeded the growth of the biofuel market…
Currently, biodiesel garners the largest share of the second generation biofuel market. However, it's now expected that the latest and most commercially viable cellulosic ethanol will surpass biodiesel and eventually lead the market by 2020 – driven primarily by the ease of producing it.
Join the conversation. Click here to jump to comments…
About the Author
Dr. Kent Moors is an internationally recognized expert in oil and natural gas policy, risk assessment, and emerging market economic development. He serves as an advisor to many U.S. governors and foreign governments. Kent details his latest global travels in his free Oil & Energy Investor e-letter. He makes specific investment recommendations in his newsletter, the Energy Advantage. For more active investors, he issues shorter-term trades in his Energy Inner Circle.