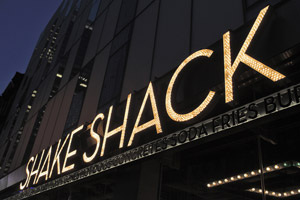 There are 12 upcoming IPOs this week, which marks the busiest five-day stretch for IPOs since the week of Sept. 29. The 12 new IPOs should raise a combined $1 billion.
The most anticipated launch this week is Shake Shack Inc. (NYSE: SHAK). That offering comes at a time when fast-casual restaurant IPOs are on a hot streak.
Burger chain The Habit Restaurants Inc. (Nasdaq: HABT) went public in November and doubled its share price on the first day. Shares of El Pollo Loco Holdings Inc. (Nasdaq: LOCO) leaped 60.2% on its opening day in October. Zoe's Kitchen Inc. (NYSE: ZOES) opened at $25.65 in April. That was 71% higher than its $15 offer price.
Here's a look at the Shake Shack IPO and the rest of this week's upcoming IPOs...
The 12 Upcoming IPOs on This Week's IPO Calendar
Shake Shack Inc. (NYSE: SHAK) is a New York-based fast-casual burger chain with 63 locations. According to Renaissance Capital, a manager of IPO-focused ETFs, SHAK is looking to raise $75 million. It will offer 5 million shares at a $14 to $16 price range. Founded in 2004 as a tiny kiosk in Madison Square Park, Shake Shack has a market value of roughly $533 million. SHAK stock will begin trading on Friday, Jan. 30.
InfraREIT Inc. (NYSE: HIFR) is a real estate investment trust (REIT) that owns electric transmission and distribution assets in Texas. It is the largest IPO of the week, as the company should raise $400 million. At that price, it would be valued at $1.2 billion. The company will offer 20 million shares at a price range of $19 to $21.
REIT IPOs had a solid performance last year. Paramount Group Inc. (NYSE: PGRE) raised $2.3 billion, making it the largest IPO ever for a U.S. REIT. Store Capital Corp. (NYSE: STOR) has gained 17.8% since its November launch. Despite uncertainty around how oil prices may affect electricity demand, REITs offer high-yield dividends. The company will hit the market on Friday, Jan. 30.
Money Morning Members: Continue reading for the rest of this week's upcoming IPOs. For those new to Money Morning, sign up to keep reading - it's completely free...