When looking for tech investing winners - like Apple Inc. (Nasdaq: AAPL) - the best gains come by jumping on unstoppable trends. The "mobile wave" trend is precisely one of them.
You see, Apple is projected to sell a quarter of a billion iPhone 6s in 2015. The force behind that is Apple Pay. Apple Pay is the company's mobile payments system that lets users pay for things by waving their phone over them.
In 2014, shoppers made $50 billion in mobile purchases. That number will soar to $214 billion in 2015 - an amazing 328% jump.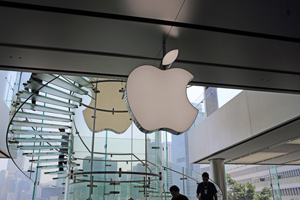 Apple CEO Tim Cook even said that this new easy, secure, and private way to purchase things "is going to be profound." I agree!
But I'm not looking for AAPL to be the biggest winner here.
No, the big winner in this sea change is a below-the-surface specialty chip maker whose products make the whole payments revolution possible.
You see, what makes mobile payments work is a highly specialized technology called "near field communication" (NFC). An NFC-ready smartphone can "read" tags on bottles, posters, coupons, and retail products.
The company I've discovered produces the microchips you find in Apple's iPhone 6s, and in dozens of other products... such as tablet computers, "connected" cars, TV set-top boxes, and more...
Investors: Get our top seven tech stocks for 2015 in this Tech Investor's Forecast...
And here's the kicker. Right now, only about 10% of U.S. payment terminals are able to process phone-swipe payments. That means that as mobile payments expand, countless merchants will have no choice but to upgrade their computers and cash registers to handle them.
And make no mistake... those merchants will upgrade.
After all, by using a mobile payments system, merchants sidestep the hefty fees they pay to credit card companies - currently a cool 2% to 3% per transaction.
That means we're virtually guaranteed to see the kind of hardware replacement cycle that happens barely once a generation.
That means this company could explode.
And I'm looking for them to give us an easy double-digit payday in 2015.
But that won't be just from mobile payments.
The same technology behind the $124 billion mobile payments wave is also behind the projected $9.56 billion "wearable tech" boom.
Several technology insiders say the wearables market will be bigger than anyone can imagine. It will grow at a compounded annual rate of 78% for the next several years. That means it will double roughly every 11 months.
One senior research executive at Cisco Systems Inc. (Nasdaq: CSCO) said the number of digitally connected objects grows by 300,000 every hour.
Juniper Research says revenue from the wearable tech market will hit $19 billion in 2018.
And this potential $19 billion market cannot exist without this company's NFC technology. That's why this company has the potential to be massive for tech investors.
And it's just one of seven recommendations you can have right now. They're all in my 2015 Tech Investor's Forecast.
You see, all the ingredients are now present for a multiyear run in tech stocks that will dwarf anything we've seen before - creating a slew of new tech millionaires. Make the right moves and you can be one of them. I will show you exactly what to do with this 2015 Tech Investor's Forecast. It highlights seven specific tech stocks to buy right now that could create Alibaba-like wealth this year. 
Join the conversation. Click here to jump to comments…
About the Author
Michael A. Robinson is a 36-year Silicon Valley veteran and one of the top tech and biotech financial analysts working today. That's because, as a consultant, senior adviser, and board member for Silicon Valley venture capital firms, Michael enjoys privileged access to pioneering CEOs, scientists, and high-profile players. And he brings this entire world of Silicon Valley "insiders" right to you...
He was one of five people involved in early meetings for the $160 billion "cloud" computing phenomenon.
He was there as Lee Iacocca and Roger Smith, the CEOs of Chrysler and GM, led the robotics revolution that saved the U.S. automotive industry.
As cyber-security was becoming a focus of national security, Michael was with Dave DeWalt, the CEO of McAfee, right before Intel acquired his company for $7.8 billion.
This all means the entire world is constantly seeking Michael's insight.
In addition to being a regular guest and panelist on CNBC and Fox Business, he is also a Pulitzer Prize-nominated writer and reporter. His first book Overdrawn: The Bailout of American Savings warned people about the coming financial collapse - years before the word "bailout" became a household word.
Silicon Valley defense publications vie for his analysis. He's worked for Defense Media Network and Signal Magazine, as well as The New York Times, American Enterprise, and The Wall Street Journal.
And even with decades of experience, Michael believes there has never been a moment in time quite like this.
Right now, medical breakthroughs that once took years to develop are moving at a record speed. And that means we are going to see highly lucrative biotech investment opportunities come in fast and furious.
To help you navigate the historic opportunity in biotech, Michael launched the Bio-Tech Profit Alliance.
His other publications include: Strategic Tech Investor, The Nova-X Report, Bio-Technology Profit Alliance and Nexus-9 Network.