Another solid FB earnings report today... Facebook Inc. (Nasdaq: FB) beat top and bottom line estimates today (Thursday). Full-year 2014 revealed a 58% increase in revenue year over year ($12.47 billion).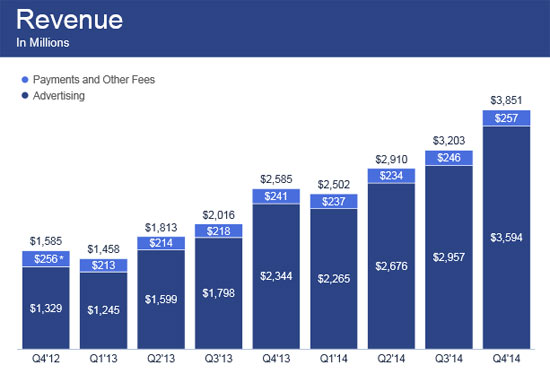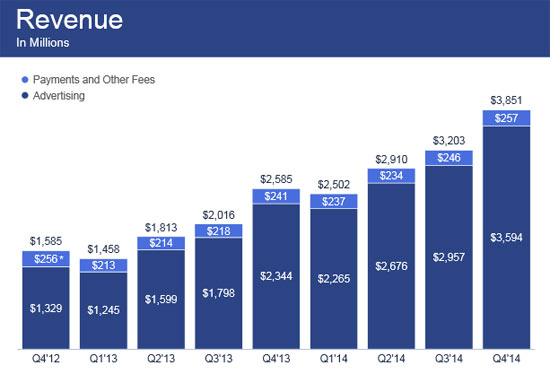 Monthly active users (MAUs) - FB's lifeblood - grew to 1.39 billion for an increase of 13% in 2014.
"We got a lot done in 2014. Our community continues to grow and we're making progress towards connecting the world," Facebook Founder and Chief Executive Officer Mark Zuckerberg said.
The company overcame a disastrous 2012 IPO. Now, Facebook stock is up more than 38% in the last 12 months, and nearly 150% in the last two years.
There's one reason behind FB's big turnaround, and we've been saying it for two years. In 2013, Facebook mastered an element that is crucial to social media company profits...
FB Earnings: It's All About That Mobile
Facebook mastered mobile ads - the key to unlocking the value of social media companies.
"Facebook has gotten really good at advertising. It's new, it's inexpensive, and it's smartly done," Money Morning E-Commerce Director Bret Holmes said in Oct. 2013. "When Google first started, it wasn't good at advertising, and look at them now. Facebook is going to be a success story."
You see, around the start of 2013, Facebook developed a new advertising format called FBX. It provided what's called "native social ads" - ads that are seamlessly integrated into the social media's platform. It also allowed advertisers to reach FB users on mobile.
That started Facebook's epic turnaround.
By the end of 2013, FB accounted for 14.4% of all mobile ad dollars spent in the United States, according to research firm eMarketer. That number grew to 17.6% in 2014.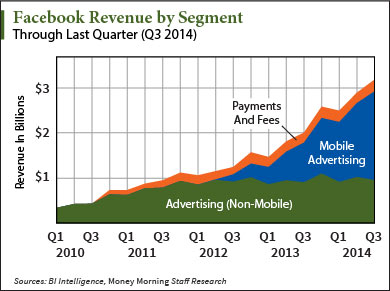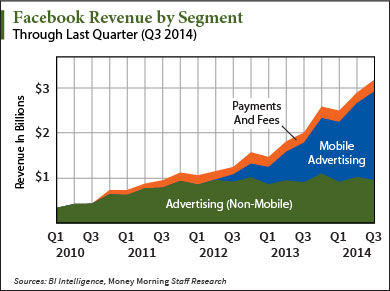 In the same quarter a year ago, mobile ads gained even more ground and for the first time accounted for more than half of all FB's ad revenue.
In Facebook earnings today, this mobile ad momentum continued. Mobile advertising revenue represented a whopping 69% of advertising revenue for Q4 2014. That's up from approximately 53% of ad revenue in the same quarter a year ago. And mobile MAUs grew 26% year over year.
The best part for FB stock investors - today's 58% revenue blowout is nothing compared with what's to come...
You see, in late 2014 on Sept. 29, Facebook upgraded its newest ad platform that will replace FBX. It's called "Atlas," and Holmes believes it will "revolutionize web advertising."