Facebook Stock Price
What the Facebook Stock Price Will Do Next in 2016
Investing in Facebook Stock: Facebook Inc. (Nasdaq: FB) is one of the most popular tech stocks on the market today with an average trading volume of more than 20.2 million shares per day.
The Facebook stock price ended 2015 up 175% from its IPO price of $38. The Facebook stock price today is now over $100 per share, where it has remained throughout early 2016.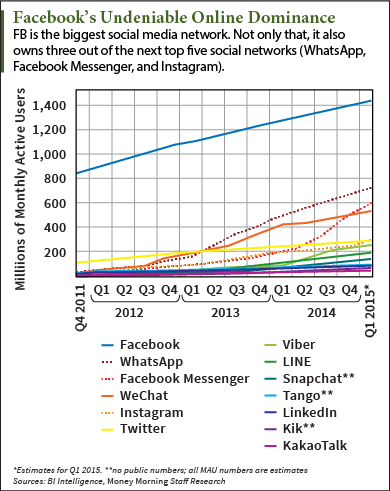 Facebook is by far the biggest social media company in the world. And these charts show why owning Facebook stock in 2016 will pay off for investors…
Facebook Stock Analysis
FB stock price gains for 2013, 2014, and 2015 were 114%%, 46%, and 30%, respectively. And we see FB stock climbing to $250 per share by 2018. That would mean another gain of 150% for investors.
FB had 1.49 billion active users in August 2015, according to the latest data from Statista. WhatsApp and Facebook Messenger – both of which are owned by FB – were the next highest, with 800 million and 700 million active users, respectively.
In fact, Facebook and its acquisitions (WhatsApp, Facebook Messenger, and Instagram) account for 43.76% of active users across all social media platforms in Statista's August data.
FB Earnings Analysis
In the Facebook earnings report released Nov. 4 the company revealed $4.5 billion in revenue and $0.57 earnings per share (EPS). That's 11% revenue growth from the previous quarter.
By comparison, the latest Twitter Inc. (NYSE: TWTR) earnings, reported on Oct. 27, revealed revenue of $569 million. And LinkedIn Corp. (NYSE: LNKD) logged $780 million in its Q3 2015, reported on Oct. 29.
Mobile's contribution to Facebook revenue is huge. It accounted for 76% of total revenue in Q2, up from 73% in Q1.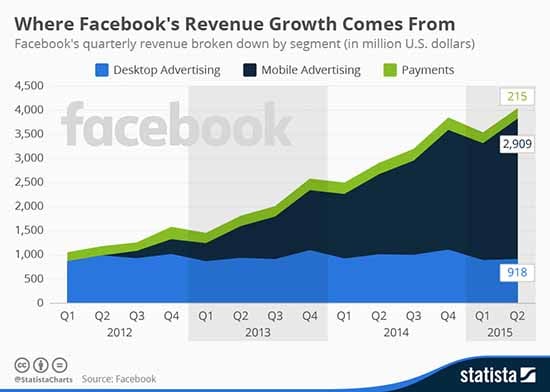 While those two factors pushed FB stock price to a 30% gain in 2015, there are three major reasons why we see the Facebook stock value continuing to climb throughout 2016.
Why the Facebook Stock Price Will Rise, Reason No. 1
While Facebook's monthly active user total was already above 1.4 billion in August 2015, the company has plenty of room for growth. And that will be a huge reason to buy Facebook stock in 2016…
According to state provider DMR, Facebook only had an 8.2% penetration in India as of October. The U.S. Census Bureau and World Bank estimated that India had a population of 1.25 billion in 2013, but India Today reported India only had 112 million Facebook users as of December 2014.
And with 65% of the population under the age of 35, there are still hundreds of millions of new users to obtain.
But there's a different country with an even bigger opportunity for Facebook stock…
China has placed a ban on Facebook, but CEO Mark Zuckerberg is making progress on reaching China's 1.35 billion residents. In 2014, Facebook quietly leased a space in downtown Beijing, according to Bloomberg Business.
Along with the new office space, Facebook has an office in Hong Kong, where it sells ads to companies wanting to reach international users.
Facebook may be reaching maturation in the United States, but there are billions of potential users who have yet to sign up in foreign countries.
Here's another reason why we see the Facebook stock price climbing much higher in 2016…
Why the Facebook Stock Price Will Rise, Reason No. 2
In 2012, Facebook purchased Instagram for $1 billion in Facebook stock and cash.
The billion-dollar price tag seemed high at the time, considering it only had 30 million users. And Wall Street pundits were especially baffled since Instagram did not make any money.
But Zuckerberg knew what he was doing
Instagram had 30 million users when Zuckerberg first purchased it. But that number grew to more than 400 million MAUs by September 2015. That's 80 million more MAUs than Twitter Inc. (NYSE: TWTR) reported in Q3 2015.
The mobile picture app is also expected to earn close to $600 million in ad revenue this year. Research firm eMarketer projects Instagram will earn $2.81 billion in global mobile ad revenue annually by 2017. That means that ad revenue from Instagram could account for more than 10% of Facebook's total 2017 ad revenue, according to eMarketer.
But aside from being a new source of revenue, Instagram serves a vital role in Zuckerberg's portfolio…
You see, there's an assumption that younger users are leaving Facebook. According to Piper Jaffray, those assumptions are true.
In 2013, a research study from Jaffray stated that Facebook was the most important social network to 33% of teenagers. Just two years later, only 14% of teens felt that way about Facebook. But Instagram received 32% of teens' votes in 2015. That was the largest amount for any social media site.
Combined, 46% of teens preferred either Instagram or Facebook over rivals like Twitter and Snapchat.
So FB stock investors hear that Facebook is losing younger users, remember that they are now just using Instagram, which Facebook also owns. There's one more big reason why we are so bullish on the Facebook stock price in the long-term…
Why the Facebook Stock Price Will Rise, Reason No. 3
The mobile industry is so promising for the Facebook stock price that Money Morning Defense & Tech Specialist Michael A. Robinson called Facebook a "mobile goldmine."
And mobile advertising revenue is only going to increase for Facebook in 2016 and beyond…
Not only will Facebook see increased mobile advertising revenue from its flagship network and Instagram, but Facebook has two platforms Zuckerberg hasn't even started to monetize yet.
In 2014, Zuckerberg purchased messaging service WhatsApp for $19 billion, according to Bloomberg. Zuckerberg has grown the service from 450 million users to 900 million. Business Insider projects it could earn $3 billion in revenue by 2020.
Facebook also has an in-house messaging service it has yet to monetize. As of July 2015, Facebook's Messenger had 700 million users, according to TechCrunch.
So now the big question is: When will Facebook monetize Messenger and WhatsApp? Zuckerberg provided a general answer in a Q2 2015 Facebook stock earnings call.
Zuckerberg stated that in 2006 and 2007, he faced a lot of pressure to place banner ads on Facebook's organic content. But Zuckerberg felt that ads and monetization would be most effective over the long term if natural interactions between businesses and people using their products took place.
Mobile ad revenue will continue to drive the FB stock price higher in 2016, and mobile ad revenue will drastically grow when Zuckerberg decides to monetize WhatsApp and Messenger.
But our fourth bullish Facebook stock price prediction is our biggest…
Here's why…
Why the Facebook Stock Price Will Rise, Reason No. 4
The Facebook stock price may be up more than 150% since its IPO, but Zuckerberg has had plenty of challenges to get the FB stock price where it is today…
Three months after the Facebook IPO offered shares at $38, the Facebook stock price plummeted to $19.69 in August 2012. This was caused by early investors like Accel Partners, Meritech Capital Partners, and Greylock Partners selling their shares after the lock-up expiration for share selling had expired.
Shareholders were reassured by Zuckerberg that he wouldn't cash in his FB shares, according to Tech Crunch. But the Facebook stock price didn't trade above its IPO price until August 2013.
Aside from stabilizing the FB stock price, Zuckerberg has dealt with criticism regarding his vision for Facebook. His $1 billion purchase of Instagram and $19 billion purchase of WhatsApp were both highly scrutinized.
But as Robinson told investors in 2014, "Facebook founder and CEO Mark Zuckerberg will have the last laugh here."
And he's already established another foothold in a billion-dollar industry that pundits still don't understand. Facebook purchased virtual reality company Oculus VR in 2014, and many analysts once again questioned how it would add to Facebook's bottom line.
Current virtual reality platforms are heavily associated with video games, but Zuckerberg is looking at the bigger picture…
"After games, we're going to make Oculus a platform for many other experiences," Zuckerberg stated in a Facebook post. "Imagine enjoying a court side seat at a game, studying in a classroom of students and teachers all over the world, or consulting with a doctor face-to-face – just by putting on goggles in your home."
Research firm CCS Insight projects that the augmented and virtual reality device market will be worth $4 billion by 2018.
Future of the Facebook Inc. Stock Price in 2016
For investors asking "Should I buy Facebook stock in 2016?" the answer is "yes," if you plan on holding the stock in the long-term. There are four major catalysts that will continue to drive the FB stock price higher in 2016: user growth, Instagram revenue, mobile growth, and CEO Mark Zuckerberg.
The Facebook stock price climbed 30% in 2015, and we see this stock bringing double-digit profits to investors for years to come.
Stay tuned to Money Morning for everything you need to know about Facebook stock, the Facebook stock quote, and how to buy Facebook stock in 2016.
How much was Facebook stock when it went public?
When the Facebook IPO took place on May 18, 2012, Facebook shares were priced at $38 each. This was a sign of massive interest in Facebook stock from investors because the IPO price was the high end of the expected $34 to $38 range, which was an increase from the original $28 to $35 range. At the time, Facebook's $16 billion debut was the second-biggest IPO in U.S. history behind Visa Inc. (NYSE: V), which raised $19.7 billion.
What is the projected Facebook stock price?
Analysts across the board are bullish on their Facebook stock price projections. Data compiled by FactSet Research Systems Inc. shows the average one-year price target among 49 analysts is $143.68. That's up 16.5% from the July 27 closing price of $123.34. Piper Jaffray has the highest FB stock price target with a $170 estimate.
Where will Facebook stock be in five years?
According to Money Morning Director of Tech Investing Michael A. Robinson, the Facebook stock price will surpass $250 a share within five years. That would represent a massive 103% gain from the July 27 close of $123.34. This forecast is driven by Facebook's Instagram revenue growth and presence in the growing virtual reality market.