No one expects it to be an easy day for U.S. Attorney General hopeful Loretta Lynch.
U.S. President Barack Obama's nominee faces an unfriendly GOP-controlled Senate Judiciary Committee Wednesday and Thursday. She'll be grilled on immigration, executive overreach, cybersecurity, and other hot-button issues.
Exactly who is Loretta Lynch, and what can we expect to hear from her this week?
Even top Republicans say she's likely to be confirmed, despite the challenge ahead.
Here's why...
Who Is Loretta Lynch?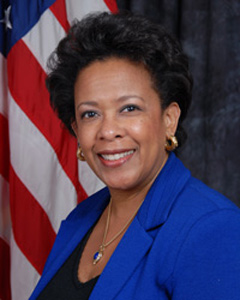 Fifty-five year old Greensboro, N.C.-born Loretta Lynch plays the main character in a quintessential "American Dream" story - one that could culminate in her appointment as first-ever female African American attorney general.
Lynch's mother was a school librarian; her father, a Baptist minister. Her grandparents were sharecroppers, and her grandfather helped African Americans move north to escape Jim Crow laws. Lynch's family members were still unable to vote in North Carolina when she was a child.
You might be losing money every day... Every investor is hard-wired to do three things that kill returns. Do you know how to avoid them? Find out what they are, plus the single-best investment strategy for maximum gains, in our free guide: Make 2015 Your Wealthiest Year Yet...
But Lynch was valedictorian of her high school. She attended Harvard University in 1978, and Harvard Law School in 1982.
Now she's the U.S. attorney for the Eastern District of New York, and her background and experience have timely appeal.
She has tackled minority tensions with law enforcement. For example, her office is currently leading a civil rights investigation into the police chokehold death of Eric Garner that occurred in Staten Island last summer.
New York City police commissioner William J. Bratton spoke well of Lynch, praising her for not "coming into this with any preconceived notions," according to The New York Times.
Lynch also has loads of experience with terrorism - her office has prosecuted the most terror suspects in the country since the Sept. 11, 2001 terror attacks. She has locked up people who tried to blow up the JFK airport and the subway system.
She has dealt with political corruption. Just on Jan. 5, Staten Island Rep. Michael Grimm - a Lynch target - officially resigned his congressional seat following a guilty plea to felony tax evasion charges.
And Lynch herself established a cybersecurity crime unit, evidencing she is prepared to tackle one of the biggest threats to national security right now.
Should Lynch be confirmed by the Senate, she'll replace Eric Holder, the first African American man to serve as attorney general.
Holder led the Justice Department for six years and announced his retirement in the fall. He was the first sitting AG to be held in contempt of Congress - a conflict Lynch was already forced to address today.
"I look forward to fostering a new and improved relationship with this committee, the United States Senate and the entire United States Congress, a relationship based on mutual respect and constitutional balance," Lynch said. "Every lawyer has to be independent, the attorney general even more so, and I pledge to you that I take that independence seriously."
Lynch needs 51 votes to win confirmation. The final vote is not expected until late February at the earliest.
Congress Said What? Nearly all members of Congress rake in salaries of $174,000 per year (not including outside contributions). But according to popular opinion, these folks don't deserve six-digit compensation. Public approval of Congress averaged 15% in 2014, and a record low 14% in 2013. One reason for such high disapproval of our nation's lawmakers: the things they say...