I'm getting quite a few questions lately regarding one my favorite companies, Ekso Bionics Holdings Inc. (OTCBB: EKSO).
As you know, the company is tied into one of the most dynamic Total Wealth Trends of all – and potentially the most profitable, too – Human Augmentation.
So I thought we'd revisit EKSO Bionics and, in the process, update some of the interesting stuff that's going on.
But first, I owe you an apology.
I totally underestimated the company's potential.
Let me show you why – and my new price per share.
This Upward Revision Will Send EKSO Soaring Higher Than I Predicted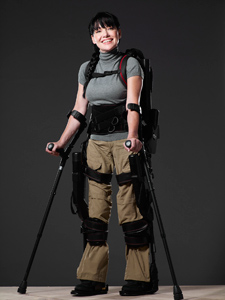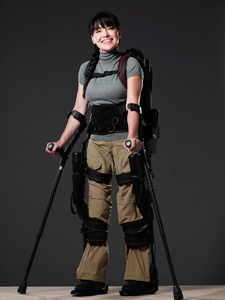 Last October I explained why I thought EKSO stock would be worth $21.14 per share by 2020.
Now I need to revise that number – higher. Turns out I was simply too conservative in my thinking.
At the time, I believed that EKSO will capture 25% of the human augmentation market. That's still true. What's changed is my thinking on profit margin, and that's based not only on what EKSO itself is doing, but on what's happening in the broader industry itself.
Simply put, these revisions paint an even more bullish picture for the stock.
My new price is $21.85 a share by 2020 rather than the $21.14/share I originally predicted (details in the sidebar for those of you who like numbers as much as I do).
Not surprisingly, I'm more excited about the company's profit potential than I've ever been before.
That said, I recognize that you may feel a little trepidation when it comes to my enthusiasm, especially if you bought in at or near $1.91/share, the company's peak before it slid down to $1.16 where it's trading now, at the time of this writing (Jan. 30).
Try not to let that bother you.
Fluctuations like we've seen with EKSO over the last few months are standard and entirely unremarkable for any growth company on the cusp of some really game changing technology – though I'll be the first to admit that it doesn't always FEEL that way.
Normal Growing Pains for an Extraordinary Company
So let's take a minute to put that in perspective.
EKSO's trading around $1.20 a share at the moment, and that means it's up about 20% since I initially recommended it. But so is volatility, as a number of you have so succinctly noted.
I totally get where you're coming from, especially if you are not used to making the kinds of moves we're making. This clearly isn't Intel or even Microsoft.
This is a breakthrough company operating at the very bleeding edge of new medical technology. So it's going to trade erratically, just as all new companies do under similar circumstances. If you recall, that's why I deliberately chose "keeping emotion out of the equation" as the first Total Wealth Tactic to share with you.
Join the conversation. Click here to jump to comments…
About the Author
Keith Fitz-Gerald has been the Chief Investment Strategist for the Money Morning team since 2007. He's a seasoned market analyst with decades of experience, and a highly accurate track record. Keith regularly travels the world in search of investment opportunities others don't yet see or understand. In addition to heading The Money Map Report, Keith runs High Velocity Profits, which aims to get in, target gains, and get out clean, and he's also the founding editor of Straight Line Profits, a service devoted to revealing the "dark side" of Wall Street... In his weekly Total Wealth, Keith has broken down his 30-plus years of success into three parts: Trends, Risk Assessment, and Tactics – meaning the exact techniques for making money. Sign up is free at totalwealthresearch.com.