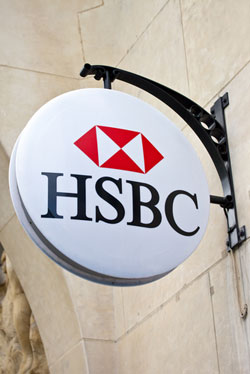 A Swiss bank leak of 30,000 accounts has raised questions of fraud and other illegal practices at HSBC Holdings Plc. (NYSE ADR: HSBC), the world's second-largest bank.
"It's banking - the business of banking. The bigger they are, the more corrupt they are," Money Morning Capital Wave Strategist Shah Gilani said Monday.
Leaked files reveal accounts and details of more than 100,000 clients from more than 200 countries around the world. According to a Feb. 8 report from the Washington-based International Consortium of Investigative Journalists (ICIJ), account holders include arms dealers, criminal blood diamond merchants, drug cartels, Hollywood elite, royalty, and "the heirs to some of Europe's biggest fortunes."
It's "the biggest banking leak in history," according to The Guardian.
News of the Swiss bank leak hit Sunday evening.
The ICIJ worked…
"These revelations confirm that banking secrecy has been used to avoid taxation," European Union spokeswoman for tax affairs Vanessa Mock said Monday.
The History of the Swiss Bank Leak
The documents in question were actually leaked back in 2008. A (former) HSBC employee named Hervé Falciani turned whistleblower and handed them over to the French government.
French authorities then shared the files with various governments worldwide. In fact, the U.S. Justice Department fined HSBC a record (at the time) $1.92 billion based on the information in 2012.
The difference today is journalists now have full access to the files - and so does the public.
Swiss Bank Leak Reveals Thriving Fraud Market for the Rich
All kinds of misbehavior show up in HSBC's leaked accounts. They include:
Permitting international criminals to hold accounts.
Using illegal tax avoidance strategies for wealthy clients.
Sheltering undeclared accounts from authorities (holding a secret bank account isn't illegal per say, but it is when used to hide cash to dodge taxes.)
Here are some specific examples detailed in the leaked files….